The impacts of invasive alien species in Europe
Publication
Created 03 Dec 2012
Published 20 Dec 2012
Technical report No 16/2012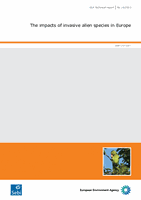 Biological invasions are one of the main drivers of biodiversity loss. Invasive alien species (IAS) may have far-reaching and harmful effects on the environment and natural resources for generations. The purpose of this report is to raise awareness among key stakeholders, decision-makers, policymakers and the general public about the environmental and socioeconomic impacts of IAS. Twenty-eight dedicated species accounts are provided to highlight the various types of impacts. These species accounts are based on thorough, up-to-date scientific information from recent research and studies, and highlight the multifaceted impacts of IAS at both the global and regional levels.
Content
For references, please go to www.eea.europa.eu/soer or scan the QR code.
This briefing is part of the EEA's report The European Environment - State and Outlook 2015. The EEA is an official agency of the EU, tasked with providing information on Europe's environment.
PDF generated on 23 Oct 2016, 02:16 PM