Good practice guide on quiet areas
Publication
Created 29 Apr 2014
Published 29 Apr 2014
Technical report No 4/2014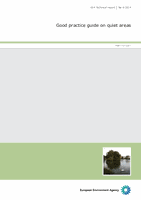 Noise pollution is a growing problem for Europe's environment. Transport and industry are the main sources of concern and long term exposure can damage human health and adversely affect ecosystems. European legislation aims to reduce noise pollution and also highlights the need to preserve areas that are currently unaffected. These so called quiet areas may be found, not only in rural areas, but also inside our busiest cities. They are not only where people recreate, but also where they live and work, so how can they be identified and preserved in order to protect environmental health and well-being? This report offers a digest of actions from all across Europe to identify and protect environments with good acoustic quality.
Content
For references, please go to www.eea.europa.eu/soer or scan the QR code.
This briefing is part of the EEA's report The European Environment - State and Outlook 2015. The EEA is an official agency of the EU, tasked with providing information on Europe's environment.
PDF generated on 28 Oct 2016, 02:16 PM