Flood risks and environmental vulnerability — Exploring the synergies between floodplain restoration, water policies and thematic policies
Publication
Created 24 Nov 2015
Published 26 Jan 2016
EEA Report No 1/2016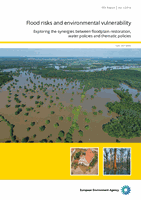 This report focuses on the role of floodplains in flood protection, water management, nature protection or agriculture and the impact of hydromorphological alterations on the ecosystem services that floodplains provide. The aim is to support the implementation of the EU Floods Directive (EU, 2007), in particular with regard to environmental impacts and how these can be linked to climate change adaptation and disaster risk reduction. It looks at synergies between water management, nature conservation and economic developments both in the field and on policy level.
Content
For references, please go to www.eea.europa.eu/soer or scan the QR code.
This briefing is part of the EEA's report The European Environment - State and Outlook 2015. The EEA is an official agency of the EU, tasked with providing information on Europe's environment.
PDF generated on 22 Oct 2016, 09:29 AM