EEA Annual work programme 2016
Publication
Created 25 Jan 2016
Published 25 Jan 2016
Administrative document No 2/2016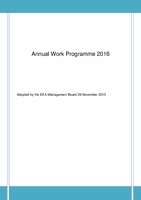 In line with its Multiannual Work Programme 2014-2018, the EEA, according to its mission, aims to support sustainable development and to help achieve significant and measurable improvements in Europe's environment, through the provision of relevant, reliable, timely, and targeted information to policy-making agents and the public. The Annual Work Programme 2016 will continue many lines of work from previous annual work programmes along with some new emphases.
Content
Dynamic
Temporal coverage
2016
For references, please go to www.eea.europa.eu/soer or scan the QR code.
This briefing is part of the EEA's report The European Environment - State and Outlook 2015. The EEA is an official agency of the EU, tasked with providing information on Europe's environment.
PDF generated on 28 Oct 2016, 04:38 PM