Consolidated annual activity report (CAAR) 2015 - EEA Annual report
Publication
Created 08 Jun 2016
Published 16 Jun 2016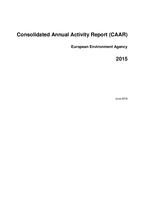 The Multiannual Work Programme (MAWP) 2014–2018, 'Expanding the knowledge base for policy implementation and long-term transitions', sets out the overall objectives for the work of the European Environment Agency (EEA) and the European Environment Observation and Information Network (Eionet) in line with the provisions of the EEA/Eionet Regulation. The MAWP is delivered through annual work programmes. This Consolidated Annual Activity Report (CAAR) documents the delivery of the Annual Work Programme (AWP) 2015.
Content
Dynamic
Temporal coverage
2015
For references, please go to www.eea.europa.eu/soer or scan the QR code.
This briefing is part of the EEA's report The European Environment - State and Outlook 2015. The EEA is an official agency of the EU, tasked with providing information on Europe's environment.
PDF generated on 26 Oct 2016, 03:16 PM