Turkey brings EEA membership to 31
News
Published 28 Jan 2003
Last modified 28 Jun 2016, 06:03 PM
Turkey has informed the European Environment Agency that it has completed the procedure of ratification of its EEA membership agreement. This makes it likely that Turkey will officially join the EEA by 1 April 2003, once the ratification has been formally notified to the European Commission. The Agency will then number 31 member countries.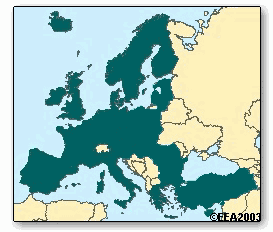 Following the entry into force of Poland's EEA membership on 1 January 2003, Turkey's arrival will mean that all 13 countries seeking to join the European Union -- the accession and candidate countries -- are members of the Agency. The EEA is the first EU institution to admit these countries. <br> 
For references, please go to www.eea.europa.eu/soer or scan the QR code.
This briefing is part of the EEA's report The European Environment - State and Outlook 2015. The EEA is an official agency of the EU, tasked with providing information on Europe's environment.
PDF generated on 26 Oct 2016, 11:29 AM