Domingo Jiménez-Beltrán receives the "Twelve Stars for the Environment" Award
News
Published 11 Oct 2002
Last modified 28 Jun 2016, 06:03 PM
The European Environment Agency's former Executive Director, Domingo Jiménez-Beltrán, has received the "Twelve Stars for the Environment" Award of the European Environmental Bureau (EEB).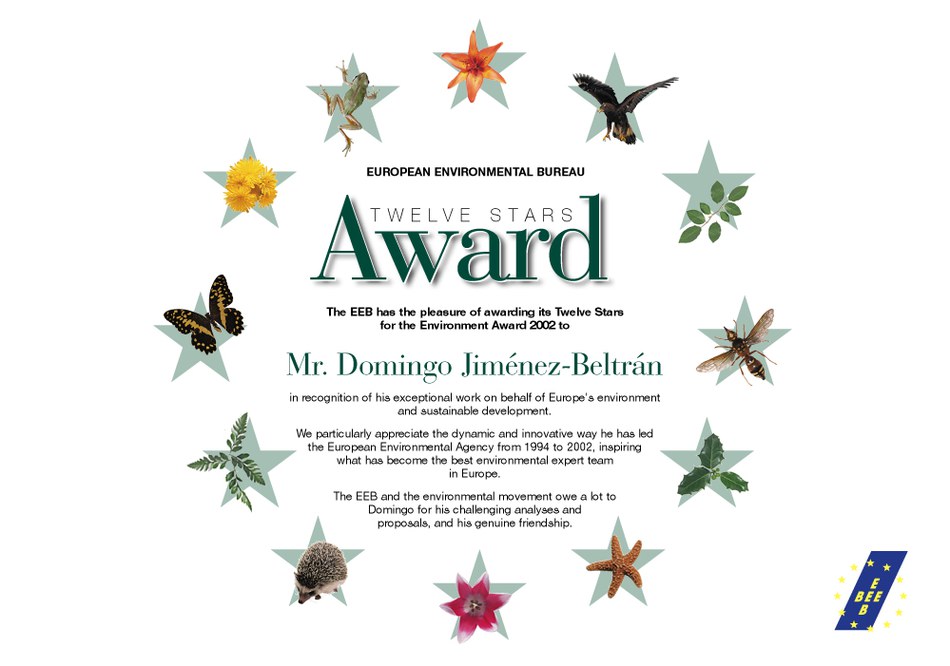 The EEB, a federation of 134 non-governmental environmental organisations across Europe, presented the award on 10 October in recognition of Mr Jiménez-Beltrán's "exceptional work on behalf of Europe's environment and sustainable development." Mr Jiménez-Beltrán, Executive Director from the EEA's start of operations in 1994 until May 2002, accepted the award in the name of the EEA and its network "as a recognition of the contribution of the European Environment Agency and its staff to the general cause of the environment and sustainable development." EEB press release
.
For references, please go to www.eea.europa.eu/soer or scan the QR code.
This briefing is part of the EEA's report The European Environment - State and Outlook 2015. The EEA is an official agency of the EU, tasked with providing information on Europe's environment.
PDF generated on 25 Oct 2016, 08:13 AM