Use of cleaner and alternative fuels (CSI 037/TERM 031) - Assessment published Apr 2009
Indicator Assessment
Created 17 Nov 2008
Published 21 Apr 2009
Last modified 20 Feb 2014, 04:41 PM
Note: new version is available!
Generic metadata
Topics
:

Transport
(Primary topic)
Tags:
DPSIR
: Response
Typology
: Policy-effectiveness indicator (Type D)
Contents
Key policy question:
Is EU's progress towards promoting cleaner and alternative fuels satisfactory?
Key messages
The combined penetration of low and zero-sulphur fuels in the

EU-25

increased from 50 % to 99.9 % between 2003 and 2005, meaning that the specifications for petrol and diesel in 2005 are met. Many Member States have introduced incentives to promote the use of zero-sulphur fuels ahead of the mandatory deadline (maximum of 10 ppm "zero" in 2009).

The penetration of biofuels is still low. The share of biofuels in the EU-27 in 2006 was less than 1.8 %, off the 2 % target set for 2005.

However, this share has increased by almost 1 % from 2005 to 2006, in view of the 5.75 % objective for 2010.

Low and zero-sulphur fuel use (%)
Note: No data available for Bulgaria, France and Romania.
Data source:
European Commission, 2007. Quality of petrol and diesel fuel used for road transport in the European Union - fourth annual report (Reporting year 2005) [COM(2007) 617].
Downloads and more info
Final energy consumption in the transport sector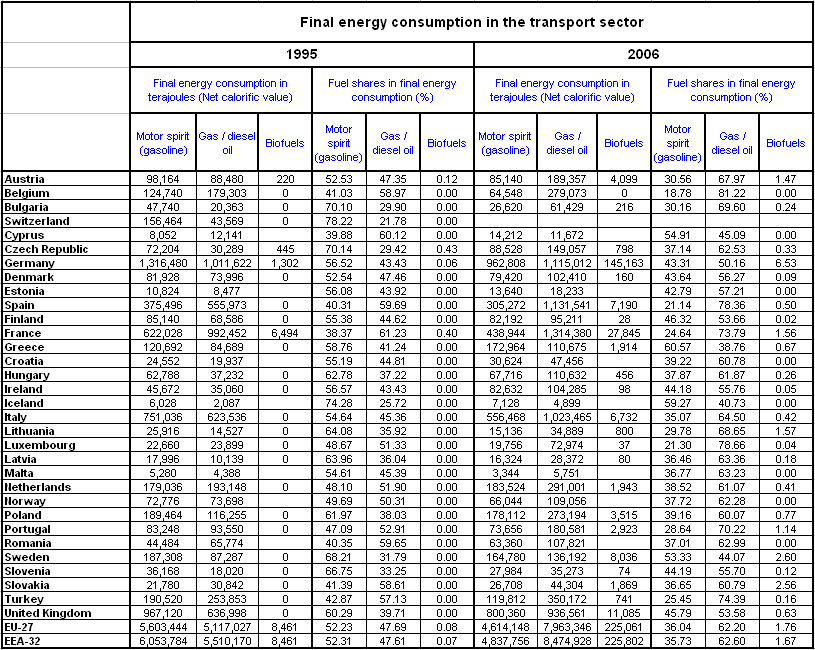 Note: N/A
Data source:
Energy statistics (sirene), Eurostat
Downloads and more info
Key assessment
A reduction in the sulphur content of petrol and diesel fuels is expected to have a large impact on exhaust emissions as it will enable the introduction of more sophisticated after-treatment systems.
With the exception of Latvia, Poland and Slovakia, all member states have abandoned the sale of regular (350 ppm sulphur) petrol and diesel fuel. The combined penetration of low and zero-sulphur fuels in the EU-25 has reached 99.9 % in 2005, meaning that the specifications for petrol and diesel in 2005 are met.
In view of the 2009 (10 ppm) mandate, many Member States have introduced incentives to promote zero-sulphur fuels. Some member states (Denmark, Finland, Germany and Sweden) are already offering only zero-sulphur fuel. At the other end of the scale, some other member states (Luxembourg, Netherlands, United Kingdom, Cyprus, Czech Republic, Malta and Slovenia) do not yet offer zero-sulphur fuels in their markets.
The share of biofuels in the EEA-32 in 2006 was relatively low, accounting for 1.7 % of all petrol and diesel sold for transport purposes (reported biofuels consumption as a percentage of total gasoline and diesel consumption). This share has almost quadrupled over the past four years; however more effort is needed to reach the 5.75% objective by the end of 2010. Germany has by far the highest share (7 %) of biofuels sold in its market.
The EU Biofuels Directive has lead to the creation of favourable legislative frameworks in most Member States and has therefore triggered rapid market implementation of biofuels. By now all of the Member States have set national targets, most of them aim for the proposed 5.75 % market share by 2010 or earlier. Each EU Member State has to send annual reports to the EC, stating the implemented measures, the annual biofuel production and the market share achieved.

Data sources
More information about this indicator
See this indicator specification for more details.
Dates
Frequency of updates
Updates are scheduled once per year in October-December (Q4)
Permalinks
Permalink to this version

Permalink to latest version
For references, please go to www.eea.europa.eu/soer or scan the QR code.
This briefing is part of the EEA's report The European Environment - State and Outlook 2015. The EEA is an official agency of the EU, tasked with providing information on Europe's environment.
PDF generated on 04 May 2015, 04:15 PM