Total primary energy intensity (CSI 028/ENER 017) - Assessment published Sep 2005
Indicator Assessment
Created 19 May 2005
Published 27 Sep 2005
Last modified 07 Jul 2011, 02:50 PM
Note: new version is available!
Generic metadata
Topics
:

Energy
(Primary topic)
Tags:
DPSIR
: Response
Typology
: Performance indicator (Type B - Does it matter?)
Contents
Key policy question:
Has there been a complete decoupling in Europe between economic growth and energy consumption?
Key messages
Economic growth is requiring less additional energy consumption, mainly as a result of structural changes in the economy. However, total energy consumption is still increasing.
Total energy intensity by country
Note: The year for the reference index value is 1995 because GDP for 1990 was not available for all countries
Downloads and more info
Total energy intensity, EU-25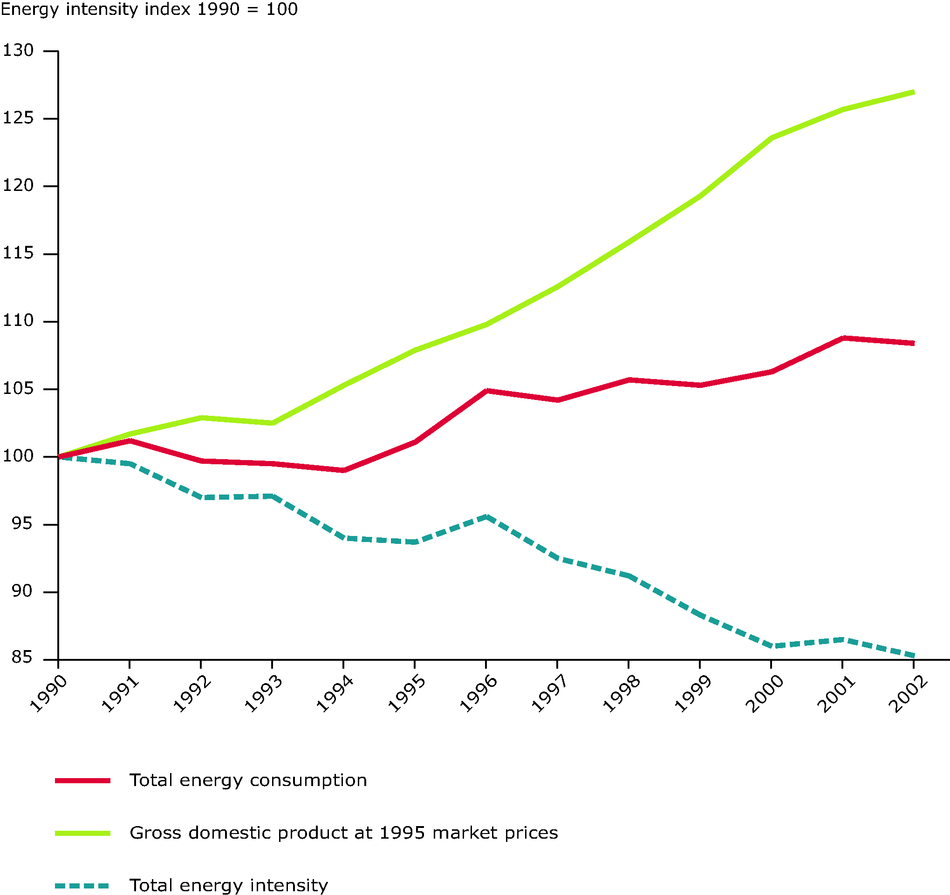 Note: Some estimates have been necessary in order to compute the EU-25 GDP index for 1990
Data source:
Eurostat and Ameco database, European Commission.
Downloads and more info
Key assessment
Total energy consumption in the EU-25 grew at an average annual rate of just below 0.7 % over the period 1990 to 2002, while Gross Domestic Product (GDP) grew at an estimated average annual rate of 2 %. As a result, total energy intensity in the EU-25 fell at an average rate of 1.3 % per year. Despite this relative decoupling of total energy consumption and economic growth, total energy consumption increased by 8.4% over the period.
All the EU-25 countries except Portugal, Spain and Latvia experienced a decrease in total energy intensity between 1990 and 2002. The average annual decrease was 3.3% in the new and 1 % in the pre-2004 EU-15 Member States. Despite this converging trend, total energy intensity in the new Member States in 2002 was still significantly higher than in the pre-2004 EU-15 Member States.
Much of the reduction of total energy intensity was due to structural changes in the economy. These included a shift from industry towards services which are typically less energy-intensive, a shift within the industrial sector from energy-intensive industries towards higher value-added, less energy-intensive industries, and one-off changes in some Member States.
Trends in final energy consumption intensity by sector during 1990-2002 suggest that there have been substantial improvements in the energy intensity in the industry and services sectors. In contrast, the transport and households sectors show only limited decoupling of energy consumption from economic growth and population growth, respectively. The lack of improvement in final energy intensity in the household sector is influenced by rising living standards, leading to a larger number of households, lower occupancy levels and increased use of household appliances.
Data sources
More information about this indicator
See this indicator specification for more details.
Contacts and ownership
EEA Contact Info
Cinzia Pastorello
Ownership
EEA Management Plan
2010
(note: EEA internal system)
Dates
Permalinks
Permalink to this version

Permalink to latest version
For references, please go to www.eea.europa.eu/soer or scan the QR code.
This briefing is part of the EEA's report The European Environment - State and Outlook 2015. The EEA is an official agency of the EU, tasked with providing information on Europe's environment.
PDF generated on 18 Apr 2015, 02:10 PM