Total population - outlook from UNSTAT (Outlook 042) - Assessment published Jun 2009
Indicator Assessment
Created 25 Jan 2009
Published 08 Jun 2009
Last modified 07 Jul 2011, 02:50 PM
Generic metadata
Topics
:

Environmental scenarios
(Primary topic)
Tags:
DPSIR
: Driving force
Typology
: Descriptive indicator (Type A - What is happening to the environment and to humans?)
Contents
Key policy question:
What are the population trends in the pan-European region?
Key messages
Population growth in Europe differs widely from sub-regionally. Population within the European Economic Area (EEA) is projected to remain stable until 2050 while population of EECCA countries is projected to drop by as much as 13,6% from 2000 to 2050.The South-Eastern European region is expected to grow with of 31,3% during the projected period.

Worldwide population is expected to reach over 9 billion by 2050. India is projected to contribute 58,5% to the global population increase and become the most populated nation in the world, while population in China is expected to grow by 10,9% from 2000 to 2050. Both the USA and Canada see continued growth with 41,3 and 39,3 percent respectively for the projected period.
Fig 1. World population by region from 2000 to 2050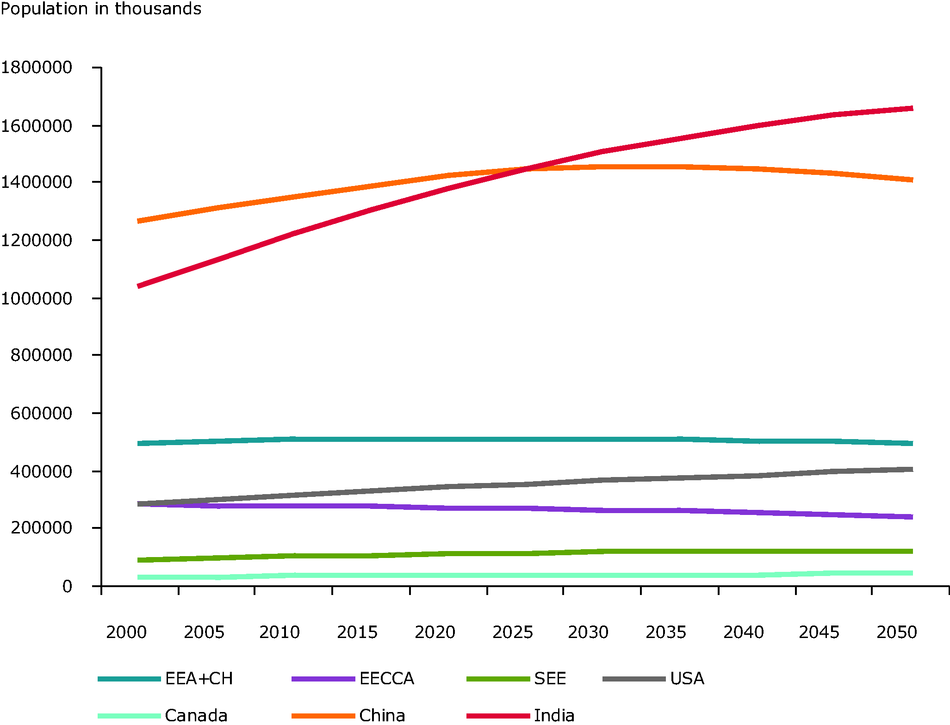 Note: N/A
Data source:
United Nation Population Division (UN) World Population Prospects: The 2006 Revision: Population projections
Downloads and more info
Fig.2. World population growth by region from 2000 to 2050
Note: N/A
Downloads and more info
Key assessment
Data sources
More information about this indicator
See this indicator specification for more details.
Contacts and ownership
EEA Contact Info
Tobias Dominik Lung
Ownership
EEA Management Plan
2010
(note: EEA internal system)
Dates
Frequency of updates
Updates are scheduled every 2 years in October-December (Q4)
Permalinks
Permalink to this version

Permalink to latest version
For references, please go to www.eea.europa.eu/soer or scan the QR code.
This briefing is part of the EEA's report The European Environment - State and Outlook 2015. The EEA is an official agency of the EU, tasked with providing information on Europe's environment.
PDF generated on 04 May 2015, 11:17 PM