Total population - outlook from UNSTAT
Indicator Assessment
—
expired
Created 25 Jan 2009
Published 08 Jun 2009
Last modified 11 Sep 2015, 12:38 PM
Note: new version is available!
This content has been archived on
13 May 2015
, reason:
Other (New version data-and-maps/indicators/total-population-outlook-from-unstat-2 was published)
Indicator codes:
Outlook 042
Key messages
Population growth in Europe differs widely from sub-regionally. Population within the European Economic Area (EEA) is projected to remain stable until 2050 while population of EECCA countries is projected to drop by as much as 13,6% from 2000 to 2050.The South-Eastern European region is expected to grow with of 31,3% during the projected period.

Worldwide population is expected to reach over 9 billion by 2050. India is projected to contribute 58,5% to the global population increase and become the most populated nation in the world, while population in China is expected to grow by 10,9% from 2000 to 2050. Both the USA and Canada see continued growth with 41,3 and 39,3 percent respectively for the projected period.
What are the population trends in the pan-European region?
Fig 1. World population by region from 2000 to 2050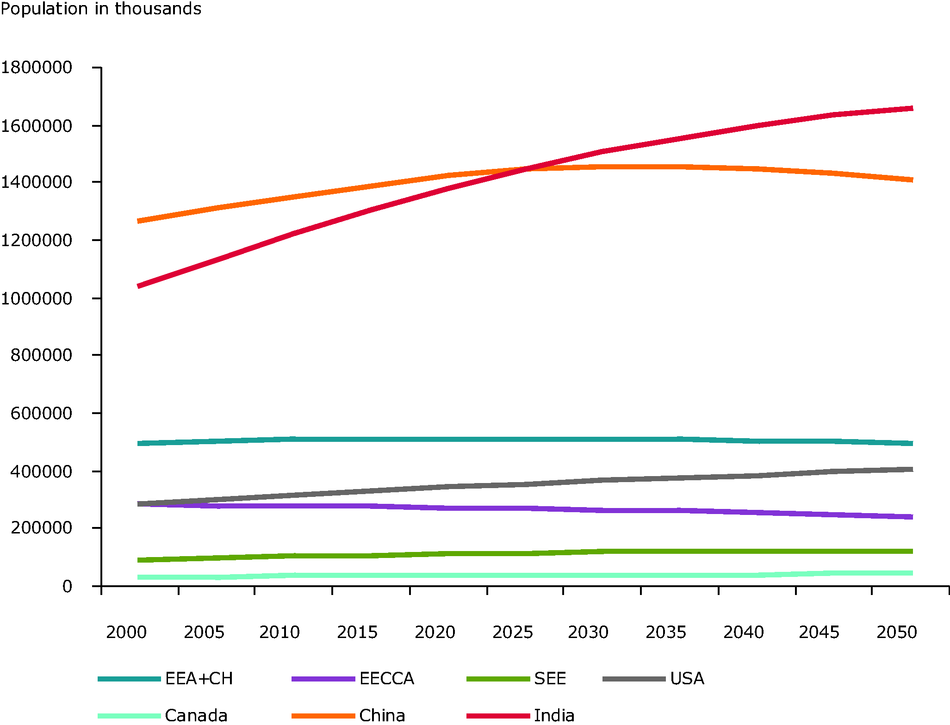 Note: N/A
Data source:
United Nation Population Division (UN) World Population Prospects: The 2006 Revision: Population projections
Downloads and more info
Fig.2. World population growth by region from 2000 to 2050
Note: N/A
Downloads and more info
Indicator specification and metadata
Indicator definition
Population includes all residents regardless of legal status and citizenships.
Time horizon: 2005 to 2100
Geographical coverage: Western Europe (WEU): Austria, Belgium, Denmark, Finland, France, Germany, Gibraltar, Greece, Iceland, Ireland, Italy, Luxembourg, the Netherlands, Norway, Portugal, Spain, Sweden, Switzerland, the United Kingdom; Central Europe (CEU): Hungary, Poland, Czech Republic, Slovakia, Estonia, Latvia, Lithuania, Slovenia, Malta, Cyprus, Bulgaria, Romania, Albania, Bosnia and Herzegovina, Croatia, the Former Yugoslav Republic of Macedonia, Serbia and Montenegro; EECCA: Armenia, Azerbaijan, Belarus, Georgia, Kazakhstan, Kyrgyzstan, Republic of Moldova, the Russian Federation, Tajikistan, Turkmenistan, Ukraine, Uzbekistan;
US; Canada; India; China
Units
The indicator is measured in 1000 inhabitants.
Policy context and targets
Context description
There are no pan-European, EU and EECCA policies regulating total population. However, several of demographical strategies and policies exist at regional and national levels as well as migration legislations. Across the pan-European region, countries are seeking to halt immigration: the Russian Federation has proposed restrictive immigration laws, while the EU has stepped up the control of illegal immigration across its borders and partial restrictions across some EU Member States.
Targets
There are no pan-Euroepan, EU and EECCA objectives and target relating to certain amount of total population.
Related policy documents
No related policy documents have been specified
Methodology
Methodology for indicator calculation
Total population indicator shows changing trends in amount total population at global and country untill 2050. The indicator is derived from the 2006 Revision (UN).
The 2006 Revision of the official United Nations population estimates and projections, the Population Division is considered the most recent demographic data available for each and every country or area of the world. Standard demographic techniques were used to estimate the population by age and sex for the base year (2005) as well as trends in total fertility, life expectancy at birth, infant mortality and international migration up to 2006. The resulting estimates provided the basis from which the population projections follow.
Finally, in preparing the 2006 Revision, demographic information as produced by other United Nations agencies or bodies, such as: the Economic and Social Commissions for Asia and the Pacific (ESCAP), for Latin America and the Caribbean (ECLAC/CELADE) and for Western Asia (ESCWA), as well as the United Nations High Commissioner for Refugees (UNHCR), the United Nations Children's Fund (UNICEF) and the World Health Organization (WHO), was also used or considered. Data from regional organizations such as the Statistical Office of the European Communities (EUROSTAT) and the Council of Europe, the Institut National de la Statistique et des Etudes Economiques (INSEE) and the Centre d'Etudes et de Recherche sur la Population et le Developpement (CERPOD), have also been consulted.
For more detailed information see methodology reference.
Assumptions underlying the results of the model
The preparation of each new revision of the official estimates and projections of the United Nations involves two distinct processes: (a) the incorporation of all new and relevant information regarding the past demographic dynamics of the population of each country or area of the world; and (b) the formulation of detailed assumptions about the future paths of fertility, mortality and international migration. The data sources used and the methods applied in revising past estimates of demographic indicators (i.e., those referring to 1950-2005) are presented in volume III of World Population Prospects: The 2006 Revision (forthcoming).
The future population of each country is projected from an estimated population for 1 July 2005. Because actual population data is not necessarily available at this date, the 2005 estimate is based upon the most recent population data available for each country, derived usually from a census or population register, updated to 2005 using all available data on fertility, mortality and international migration. In cases where very recent data are not available, estimated demographic trends are short term projections from the most recent available data. Population data from all sources are evaluated for completeness, accuracy and consistency, and adjusted where necessary.
To project population until 2050, the United Nations Population Division applies assumptions regarding future trends in fertility, mortality, and migration. Because future trends cannot be known with certainty, a number of projection variants are produced. This note presents the assumptions underlying the derivation of demographic indicators for the period starting in 2005 and ending in 2050. The 2006 Revision includes seven projection variants and three AIDS scenarios. The seven variants are: low, medium, high, constant-fertility, instant-replacement-fertility, constant-mortality, and zero-migration. The World Population Prospects Highlights focus on the medium variant of the 2006 Revision, and results from the first four variants are available on-line and traditionally published in volume I of World Population Prospects (forthcoming). The full set of results for all variants and scenarios are available only on CD-ROM.
The first five variants, namely, low, medium, high, constant-fertility and instant-replacement-fertility, differ among themselves exclusively in the assumptions made regarding the future path of fertility. The sixth variant, named constant-mortality, differs from the medium variant only with regard to the path followed by future mortality. The seventh variant, named zero-migration, differs from the medium variant only with regard to the path followed by future international migration. Variants differ from each other only for the period 2005-2050.
In addition, the 2006 Revision includes three AIDS scenarios named No-AIDS, high-AIDS and AIDS-vaccine. These scenarios are variations of the medium variant and differ from each other and from that variant on the path of mortality because they are based on different assumptions regarding the course of the HIV/AIDS epidemic. Note that only 62 countries are considered to be significantly affected by the epidemic. Consequently, the AIDS scenarios produce different projections only for those countries.
To describe the different projection variants and scenarios, the various assumptions made regarding fertility, mortality and international migration are presented below.
Methodology for gap filling
Often the source for the most recent demographic information for developing countries is a range of different surveys. For the calculation of the indicator data from following survey programs was used additionaly:
The Demographic and Health Survey Programme (DHS).

The Pan Arab Project for Child Development (PARCHILD) of the League of Arab States. The Pan Arab Project for Family Health (PARFAM) and Gulf Family Health Survey (GFHS) continue the task initiated by the PARCHILD programme.

During the 1990s, UNICEF embarked on a process of helping countries assess progress for children at end-decade in relation to the World Summit for Children goals, held in 1990 (see UNICEF, 1991). By 2005, Multiply Indicator Cluster Surveys (MICS-2005) has been carried out, that collected and estimated, inter alia, information on infant and child mortality.
Methodology references
No methodology references available.
Uncertainties
Methodology uncertainty
n/a
Data sets uncertainty
n/a
Rationale uncertainty
No uncertainty has been specified
Data sources
Generic metadata
Topics
:

Environmental scenarios
(Primary topic)
Tags:
DPSIR
: Driving force
Typology
: Descriptive indicator (Type A - What is happening to the environment and to humans?)
Contacts and ownership
EEA Contact Info
Tobias Dominik Lung
Ownership
EEA Management Plan
2010
(note: EEA internal system)
Dates
Frequency of updates
Updates are scheduled every 2 years
Permalinks
Permalink to this version

Permalink to latest version
For references, please go to www.eea.europa.eu/soer or scan the QR code.
This briefing is part of the EEA's report The European Environment - State and Outlook 2015. The EEA is an official agency of the EU, tasked with providing information on Europe's environment.
PDF generated on 01 Dec 2015, 11:23 PM