Storms (CLIM 005) - Assessment published Nov 2013
Indicator Assessment
Created 06 Nov 2013
Published 13 Nov 2013
Last modified 17 Nov 2014, 01:50 PM
Note: new version is available!
Generic metadata
Topics
:
Climate change
(Primary topic)
Tags:
DPSIR
: Impact
Typology
: Descriptive indicator (Type A - What is happening to the environment and to humans?)
Dynamic
Temporal coverage:
1871-2008, 2071-2098
Contents
Key policy question:
What is the trend in extreme wind speeds across Europe?
Key messages
Storm location, frequency and intensity show considerable variability across Europe over the past century, such that no clear trends are apparent. A recent reanalysis suggests that storminess has increased over the past century in northern and north-western Europe but this finding is not yet robust.
Climate change projections from a recent climate model ensemble study show a small increase in extreme wind speeds over northern parts of central and western Europe, and a decrease in southern Europe. The results of studies into changes in winter storm tracks show no clear signal.
Trends in the extreme wind speeds in the period 1871-2008 based on reanalysis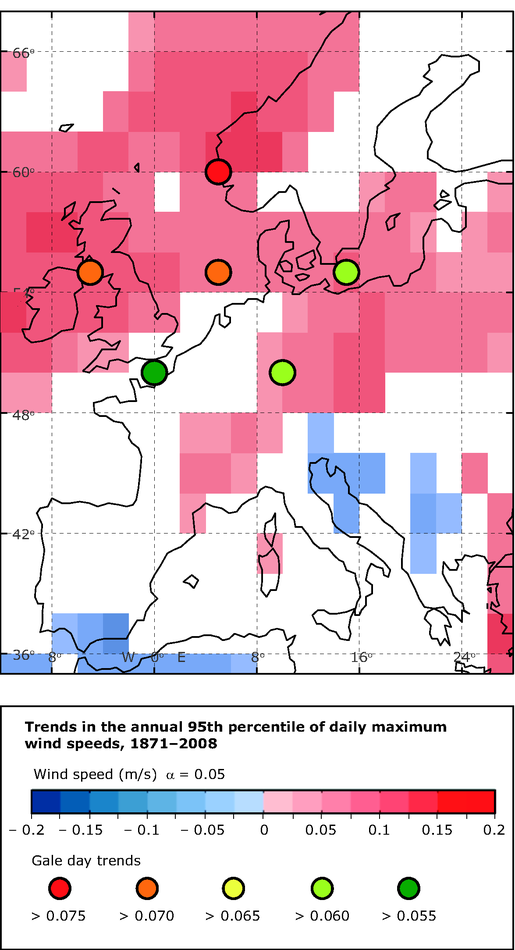 Note: Trends in the annual 95th percentile of daily maximum wind speeds in the 20th century reanalysis data set (ensemble mean) during the period 1871–2008. The trend is given in the units of the interannual standard deviation and plotted only when significant. The coloured circles indicate trends in the number of 'gale days' (an index that represents the number of extremely windy days) over the period at the specific locations.
Downloads and more info
Projected changes in extreme wind speed based on GCM and RCM ensembles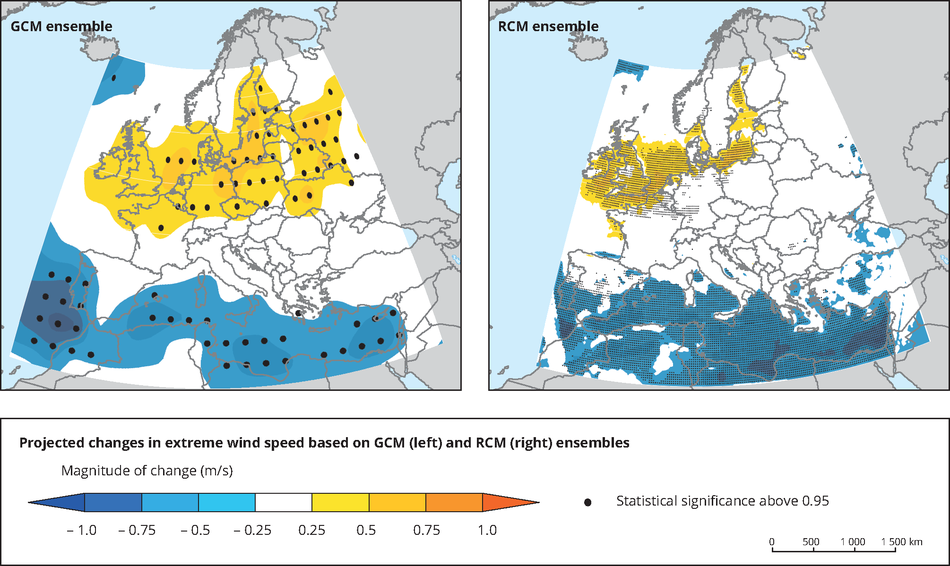 Note: Ensemble mean of changes in extreme wind speed (defined as the 98th percentile of daily maximum wind speed) for A1B (2071–2100) relative to 1961–2000. Left: based on 9 GCMs. Right: based on 11 RCMs. Coloured areas indicate the magnitude of change (unit: m s−1), statistical significance above 0.95 is shown by black dots.
Downloads and more info
Key assessment
Past trends
Studies of past changes in extra-tropical storms have used a variety of methods for analysing their activity in the storm track regions, making it difficult to compare the results of different studies or to assess if there is any underlying climate change signal. Storm location and intensity in Europe has shown considerable variation over the past century, but Northern Hemisphere storm tracks and intensity have likely shifted northwards since at least 1970 [i]. Locally, increases in maximum gust wind speeds have been observed over recent decades but there is evidence for decreases in storm frequency since the 1990s [ii]. Wind data at the local or regional levels can show a series of decreases and increases continuing over several decades. Long records of wind speed for various regions across Europe indicate that storminess has not significantly changed over the past 200 years [iii]. They also indicate relatively high levels of storminess in north-western Europe during the 1880s, followed by below average conditions between the 1930s and 1960s, a pronounced increase in storminess until the mid-1990s, and average or below activity afterwards. Somewhat similar patterns were observed in other parts of Europe.
A single reanalysis study for the period 1871 to 2008 suggests an increasing trend in storminess across north-western Europe, with storminess towards the end of the 20th century reaching its highest values in the north-east North Atlantic, the North Sea and the Baltic Sea region (Figure 1) [iv]. However from other research there is evidence that both conflicts and agrees with this result [v]. Thus the results presented here have low confidence, especially over the question of the robustness of the reanalysis results for extreme wind speeds before the middle of the 20th century [vi].
Projections
The simulation of extra-tropical cyclones in climate models remains a scientific challenge in spite of significant recent progress in modelling techniques. Climate change projections show no clear consensus in the direction of movement (poleward or equator-ward) of extra-tropical cyclone activity in the North Atlantic region of western Europe [vii]. Earlier models showed some agreement on a future poleward shift in storm tracks, which would also increase the frequency of the most intense wind events in higher latitudes [viii]. However, more recent projections with climate models that include a higher resolution stratosphere show an equator-ward shift in the Atlantic storm track which could double the predicted increase in winter rainfall over western and central Europe compared to other climate projections [ix]. It should be noted that the measure used to identify 'storm tracks' is different to that for 'cyclone tracks', so caution should be exercised when comparing these two measures.
Several studies suggest decreases in the number of storms in Europe but increases in the strongest, most damaging storms, in particular in northern and western Europe [x]. The most recent research with a multi-model ensemble projects a small increase in the magnitude of the strongest winter storms over northern parts of central and western Europe, and a decrease in southern Europe, under a high emissions scenario (Figure 2) [xi]. The results are largely consistent with those of a recent study based on the GCM projections underlying the IPCC Fifth Assessment Report [xii].
---
Data sources
More information about this indicator
See this indicator specification for more details.
Dates
Frequency of updates
Updates are scheduled every 4 years in October-December (Q4)
Permalinks
Permalink to this version

Permalink to latest version
For references, please go to www.eea.europa.eu/soer or scan the QR code.
This briefing is part of the EEA's report The European Environment - State and Outlook 2015. The EEA is an official agency of the EU, tasked with providing information on Europe's environment.
PDF generated on 28 Apr 2015, 04:44 PM