Energy-related emissions of acidifying substances (ENER 006) - Assessment published Aug 2011
Indicator Assessment
—
expired
Created 08 Jul 2011
Published 12 Aug 2011
Last modified 11 Mar 2014, 01:47 PM
Note: new version is available!
This content has been archived on
12 Nov 2013
, reason:
Content not regularly updated
Generic metadata
Topics
:

Energy
(Primary topic)

Air pollution
Tags:
energy | air | pollutants | emissions | air pollution
DPSIR
: Pressure
Typology
: Descriptive indicator (Type A - What is happening to the environment and to humans?)
Dynamic
Temporal coverage:
1990-2008
Contents
Key policy question:
Are energy-related emissions of acidifying substances decreasing?
Key messages
Energy-related emissions account for only 2% of NH3 emissions but 95% of NOx and SO2 emissions from the EEA-32 in 2008. They fell by 4%, 5% and 17% respectively between 2007 and 2008 in EEA32 countries (Since 1990, these energy related emissions declined by 35% and 75% for NOx and SO2 respectively but increased by 103% for NH3 in the EU-27 and declined by 30% (NOx) and 71% (SO2) and increased by 106% (NH3) in EEA-32 member countries. However as noted earlier the percentage of energy related NH3 emissions are insignificant compare dot the non-energy related NH3 emissions. Most of the total reduction in pollutants contributing to acid deposition since 1990 is accounted for by lower SO2 emissions from the energy-producing sector and lower NOx emissions from the transport sector. Despite significant progress and the EU-27 on not track to meet overall targets[1], further reductions are needed to improve remaining local and transboundary air pollution issues, and for ensuring that individual countries meet emissions ceiling targets under the National Emissions Ceilings Directive (NECD) and the UNECE Gothenburg Protocol.
---
[1] See Pollutant Specific Factsheet NOx
Contribution of different sectors (energy and non-energy) to total emissions of SO2, NOx, NH3, 2008, EEA-32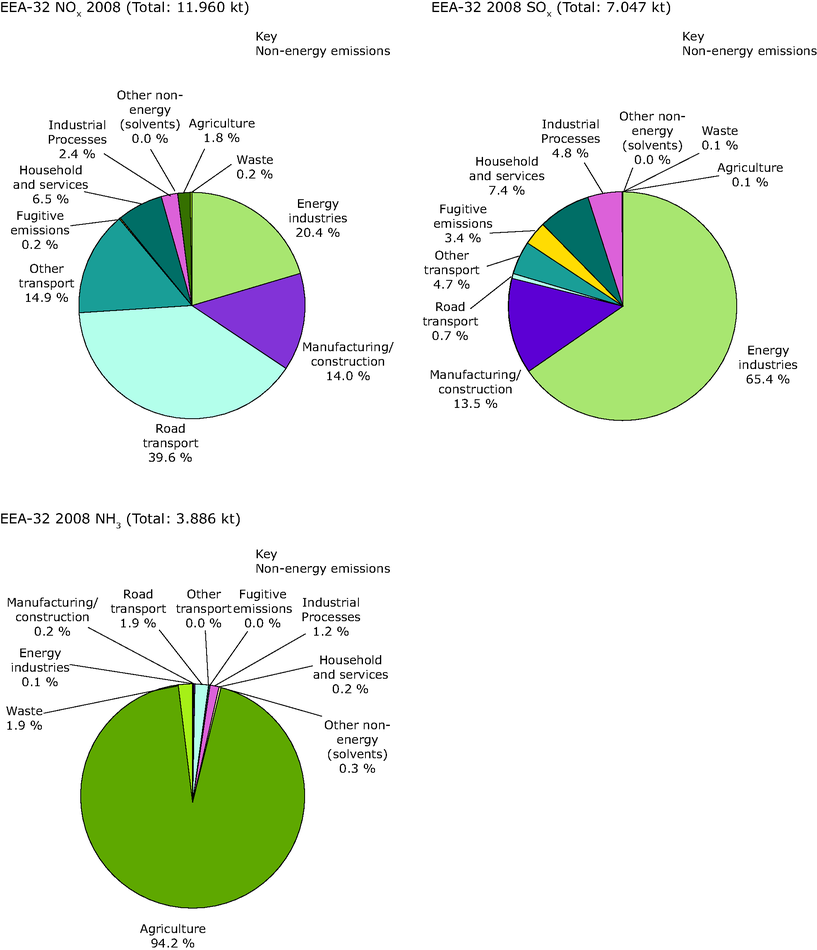 Note: The figue shows the contribution of different sectors (energy and non-energy) to total emissions of SO2, NOx, NH3, 2008, EEA-32
Downloads and more info
Key assessment
In the EEA32, energy related emissions declined by 30% (NOx) and 71% (SO2) but increased by 106% (NH3) between 1990 and 2008. NOx and SO2 emissions declined by 35% and 75% respectively but increased by 103% for NH3 in the EU27 within the same period. For NOx, all sources except for Household and services have decreased. SO2 emissions decreased significantly across all sectors (see Figure 1). NH3 emissions however increase significantly in 3 sectors, energy combustion, road transport and to a lesser extend in energy industries.
Energy-related emissions are the predominant sources of total NOx and SOx emissions in 2008, accounting for 95 % of all NOx and SO2 emissions, underlining the large contribution that energy production and use make to both local and transboundary air pollution. The non-energy related agriculture sector is the most important source of NH3, releasing the vast majority of NH3 (over 94%) in 2008. Emission reductions from agriculture since 1990 have been much lower than from energy-related sources (see Figure 1).
Energy industries (such as public heat and electricity production) contribute over half of all SO2 (65%) and account for a quarter of total NOx (20%) emissions in 2008, and emissions have decreased by nearly 70% and 39% respectively since 1990 (see Figures 1 and 2). Much of this reduction is due to a decrease in SOx emissions. This reflects a general increase in the implementation of pollutant abatement technologies, a switch from coal to natural gas[1], an increased use of low sulphur fuels, and improved energy efficiency.
Combustion modification and flue-gas treatment have been used to reduce NOx emissions. One of the most common forms of combustion modification is to use low NOx burners, which typically can reduce NOx emissions by up to 40 %. Flue gas treatment such as selective catalytic reduction can also be used to remove NOx from the flue gases. NOx emissions from the transport sector are the largest source of energy-combustion emissions and reductions in this sector are largely due to the introduction of catalytic converters on new cars since the early 1990s. However, emission controls on vehicles, and in particular certain catalyst technologies in road vehicles, can increase the rate of N2O generation and thus of greenhouse gases.
Energy related SO2 emissions decreased significantly in most EEA member countries since 1990, with the highest overall reductions in Germany, Latvia and Slovenia (see Figure 3). Similarly, energy related NOx emissions decreased in 23 out of 32 countries since 1990, with the highest reduction occurring in the Czech Republic (64%) and Slovakia (57%). However, NH3 emissions increased in 24 out of 28 EEA member countries[2] in the same time period with large increases in Ireland (more than 50 times the 1990 value) and Slovenia (more than 30 time the 1990 value). In both countries the large increase was primarily a result of an increase in road transport.
Many of the reductions reported here are a result of actions implemented as a result of various European policies and measures, including the IPPC Directive, the Large Combustion Plant Directive, vehicle EURO standards, and the EU National Emissions Ceilings Directive and Gothenburg Protocol. The EU-27 as a whole is on track to meet its NECD target to reduce emissions from SO
2
and NH
3
pollutants. However, many individual countries and the EU-27 as a whole currently anticipate missing their respective emission ceilings for NO
x
[3]
---
[1] The amount of sulphur in coal is much greater than that in other fossil fuels such as oil and natural gas.
[2] Iceland, Poland, Switzerland and Turkey did not report either a 1990 or 2008 NH3 emission value and thus are excluded
[3]
CSI 001 - Emissions of acidifying substances
Data sources
More information about this indicator
See this indicator specification for more details.
Dates
Permalinks
Permalink to this version

Permalink to latest version
For references, please go to www.eea.europa.eu/soer or scan the QR code.
This briefing is part of the EEA's report The European Environment - State and Outlook 2015. The EEA is an official agency of the EU, tasked with providing information on Europe's environment.
PDF generated on 04 May 2015, 03:09 AM