Species diversity (CSI 009) - Assessment published Nov 2005
Indicator Assessment
Created 19 May 2005
Published 29 Nov 2005
Last modified 11 Sep 2012, 04:51 PM
Generic metadata
Topics
:

Biodiversity
(Primary topic)

Green economy
Tags:
DPSIR
: State
Typology
: Descriptive indicator (Type A - What is happening to the environment and to humans?)
Dynamic
Temporal coverage:
1980-2002
Contents
Key policy question:
What is the state and trend of biodiversity?
Key messages
Butterfly and bird species occurring in different habitat types across Europe show population declines of between -2% and -37% since the early 1970s. Similar trends can be observed in the land-cover change for related habitats between 1990 and 2000, especially for heaths and scrubs as well as mires, bogs and fens, which are specific wetland habitats.
Land cover change from 1990 to 2000 expressed as % of the 1990 level, aggregated into EUNIS habitat level 1 categories
Note: The table shows the land cover changes expressed as % of the 1990 level - aggregated into EUNIS habitat level 1 categories.
Data source:
Corine Land Cover, EEA
Downloads and more info
Temporal coverage for the three data sets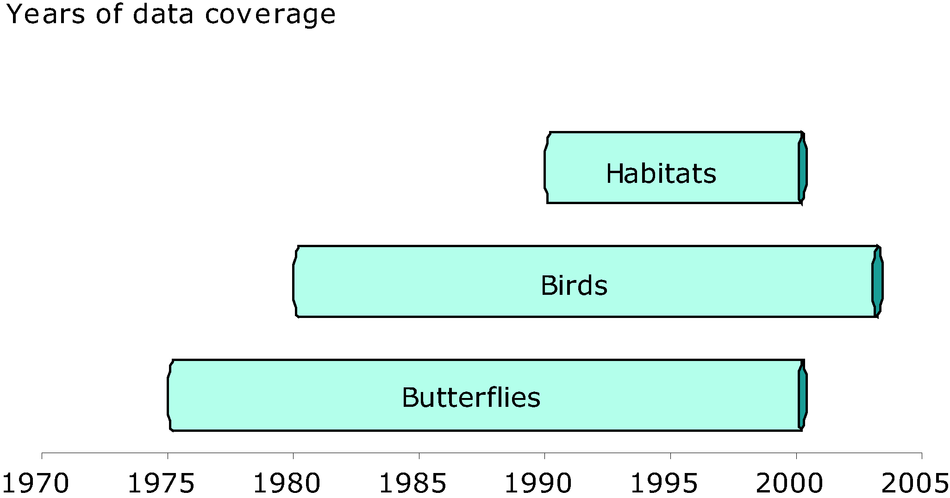 Note: This figure shows the temporal coverage of three different datasets for Habitats, Birds and Butterflies
Data source:
Downloads and more info
Trends in birds and butterfly populations in EU-25 (% decline)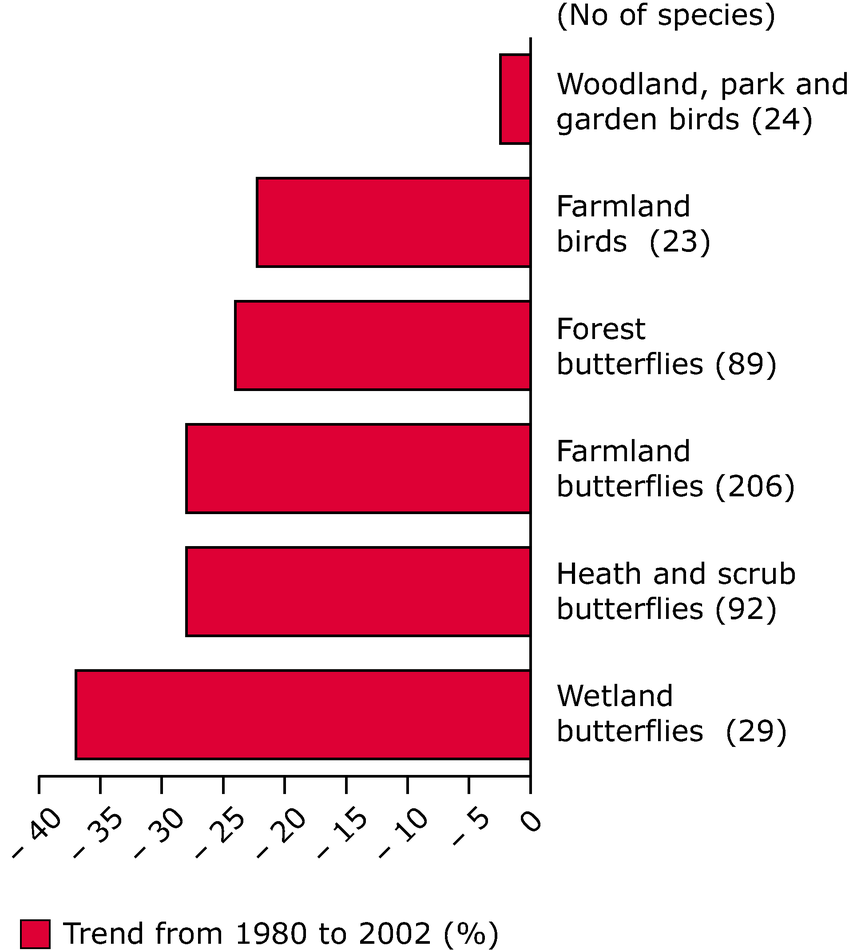 Note: The number in brackets show the number of species taken into account for each habitat type
Data source:
Pan-European Common Bird Monitoring project (EBCC, BirdLife Int, RSPB), Dutch Butterfly Conservation
Downloads and more info
Key assessment
The indicator links population trends of species belonging to these two groups (birds and butterflies) to the trends in extent of different habitat types deriving from land cover change analysis 1990-2000.
The assessment is based on 295 butterfly species and 47 birds species linked to 5 different habitat types across several European countries. Results vary among species/habitats groups, but it is striking that both birds and butterflies, linked to different habitat types, show a decline in all habitats examined.
The wetland bird and butterfly species population decline can be explained by direct habitat loss as well as habitat degradation through fragmentation and isolation. Mires, bogs and fens habitats are shown to have the strongest decline in area (-5%) across EU-25 between 1990-2000, a trend based on detecting changes bigger than 25 hectares.
Heaths and scrubs have a particular high diversity of butterfly species, up to at least 92 species of those surveyed. Direct habitat loss (-2%) as well as habitat degradation through fragmentation and isolation also play a role in the very substantial 28% decline observed amongst butterfly species.
The highest number of species assessed, namely 206 butterfly species and 23 birds species, occur in the farmland habitat. These species are typical of open grassy areas such as extensively farmed areas, grasslands, meadows and pastures. The two species groups show very similar trends of decline, namely -28% and -22% respectively. The main pressures related to this decline are loss of extensive farmland with a low or no input of nutrients, herbicides and pesticides, and an increase in agricultural intensification, which leads, among other factors, to loss of marginal habitats and hedgerows and a higher input of fertiliser, herbicides and insecticides.
The area of woodland and forest habitats has increased by 1% since 1990, which in absolute terms is about 500 000 hectares. However, the species linked to the woodland and forest habitats have declined. The 89 butterfly species occurring in this habitat show a decline by -24% compared to a -2% decline of woodland, park and garden birds. Nearly all forests in Europe are managed to some extent and the various management schemes surely have an impact on species diversity. For example, the presence of dead wood and old growth trees are of importance to birds for nesting and feeding and clearing of forest are an important factor for the forest butterflies.
Specific policy question: How is biodiversity doing in rural areas?
Trends of farmland birds population in Europe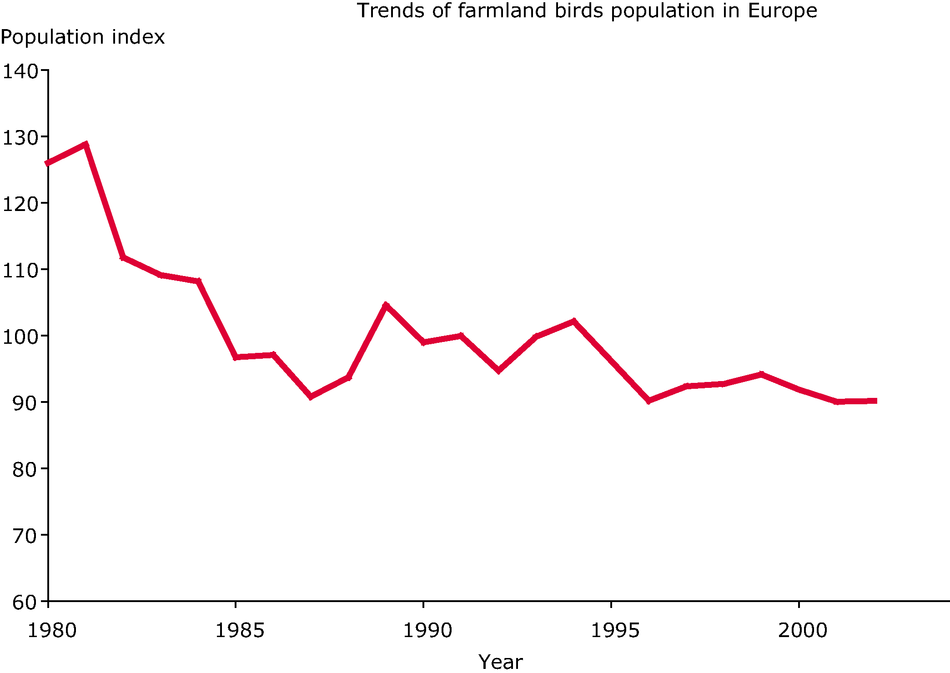 Note:
Downloads and more info
Specific assessment
Figure 4 shows there has been a marked decline of European birds since the 1980s. Populations of common and widespread farmland bird species in 2003 are only 71% of their 1980 levels. This is highly significant given the EU objective of halting biodiversity loss by 2010. This decline can be attributed in large part to changes in agricultural practices, including a shift to more intensive practices.
Birds are considered good proxies for biodiversity as they are high in the food chain and so they reflect changes in ecosystems. They also have large European ranges, and are abundant enough to be monitored accurately. The assessment is based on data for 23 common farmland species from 18 European countries.
Source:
Data sources
More information about this indicator
See this indicator specification for more details.
Contacts and ownership
EEA Contact Info
Katarzyna Biala
Ownership
EEA Management Plan
2010
(note: EEA internal system)
Dates
Permalinks
Permalink to this version

Permalink to latest version
For references, please go to www.eea.europa.eu/soer or scan the QR code.
This briefing is part of the EEA's report The European Environment - State and Outlook 2015. The EEA is an official agency of the EU, tasked with providing information on Europe's environment.
PDF generated on 28 Apr 2015, 04:54 AM