Soil erosion by water
Indicator Assessment
Created 08 Sep 2008
Published 08 Sep 2008
Last modified 04 Sep 2015, 06:59 PM
Note: new version is available!
Indicator codes:
CLIM 028
Key messages
An estimated 115 million hectares, 12 % of the total EU land area, are subject to water erosion.
The projected changes in the climate during the 21st century, with increased variations in rainfall pattern and intensity, will make soils more susceptible to erosion.
The off-site effects of soil erosion will increase with climate change and related changes in rainfall pattern and intensity.

..
Soil erosion risk assessment for Europe for the year 2000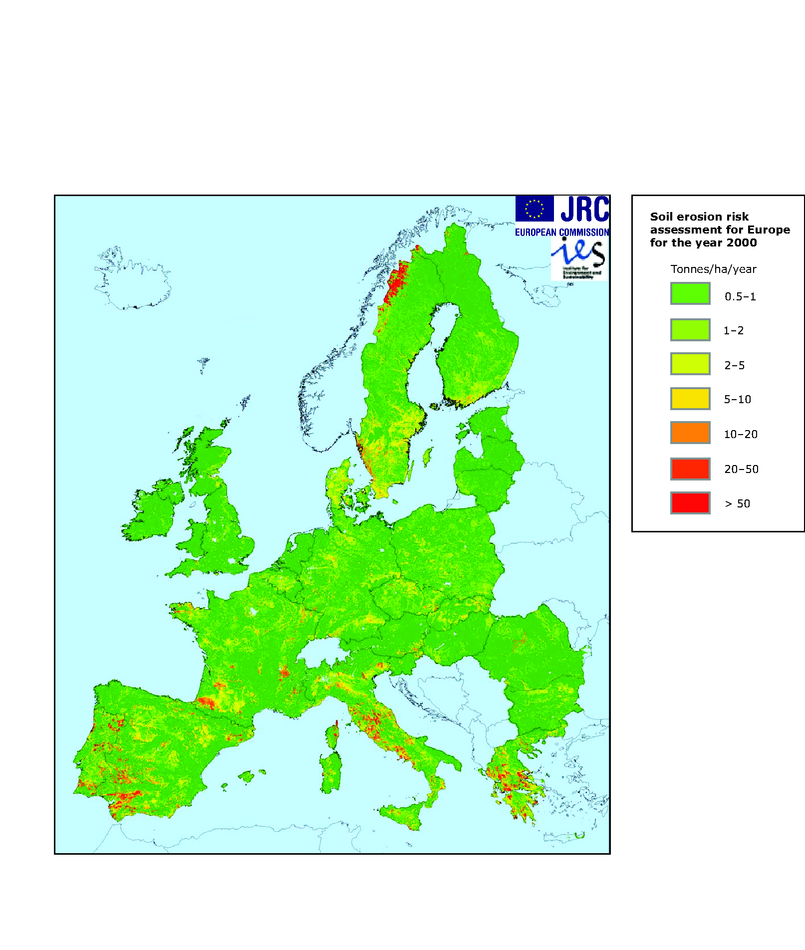 Note: The map shows the soil erosion risk assessment for Europe for the year 2000
Data source:
Joint Research Centre (JRC), INRA (France), (http://eusoils.jrc.it/ESDB_Archive/serae/Serae_data.html).
Downloads and more info
Past trends
Past trends for erosion are not available on the European scale. Based on EU-wide modelling, an estimated 115 million hectares or 12 % of the total EU land area is (in 2000) subject to water erosion (see Figure 1). In this assessment the risk of erosion by water was calculated by using yearly average values for precipitation. However such risks are in fact to a large extent determined by extreme precipitation events (e.g. daily, hourly). The uncertainty of this modelled erosion risk is therefore high, especially at the local level.
Projections
Several studies have been conducted to model the effects of future climate change on soil erosion (e.g. Kirkby et al., 2004). These show a non-linear spatial and temporal response of soil erosion to climate change, with relatively large increases I erosion during wet years compared with dry years, and sporadic increases spatially. Erosion is projected to increase with increases in precipitation amount and intensity, and to decrease with increases in ground cover and canopy cover (IPCC, 2007a).

Indicator specification and metadata
Policy context and targets
Context description
In April 2009 the European Commission presented a White Paper on the framework for adaptation policies and measures to reduce the European Union's vulnerability to the impacts of climate change. The aim is to increase the resilience to climate change of health, property and the productive functions of land, inter alia by improving the management of water resources and ecosystems. More knowledge is needed on climate impact and vulnerability but a considerable amount of information and research already exists which can be shared better through a proposed Clearing House Mechanism. The White Paper stresses the need to mainstream adaptation into existing and new EU policies. A number of Member States have already taken action and several have prepared national adaptation plans. The EU is also developing actions to enhance and finance adaptation in developing countries as part of a new post-2012 global climate agreement expected in Copenhagen (Dec. 2009). For more information see: http://ec.europa.eu/environment/climat/adaptation/index_en.htm
Targets
No targets have been specified
Related policy documents
No related policy documents have been specified
Data sources
Generic metadata
Topics
:
Climate change
(Primary topic)
Tags:
DPSIR
: Impact
Typology
: Descriptive indicator (Type A - What is happening to the environment and to humans?)
Dynamic
Temporal coverage:
2000
Contacts and ownership
EEA Management Plan
2008 2.3.1
(note: EEA internal system)
Permalinks
Permalink to this version

Permalink to latest version
For references, please go to www.eea.europa.eu/soer or scan the QR code.
This briefing is part of the EEA's report The European Environment - State and Outlook 2015. The EEA is an official agency of the EU, tasked with providing information on Europe's environment.
PDF generated on 08 Feb 2016, 11:23 PM