River flow drought (CLIM 018) - Assessment published Nov 2012
Indicator Assessment
Created 12 Nov 2012
Published 20 Nov 2012
Last modified 20 Nov 2012, 11:47 AM
Generic metadata
Topics
:
Climate change
(Primary topic)

Water
Tags:
soer2010 | thematic assessments | droughts | ecosystem services | rivers | water | water resources | water quantity | synthesis
DPSIR
: Impact
Typology
: Descriptive indicator (Type A - What is happening to the environment and to humans?)
Dynamic
Temporal coverage:
1961-1990, 2002-2012, 2020-2029, 2050-2059, 2080-2089
Contents
Key policy question:
What is the trend in minimum river flow across Europe?
Key messages
Europe has been affected by several major droughts in recent decades, such as the catastrophic drought associated with the 2003 summer heat wave in central parts of the continent and the 2005 drought in the Iberian Peninsula.
Severity and frequency of droughts appear to have increased in parts of Europe, in particular in southern Europe.
Regions most prone to an increase in drought hazard are southern and south-eastern Europe, but minimum river flows will also decrease significantly in many other parts of the continent, especially in summer.
Water scarcity and drought events in Europe during the last decade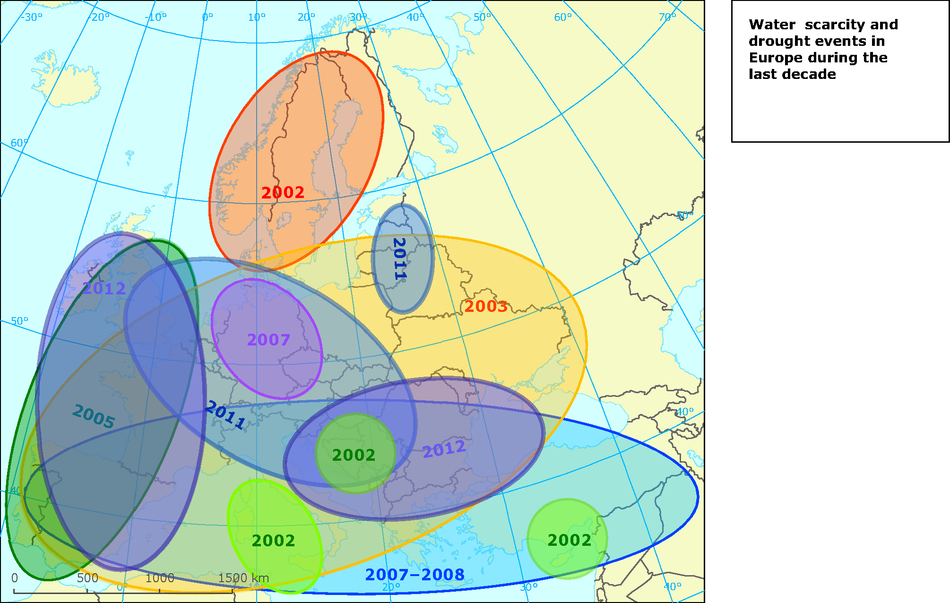 Note: The map shows the main drought events in Europe in 2002 - 2011
Downloads and more info
Projected change in minimum river flow with return period of 20 years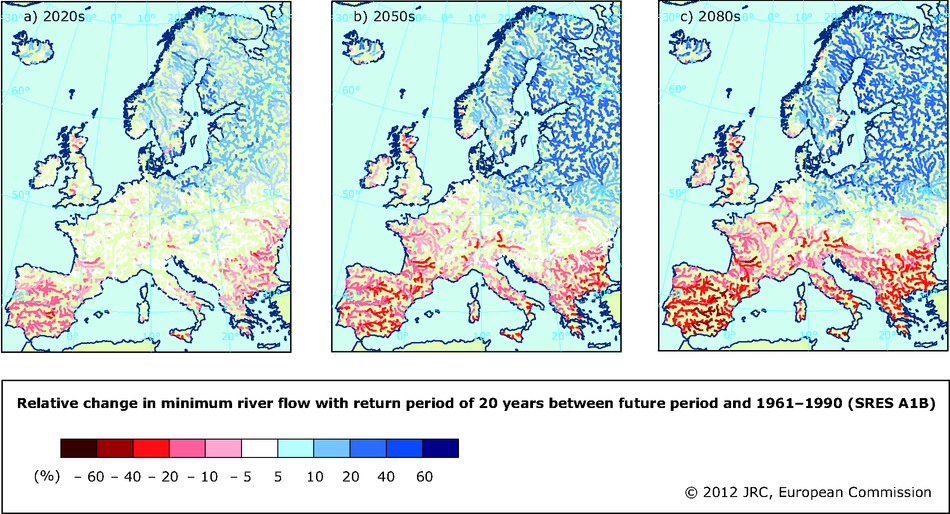 Note: Relative change in minimum river flow for a) 2020s, b) 2050s and c) 2080s compared to 1961-1990 for SRES A1B scenario.
Downloads and more info
Key assessment
Past trends
Over the past 40 years, Europe has been affected by a number of major droughts, most notably in 1976, 1989, 1991, and more recently (see Figure 1), the prolonged drought over large parts of the continent associated with the 2003 summer heat wave and the 2005 drought in the Iberian Peninsula. However, there is no evidence that river flow droughts have become more severe or frequent over Europe in general in recent decades [i], nor is there conclusive proof of a general increase in summer dryness (based on the Palmer Drought Severity Index) in Europe over the past 50 years due to reduced summer moisture availability [ii]. Several stations in Europe have shown trends towards less severe low stream flows over the 20th century but this is primarily attributed to an increasing number of reservoirs becoming operational during this period [iii].
Whilst public water supplies often have priority over other uses during droughts, restrictions on use can arise, together with a significant cost associated with emergency water supplies. In 2008, Cyprus suffered its fourth consecutive year of low rainfall and the drought situation reached a critical level in the summer months. To ease the crisis, water was shipped in from Greece using tankers. In addition, the Cypriot Government was forced to apply emergency measures, including the cutting of domestic supplies by 30 %. Similarly in Catalonia during the spring of 2008, water levels in the reservoirs supplying 5.8 million inhabitants were only 20% of capacity. The government planned to ship fresh water in, at an estimated cost of EUR 35 million. After a few shiploads were transported to Barcelona, these transports were stopped because strong rainfall was filling the reservoirs again [iv].
Projections
River flow droughts are projected to increase in frequency and severity in southern and south-eastern Europe, the United Kingdom, France, Benelux, and western parts of Germany over the coming decades (see Figure 2) [v]. For the near future (2020s, Figure 2.a), the differences to the control period 1961-1990 are rather limited although the general pattern of an increase of minimum flows in Scandinavia and a decrease in Southern and South-Eastern Europe can already be seen. For Scandinavia and North-Eastern Europe the projected minimum flows with a return period of 20 years further increase while almost everywhere else in Europe a moderate till strong decrease is projected. In most of Europe, the projected decrease in summer precipitation accompanied by rising temperatures is projected to lead to more frequent and intense summer droughts [vi].This projected decline in water resources will be reflected not only by reduced river flows, but also by lowered lake and groundwater levels and a drying up of wetlands.
Climate change will affect not only water supply but also water demand. Water demand for irrigation is projected to increase in many regions, which may further decrease river flow. Initial research suggests that climate change may also have some effect on household water demand [vii].
Data sources
More information about this indicator
See this indicator specification for more details.
Dates
Frequency of updates
Updates are scheduled every 4 years in October-December (Q4)
Permalinks
Permalink to this version

Permalink to latest version
For references, please go to www.eea.europa.eu/soer or scan the QR code.
This briefing is part of the EEA's report The European Environment - State and Outlook 2015. The EEA is an official agency of the EU, tasked with providing information on Europe's environment.
PDF generated on 05 May 2015, 02:56 AM