Renewable primary energy consumption (CSI 030/ENER 029) - Assessment published Sep 2005
Indicator Assessment
Created 19 May 2005
Published 27 Sep 2005
Last modified 07 Jul 2011, 02:49 PM
Note: new version is available!
Generic metadata
Topics
:

Energy
(Primary topic)
Tags:
DPSIR
: Response
Typology
: Performance indicator (Type B - Does it matter?)
Contents
Key policy question:
How fast is the share of renewable energy in total gross energy inland consumption is increasing in Europe?
Key messages
The share of renewable energies in total energy consumption increased over the period 1990-2002, but still remains at a low level. Significant further growth will be needed to meet the EU indicative target of a 12 % share by 2010.
Contribution of renewable energy sources to total energy consumption, EU-25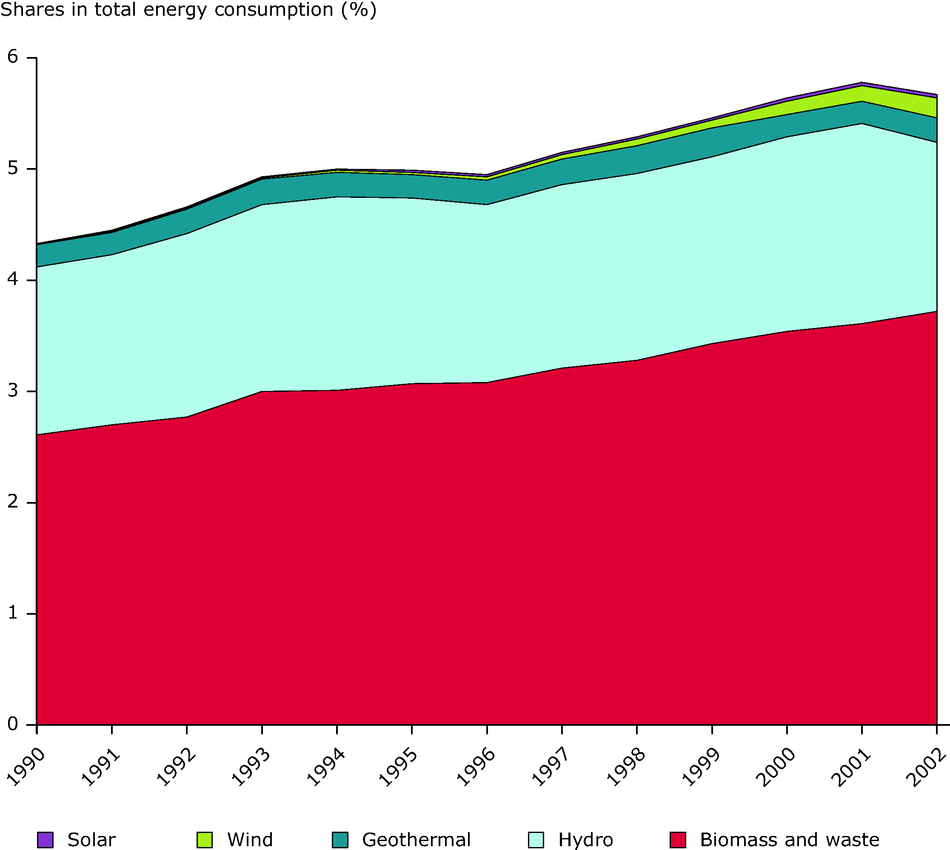 Note: (1990 - 2002)
Downloads and more info
Key assessment
The contribution of renewable energy sources to total energy consumption increased between 1990 and 2001 in the EU-25, but fell slightly in 2002 due to lower production of hydroelectricity (as a result of low rainfall) to reach 5.7 %. This is still substantially short of the indicative target set in the White Paper on renewable energy (COM(97) 599 final) to derive 12 % of EU total energy consumption from renewable sources by 2010 (at present, the 12% aim applies only to the pre-2004 EU-15 Member States).
Between 1990 and 2002, the fastest-growing renewable energy source was wind with an average increase of 38 % per year, followed by solar. The increase in the use of wind to produce electricity was accounted for mainly by strong growth in Denmark, Germany and Spain, encouraged by support policies for the development of wind power. However, as wind and solar energy started from a very low level, they accounted for only 3.2 % and 0.5 % of total renewable energy consumption in 2002. Geothermal contributed 4.0 % of total renewable energy in 2002. The main sources of renewable energy were biomass and waste, and hydropower, accounting for 65.6% and 26.7% of total renewables, respectively.
A number of environmental concerns and a lack of suitable sites mean that large-scale hydropower is unlikely to contribute to significant future increases in renewable energy in the EU-25. Growth will therefore need to come from other sources such as wind, biomass, solar and small-scale hydropower. Expanding the use of biomass for energy purposes needs to take account of conflicting land-use for agricultural and forestry areas, and in particular nature conservation requirements.
Data sources
More information about this indicator
See this indicator specification for more details.
Contacts and ownership
EEA Contact Info
Mihai Florin Tomescu
Ownership
EEA Management Plan
2010
(note: EEA internal system)
Dates
Frequency of updates
Updates are scheduled once per year in October-December (Q4)
Permalinks
Permalink to this version

Permalink to latest version
For references, please go to www.eea.europa.eu/soer or scan the QR code.
This briefing is part of the EEA's report The European Environment - State and Outlook 2015. The EEA is an official agency of the EU, tasked with providing information on Europe's environment.
PDF generated on 03 May 2015, 10:38 PM