Renewable energy consumption - outlook from IEA (Outlook 039) - Assessment published Jun 2007
Indicator Assessment
—
expired
Created 08 Jan 2007
Published 08 Jun 2007
Last modified 12 Nov 2013, 09:24 AM
This content has been archived on
12 Nov 2013
, reason:
Content not regularly updated
Generic metadata
Topics
:

Environmental scenarios
(Primary topic)

Energy
Tags:
DPSIR
: Response
Typology
: Performance indicator (Type B - Does it matter?)
Contents
Key policy question:
Are we switching to renewable sources?
Key messages
Renewable energy sources are set to expand rapidly. Excluding traditional biomass use, their share of global energy demand is projected to climb from 7% in 2006 to 10% by 2030 in the Reference Scenario.

Projected percentage change in renewables consumption by type from 2006 to 2030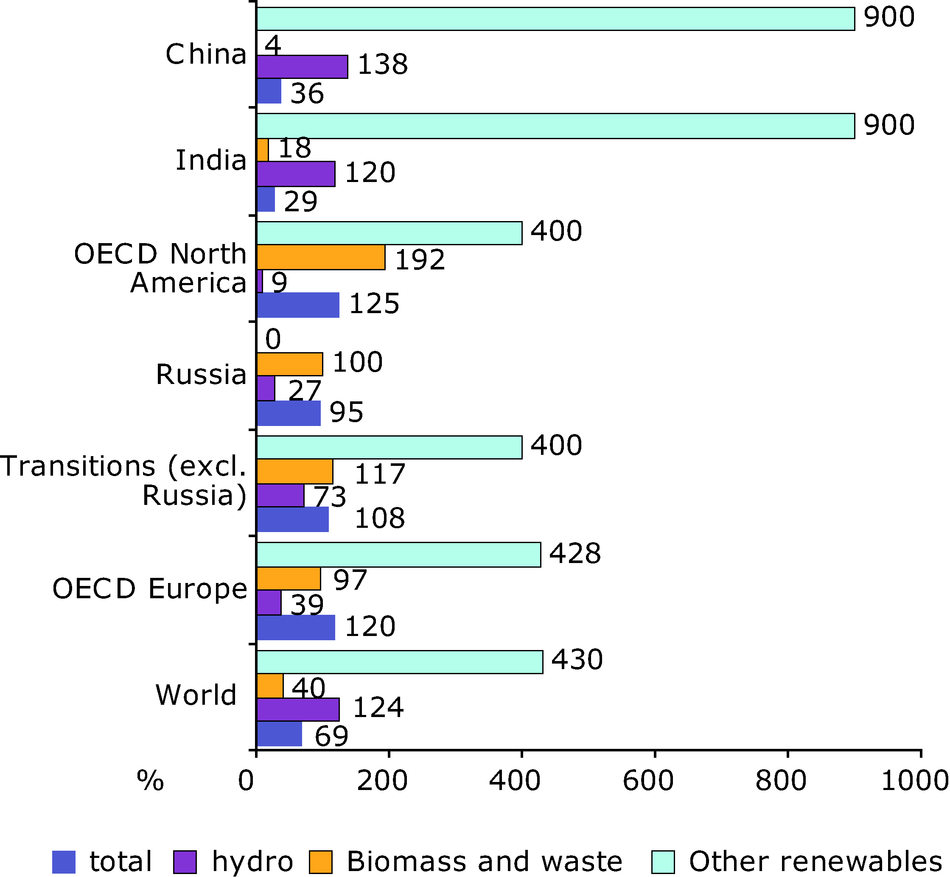 Note: N/A
Downloads and more info
Global Total Primary Energy Consumption by fuel
Note: N/A
Downloads and more info
Total Primary Energy Consumption by fuel in the World Regions in 1990. 2000 and 2030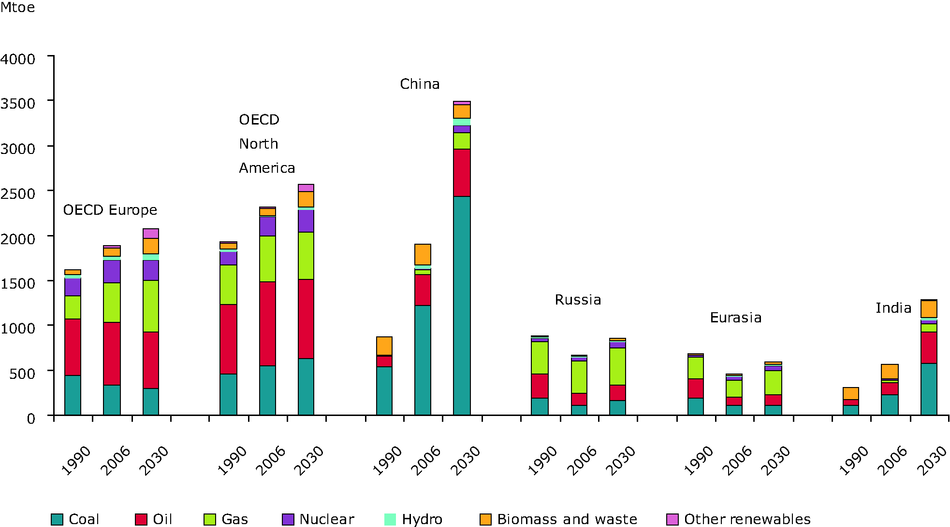 Note: N/A
Downloads and more info
Key assessment
Biomass ( including traditional biomass) is expected to remain by far the single most important source of renewable energy for decades to come (Fig 2. and Fig3). In the Reference Scenario, total world demand for biomass rises from 1186 Mtoe in 2006 to 1660 Mtoe by 2030, although its share of world primary energy demand falls slightly from 10.1% to 9.8%. An estimated 60% of current biomass use is in the form of traditional biomass such as fuel wood, dried animal dung and agricultural residues used on open fires and in crude, low efficiency stoves to provide basic cooking and heating services.
The share of biofuels in the total supply of road transport is expected to rise from 1.5% in 2006 to 5% in 2030, spurred by subsidies and high oil prices. Most of the growth comes from the USA, Europe, China and Brazil.
World renewable-based electricity generation - mostly hydro and wind power - is projected to more than double over the Outlook period, its share of total energy output rising from 18% to 23%.
In the OECD the share of renewables in electricity generation rises by 10 points to 26% over the Outlook period. Global output of wind power is projected to increase eleven fold, becoming the second largest source of renewable electricity. The largest increase is in the European Union where the share of wind power reaches 14% in 2030, accounting for 60% of the increase in total EU electricity generation.
By 2030, electricity produced in the EU 27 Member States from renewable energy could account for as much as 18 % of the global total, followed by China with 17 %, and USA with a share of 12 %. Under the WEM alternative scenario, electricity generated by China from renewables, could represent as much as 20 % of the global total, followed by the EU 27 with 16 %, and USA with 11 %. The shares of the EU 27 and USA in the global total appear to decrease, because in this scenario all countries are expected to step up their efforts to increase the share of renewables in their energy mix. (Source: EEA Report No 6/2008. Energy and environment report 2008. European Environment Agency, 2008 ).
Total cumulative investment in renewable energy supply in 2007-2030 amounts to $5.5 trillion (in year 2007 dollars). The greater part of this investment is for electricity generation where renewable account for just under half the total projected investments.
Despite the improved environment for emerging renewables sources and technologies, many barriers to their deployment remain. These could hold back long term growth of the sector. They include: relatively high costs of some technologies in the absence of subsidies; relatively limited research and development until recently; growing concerns about the impact on food availability of the use of crops for energy; lack of skilled labor and policy making capacity; regulations that discourage variable and distributed power generating systems; inadequate investment in networks; and skepticism on the part of some major incumbent players in the energy sector about the viability of renewable.

Data sources
More information about this indicator
See this indicator specification for more details.
Contacts and ownership
EEA Contact Info
Anita Pirc Velkavrh
Ownership
EEA Management Plan
2010
(note: EEA internal system)
Dates
Permalinks
Permalink to this version

Permalink to latest version
For references, please go to www.eea.europa.eu/soer or scan the QR code.
This briefing is part of the EEA's report The European Environment - State and Outlook 2015. The EEA is an official agency of the EU, tasked with providing information on Europe's environment.
PDF generated on 01 Apr 2015, 01:36 PM