Plant phenology
Indicator Assessment
Created 08 Sep 2008
Published 08 Sep 2008
Last modified 04 Sep 2015, 06:59 PM
Note: new version is available!
Indicator codes:
CLIM 023
Key messages
The timing of seasonal events in plants is changing across Europe, due mainly to changes in climate conditions; 78 % of leaf unfolding and flowering records show advancing trends and only 3 % a significant delay. Between 1971 and 2000, the average advance of spring and summer was 2.5 days per decade.
As a consequence of climate-induced changes in plant phenology, the pollen season starts on average 10 days earlier and is longer than 50 years ago.
Trends in seasonal events will continue to advance as climate warming increases in the years and decades to come.

Phenological sensitivity to temperature changes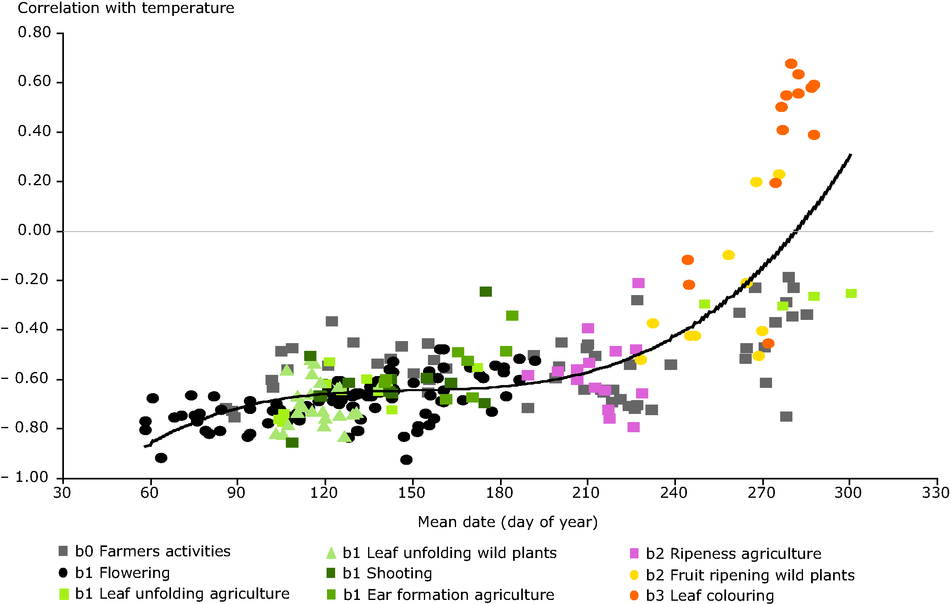 Note: In a study of 254 national records across nine countries, most phenological changes correlated significantly with mean monthly temperatures of the previous two months
Data source:
Menzel, A.; Sparks, T. H.; Estrella, N.; Koch, E.; Aasa, A.; Ahas, R.; Alm-Kübler, K.; Bissolli, P.; Braslavská, O.; Briede, A.; Chmielewski, F. M.; Crepinsek, Z.; Curnel, Y.; Dahl, Å.; Defila, C.; Donelly, A.; Filella, I.; Jatczak, K.; Måge, F.; Mestre, A.; Nordli, Ø.; Peñuela, J.; Pirinen, P.; Remišová, V.; Scheinfinger, H.; Stríž, M.; Susnik, A.; Van Vliet, A. J. H.; Wiegolaski, F.-E.; Zach, S.; Zust, A., 2006. European phenological response to climate change matches the warming pattern. Global Change Biology 12: 19691976.
Downloads and more info
Oak (Quercus sp) leafing date in Surrey (United Kingdom) 1950-2008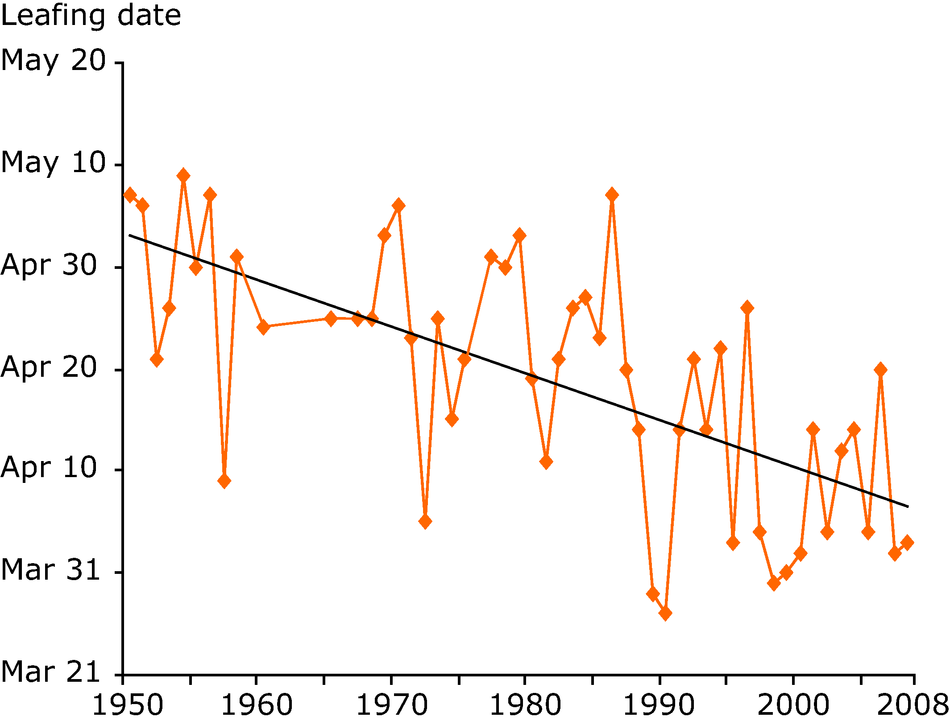 Note: Annual observations (connected by straight lines); black line: average change in leafing date (showing advancement).
Data source:
Nature's Calendar, UK. www.naturescalendar.org.uk/ climate+change/past.htm.
Downloads and more info
Past trends
There is clear evidence of changing phenology across Europe in recent decades (Parmesan and Yohe, 2003; Root et al., 2003; Menzel et al., 2006) (Figure 1). Overall, 62 % of the observed variability in the timing of life cycle events can be explained by climate (van Vliet, 2008). However, variability differs between events, with those occurring earlier (i.e. spring) being more variable than later events (Menzel et al., 2006). For example:
78 % of all leaf unfolding, flowering and fruiting records across Europe show an advancing trend and only 3 % a significant delay. The average advance of spring/summer phenological events is occurring at a rate of 2.5 days per decade (Menzel et al., 2006).
The pollen season currently starts on average 10 days earlier and is of longer duration than 50 years ago.
In Britain, the first flowering date for 385 plant species has advanced by 4.5 days on average during the past decade in comparison with the previous four decades (Fitter and Fitter, 2002); oak leafing has advanced three weeks in the last 50 years (DEFRA, 2007) (Figure 2).
In the Arctic, rapid climate-induced advancement of spring phenomena (e.g. flowering, egg laying) has been observed during the last 10 years. The strong responses of Arctic ecosystems and large variability within species illustrate how easily biological interactions can be disrupted by climate change (Høye et al., 2007).
Projections
Phenological changes will alter growing seasons, ecosystem production, population-level interactions and community dynamics (Fitter and Fitter, 2002). Different species show different phenological responses; for example, annuals and insect-pollinated species are more likely to flower early than perennials and wind-pollinated species (Fitter and Fitter, 2002). Ecological research is evaluating these response thresholds to better understand what the wider effects might be. While advancing trends in seasonal events will continue as climate warming increases in the years and decades to come, it is uncertain how different species will respond when temperature thresholds are reached and whether linear relationships between temperature and growing season will be realised in the future.

Indicator specification and metadata
Policy context and targets
Context description
In April 2009 the European Commission presented a White Paper on the framework for adaptation policies and measures to reduce the European Union's vulnerability to the impacts of climate change. The aim is to increase the resilience to climate change of health, property and the productive functions of land, inter alia by improving the management of water resources and ecosystems. More knowledge is needed on climate impact and vulnerability but a considerable amount of information and research already exists which can be shared better through a proposed Clearing House Mechanism. The White Paper stresses the need to mainstream adaptation into existing and new EU policies. A number of Member States have already taken action and several have prepared national adaptation plans. The EU is also developing actions to enhance and finance adaptation in developing countries as part of a new post-2012 global climate agreement expected in Copenhagen (Dec. 2009). For more information see: http://ec.europa.eu/environment/climat/adaptation/index_en.htm
Targets
No targets have been specified
Related policy documents
No related policy documents have been specified
Data sources
Generic metadata
Topics
:
Climate change
(Primary topic)
Tags:
pollen | plants | climate change | temperatures | flowering | leafing
DPSIR
: Impact
Typology
: Descriptive indicator (Type A - What is happening to the environment and to humans?)
Dynamic
Temporal coverage:
1950-2005, 2008
Contacts and ownership
EEA Management Plan
2008 2.3.1
(note: EEA internal system)
Permalinks
Permalink to this version

Permalink to latest version
For references, please go to www.eea.europa.eu/soer or scan the QR code.
This briefing is part of the EEA's report The European Environment - State and Outlook 2015. The EEA is an official agency of the EU, tasked with providing information on Europe's environment.
PDF generated on 12 Feb 2016, 05:06 PM