Passenger transport demand (CSI 035/TERM 012) - Assessment published Sep 2010
Indicator Assessment
Created 07 Aug 2009
Published 07 Sep 2010
Last modified 13 Dec 2013, 04:28 PM
Note: new version is available!
Generic metadata
Topics
:

Transport
(Primary topic)
Tags:
DPSIR
: Driving force
Typology
: Descriptive indicator (Type A - What is happening to the environment and to humans?)
Dynamic
Temporal coverage:
2009
Contents
Key policy question:
Is passenger transport demand being decoupled from economic growth?
Key messages
Passenger transport demand in the EEA-32 continues to grow, but at a slower pace than GDP indicating a decoupling between these two metrics. The latest data shows that since 2002 air passenger transport has been growing at a much faster rate than any other mode of passenger transport.
Trends in passenger transport demand and GDP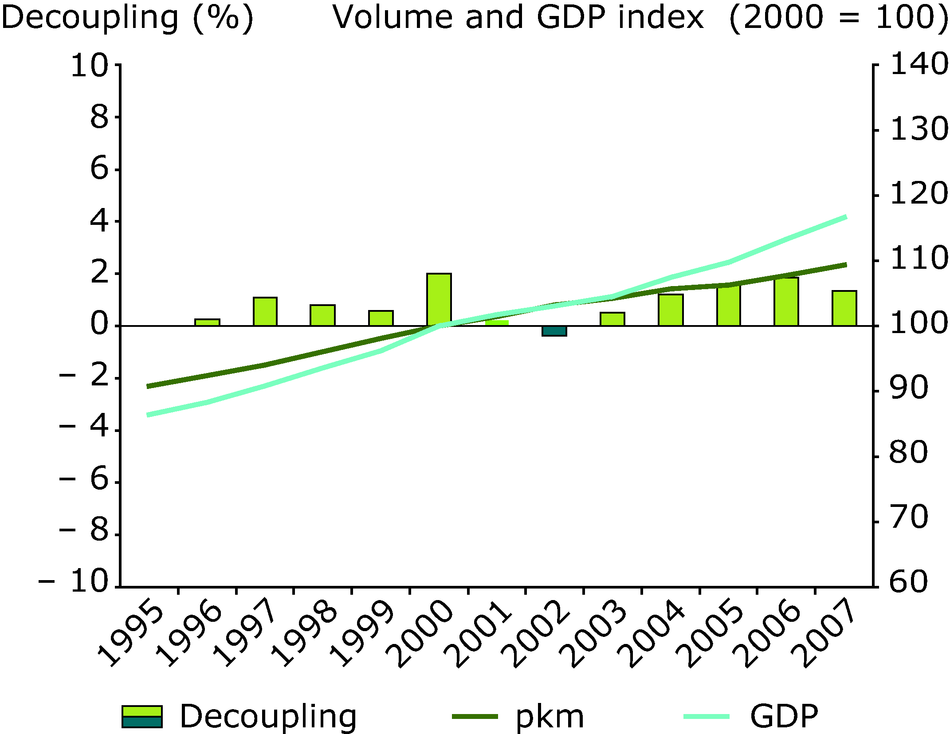 Note: Trends in passenger transport demand and GDP
Downloads and more info
Passenger transport modal split

Note: Passenger transport modal split, excluding Cyprus and Malta
Downloads and more info
Key assessment
Figure 1 shows that over the past decade, passenger transport growth has been slower on average than the growth in the economy. However, passenger transport is still continuing to grow, thereby making it increasingly difficult to stabilise or reduce the environmental impacts of transport.
A growth in car passenger kilometres was observed in the majority of EEA-32 countries between 2006 and 2007. However Hungary, Iceland, Lithuania, Slovakia and Switzerland showed a decrease during this period. The biggest increase in car passenger transport demand during the period 1997 and 2007 was observed in Lithuania, where demand increased by more than a factor of 3.
Between 1997 and 2007, bus demand increased the most in Latvia and Luxembourg (54 %), while Slovakia, Slovenia, the Netherlands and Poland experienced the largest decline in bus demand across Europe (22 %, 19 %, 19 % and 17 % from 1997 levels respectively).
The overall increase in rail demand in EEA-32 was 15 %. However there were marked contrasts between regions, with the EU-15 overall displaying an increase in rail passenger demand and the EU-12 showing a fall. For example, Sweden, Ireland and the UK experienced the highest increase in rail passenger kilometres over the decade from 1997 to 2007 (46 %, 45 % and 43 % respectively), whereas Bulgaria, Romania and Lithuania experienced the biggest fall in rail transport demand between 1997 and 2007.
Car transport accounted for a large proportion of inland passenger transport among the member states for which data is available (Figure 2). The reliance on the car was particularly strong in Lithuania, Iceland and Norway, where it accounted for more than 88% of passenger kilometres in 2007.

Data sources
More information about this indicator
See this indicator specification for more details.
Dates
Frequency of updates
Updates are scheduled once per year in October-December (Q4)
Permalinks
Permalink to this version

Permalink to latest version
For references, please go to www.eea.europa.eu/soer or scan the QR code.
This briefing is part of the EEA's report The European Environment - State and Outlook 2015. The EEA is an official agency of the EU, tasked with providing information on Europe's environment.
PDF generated on 05 May 2015, 09:28 AM