Occupancy rates of passenger vehicles
Indicator Assessment
—
expired
Created 31 Mar 2010
Published 01 Jul 2010
Last modified 04 Sep 2015, 06:59 PM
Note: new version is available!
This content has been archived on
06 Aug 2015
, reason:
No more updates will be done
Indicator codes:
TERM 029
Key messages
The objective of the indicator is to monitor the efficiency of passenger transport through vehicle occupancy rates.
Although comparative data are only available for five years (2004 - 2008), the data suggest that passenger car occupancy rate is generally stabilising in Western Europe (UK, DK, NL, NO, AT, ES, IT) but is declining, from a higher baseline, in the Eastern European countries (CZ, SK, HU). This would be expected given that car ownership levels are growing more rapidly in Eastern Europe (see Figure 1). Rail and bus occupancy rate data is scarce and trends available for some countries might be representative only of certain regions (Figure 2 and Figure 3).

Is passenger transport becoming more efficient?
Car occupancy rates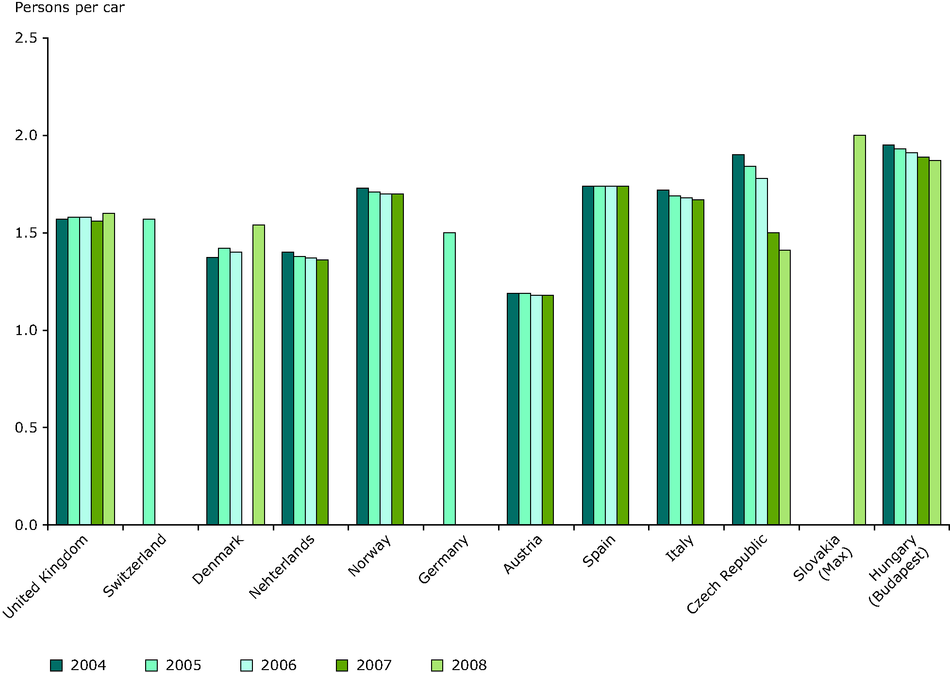 Note: Car occupancy rates between 2004 and 2008
Downloads and more info
Train occupancy rates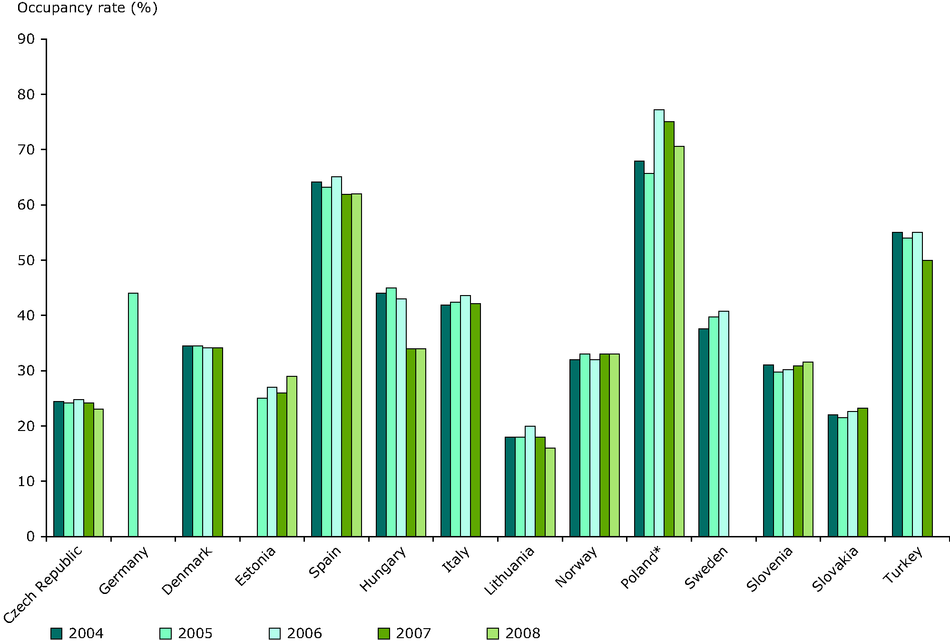 Note: Train occupancy rates between 2004 and 2008
Downloads and more info
Long distance bus occupancy rates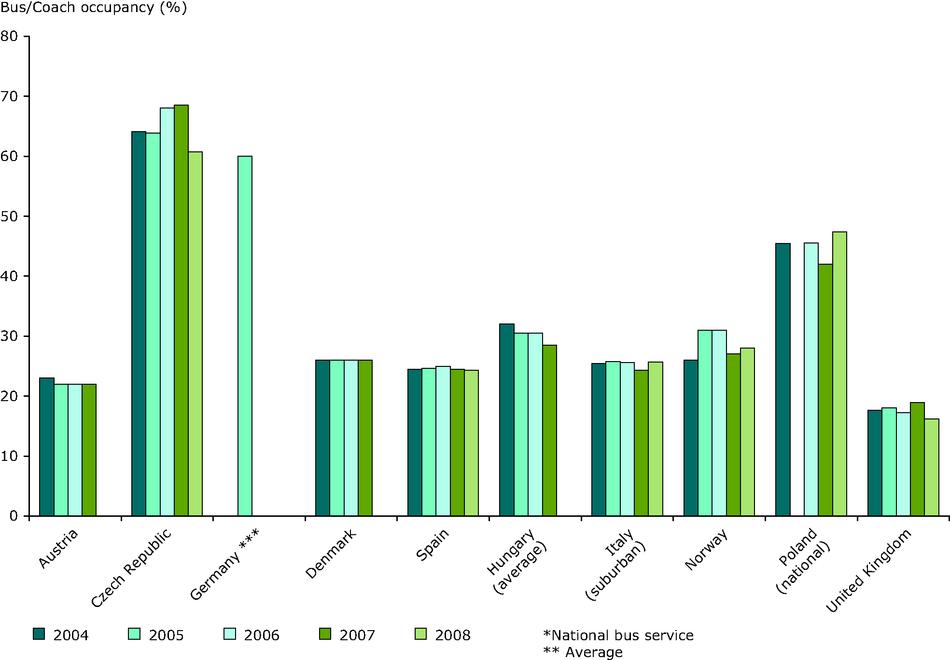 Note: Long distance bus occupancy rates between 2004 and 2008 (Bus/coach occupancy in %)
Data source:
Slovenia Bus Data. Available at http://www.stat.si/pxweb/Database/Economy/22_transport/02_22212_road_transport/02_22214_passenger_transport/02_22214_passenger_transport.asp
CZ Bus Available at: MDs - Transport Yearbook 2006 http://www.sydos.cz/en/yearbook-2006/yearbook/htm_uk/uk06_514000.html
MDS - Transport Yearbook 2001: http://www.sydos.cz/en/yearbook-2001/yearbook/html/e513.htm



Downloads and more info
Passenger cars
In Western Europe the rate of car occupancy is slowly starting to stabilise after a long term downward trend. The most recent data for the average number of passengers per car for the Eastern European countries sampled (Czech Republic, Slovakia and Hungary) is approximately 1.8 passengers per vehicle (in the Czech Republic - 1.4, Slovakia - 2 and Hungary - 1.9 passengers accordingly) (see Figure 1). This is considerably higher than the average number of passengers per car for the Western European countries sampled (UK, Denmark, The Netherlands, Norway, Germany, Austria, Spain and Italy) which were 1.54 passengers per vehicle (2007 data).
Although the data sets are incomplete and long term occupancy trends are only available from a very few countries, the figures show, as would be expected, that car occupancy rates have declined over a period when car ownership increased. In Western Europe occupancy rates appear to be stabilising, while in the Eastern European countries, where car ownership is lower but growing more rapidly than in the West, occupancy rates are higher than in the West but yet declining. Eastern Europe is therefore at an earlier stage in the car ownership trend than Western Europe. A further difference is that the Eastern European data are taken from larger cities such as Budapest and Prague compared to more rural areas in Denmark and Norway.
Rail
The occupancy rate of rail (Figure 2) has seen a mixed trend in those countries that completed the 2009 survey (Estonia, Norway, Poland, Spain, Hungary, Lithuania, Slovenia, Czech Republic). The occupancy rate differs for different times of day, as well as between route types. Variation in occupancy rates can be significant; urban/suburban rates in Turkey showed occupancy of around 70 % in the late 1990s, but this fell to 50 % in 2007. Similarly, occupancy rates in Hungary dropped from around 45 % between 2004-2006 to 34 % in 2007 and 2008. This differs from Slovakia and Slovenia which has seen occupancy rates remain at around 23 % and 32 % respectively over the 10 years sampled.
Buses and coaches
Bus and coach data is difficult to obtain as it is rarely made publicly available due to the increasingly privatised nature of national public bus services. The result of privatisation has been the closure of less profitable bus routes (those with low occupancy rates) and a shift to smaller sized buses.
Ten countries provided data on bus and coach occupancy. Few provided information on both long and short distance journeys. Data on long distance journeys obtained from the ten countries shows no particular trend in bus and coach occupancy between 2004 and 2008. Denmark, Norway, Poland, Germany, Czech Republic, Austria, Hungary, Spain, Italy and the UK provided the occupancy rates in % and are shown in Figure 3. Although the occupancy figures fluctuate considerably, some countries (UK, Denmark, Italy and Spain) seem fairly steady. Other countries such as Hungary, Czech Republic and Austria show a slight decrease in coach and bus occupancy rate for long distance journeys.
Air
The seat occupancy of European airlines is high and has increased slightly over the past decade. Growing competition among airlines has put pressure on profit margins and airline efficiency. On average, aircraft seats are now around 70% occupied. There is significant variation from airline to airline, and since only five airlines control more than half of the market, a change in practise in one airline can lead to large changes in overall load factor.
Data of air passenger occupancy rates was not collected via the TERM/EEA questionnaire in 2009. The International Air Transport Association (IATA), however, released data showing that the global passenger occupancy factor was 73.3% in February 2008. This is 0.6 percentage points less than the passenger load factor in February 2007. Moreover it is the most significant drop in the passenger occupancy factor for 4 years. The same source points out that the European air passenger occupancy factor in February 2008 was recorded at 71.7% (4hoteliers.com, 2008).

Indicator specification and metadata
Indicator definition
The indicator consists of the occupancy rate for cars, occupancy rate for buses, occupancy rate for trains and occupancy rate for aircraft expressed as a percentage (see below definitions for each transport mode).
The occupancy rate is calculated as a ratio between transport performance (passenger-kilometres) and the supplied vehicle kilometres. A vehicle-kilometre is a unit of measurement representing movement of a vehicle over one kilometre.
Units
Percentage (%) of available seats occupied, passenger-kilometres and vehicle-km.
Policy context and targets
Context description
The total number of vehicle-kilometres can be significantly reduced if the efficiency of passenger transport (in terms of vehicle occupancy rates) increases. Consequently, fewer vehicles would be needed to transport the same number of persons, which would help to combat congestion and avert environmental damage. A potential downside is reduced passenger comfort due to fuller vehicles.
Measures to increase occupancy rates for cars include schemes for favouring vehicles with more than one occupant (through-traffic privileges and financial incentives). There are no explicit targets for this indicator at EU level, and neither are there any policy targets for car sharing programs. There are, however, a number of different initiatives in place to increase levels of car occupancy. Private companies are, for example, increasingly promoting car sharing. Some member states have also developed policies for improving transport occupancy rates.
Targets
No targets have been specified.
Related policy documents
Methodology
Methodology for indicator calculation
Rail, air and bus occupancy rates (%) are calculated using a passenger-kilometre / vehicle-kilometre ratio. Data was collected from Eurostat, the Association of European Airlines (AEA), and through a Europe-wide e-mail questionnaire. Information was made available for a selection of European states. The occupancy rate for cars is calculated as the average number of persons occupying a car, including the driver. Air, train and bus figures are based on the percentage of seats occupied. Air transport refers to principal European airline carriers. The data may be obtained from the airports. The Council Regulation on statistics on air transport requests information on passengers and number of flights (EC, 2003).
Methodology for gap filling
Train data is available for 13 EU states, obtained through questionnaire results. Bus and coach data was obtained from questionnaires sent by 10 EU states. Car occupancy rates were received from 11 EU states. Due to limited data being available, the results have been presented by Member State and therefore no gap filling has been required in order to present the data.
Methodology references
No methodology references available.
Uncertainties
Methodology uncertainty
The data only reflects information from those Member States that responded to the questionnaire. Therefore, the data trends may not reflect the position in Europe as a whole.
Data sets uncertainty
The value of occupancy was calculated differently across countries. For example, in some cases the value of occupancy for a particular year was calculated based on trend information. This can create some discrepancies when collating, analysing and reporting the data.
Questionnaire responses in 2008 were limited and scarce. However, TERM 2009 produced a higher number of responses than 2008. Therefore, it is likely that there will be considerable differences between the data collected in 2008 and data collected in 2009.

Rationale uncertainty
No uncertainty has been specified.
Data sources
Generic metadata
Topics
:

Transport
(Primary topic)
Tags:
DPSIR
: Driving force
Typology
: Descriptive indicator (Type A - What is happening to the environment and to humans?)
Dynamic
Temporal coverage:
2004-2008
Contacts and ownership
Ownership
EEA Management Plan
2010
(note: EEA internal system)
Dates
Frequency of updates
This indicator is discontinued. No more assessments will be produced.
Permalinks
Permalink to this version

Permalink to latest version
For references, please go to www.eea.europa.eu/soer or scan the QR code.
This briefing is part of the EEA's report The European Environment - State and Outlook 2015. The EEA is an official agency of the EU, tasked with providing information on Europe's environment.
PDF generated on 04 May 2016, 02:22 PM