Municipal waste generation (CSI 016/WST 001) - Assessment DRAFT created Jan 2013
Indicator Assessment
—
expired
Created 31 Oct 2012
Published 11 Jan 2013
Last modified 16 Feb 2015, 11:14 AM
This item is open for comments. See the comments section below
This content has been archived on
16 Feb 2015
, reason:
No more updates will be done
Generic metadata
Topics
:

Waste and material resources
(Primary topic)

Household consumption

Green economy
Tags:
DPSIR
: Pressure
Typology
: Descriptive indicator (Type A - What is happening to the environment and to humans?)
Dynamic
Temporal coverage:
1995-2010
Contents
Specific policy question: Answer to unknown question
Municipal waste generation per capita in Europe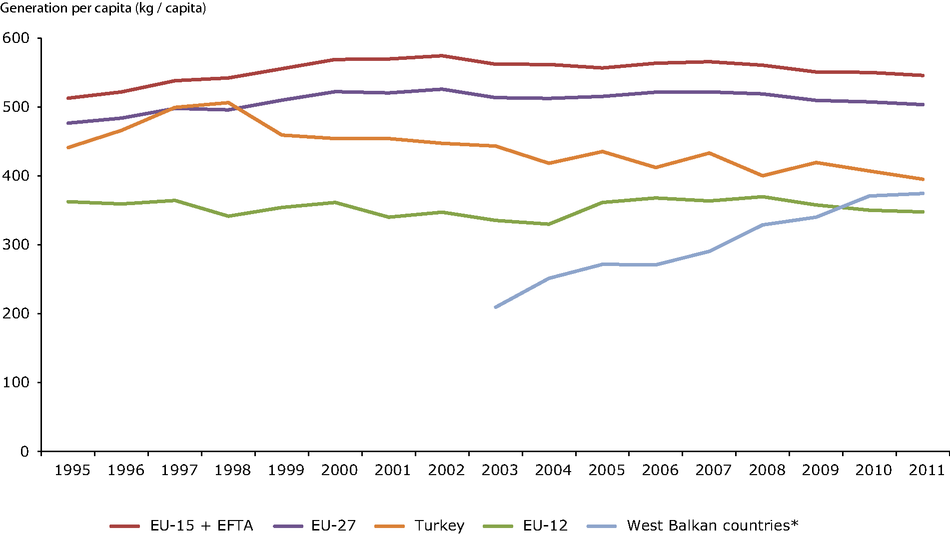 Note: Data for Greece for the year 1995 is missing. Data from the West Balkan countries are available from 2003 onwards. Specifically, data for Albania are available for the period 2003-2009, Croatia for 2004-2011, Serbia for 2006-2011, Montenegro only for the year 2009, Kosovo (under UNCR 1244/99) for the period 2007-2009.
Data source:
Downloads and more info
Specific assessment
The recent EU policy instruments and strategies, such as the Waste Framework Directive (2008/98/EC) and the 6th Environmental Action Programme (EAP) prioritise waste prevention and decoupling of waste generation and its environmental impacts from economic growth. In the European Union, a relative decoupling from economic growth has already been achieved since the stabilization of MSW generation trend after 2000 which does not follow the simultaneous increase in the GDP. Contrary to the EU, municipal waste generation in the West Balkan region has been steadily increasing since 2003, going up to 374 kg/cap on average in 2011, exceeding the average 347 kg/capita in the EU-12. Waste generation has closely followed the region's upward trend in GDP, attributed to the rapid economic expansion, provoked by the adoption of free market economies in the countries of the region, but it is also assumed that the data collection methods have resulted in higher figures.
Municipal waste generation rates in the EU-12,Turkeyand the West Balkan countries are on average lower than in EU-15 and EFTA countries. In the EU-12, average generation appears to have remained relatively stable since the mid-nineties (although trends in individual countries are quite variable). This apparent stability in average generation has occurred during a period with strong economic growth as well as growth of consumption expenditure in the EU-12 Member States. 
The stabilisation of waste generation in the EU might have a number of explanations. The causes of absolute decoupling in municipal waste generation per capita in EU-12 are not fully clear yet. Several countries of the region have reported that apparent decoupling in their MSW generation may partially be caused by changes in measurement methods. Weighing of waste deliveries at landfills has been gradually introduced in some EU-12 countries over the past decade. Previously the amounts were estimated according to volume. Since amounts of lightweight waste (e.g. packaging) are growing and amounts of heavy fractions (e.g. ash and slag) are decreasing, individual landfills might have overestimated weight of municipal waste in the previous years based on older waste composition data. Another reason is the initiatives taken by some countries (mostly in EU-15) in the field of waste prevention. The actions are still limited, but some signs of effective prevention can already be observed.
Other trends, such as those in consumption patterns and waste collection methods (e.g. limited collection of bulky waste), might also have played a role. Reporting systems need further development, especially regarding the definition of municipal/non-municipal waste in some streams e.g. waste from small enterprises and services, bulky waste and packaging waste.
Furthermore, there are notable differences among countries both in the trend of waste generation and its size. In the EU-27, the annual generation per capita varies from 298 kg in Estonia up to 718 kg in Denmark in 2011. On the other hand, some countries have achieved a stabilisation of waste generation or even a reduction (e.g. Ireland, Sweden, UK) while others follow a constant increase (e.g. Portugal, Cyprus). Therefore, there is a lot of room for improvement if the successful policies and measures applied in some countries become widespread across Europe. 
Data sources
More information about this indicator
See this indicator specification for more details.
Dates
Frequency of updates
This indicator is discontinued. No more assessments will be produced.
Permalinks
Permalink to this version

Permalink to latest version
For references, please go to www.eea.europa.eu/soer or scan the QR code.
This briefing is part of the EEA's report The European Environment - State and Outlook 2015. The EEA is an official agency of the EU, tasked with providing information on Europe's environment.
PDF generated on 03 May 2015, 07:04 PM