Municipal waste generation - outlook EEA (Outlook 005) - Assessment published Jun 2007
Indicator Assessment
—
expired
Created 08 Jan 2007
Published 08 Jun 2007
Last modified 11 Nov 2013, 04:20 PM
This content has been archived on
11 Nov 2013
, reason:
Content not regularly updated
Generic metadata
Topics
:

Environmental scenarios
(Primary topic)

Waste and material resources
Tags:
DPSIR
: Pressure
Typology
: Descriptive indicator (Type A - What is happening to the environment and to humans?)
Contents
Key policy question:
What are the prospects of reduction of municipal solid waste?
Key messages
In the EU-15, most municipal waste streams are not expected to decouple significantly from GDP and none are expected to decouple absolutely. In the New-10, relative decoupling of waste from GDP is expected for municipal wastes. AS municipal waste generation is expected to continue to grow across Europe, the policy target of absolute decoupling is not met. This might lead to an increase in environmental pressures and stretch the waste management capabilities of countries with less developed infrastructure. The economic situation in Europe has a significant impact on municipal waste streams.
Growths in waste quantities and GDP (2020/2000)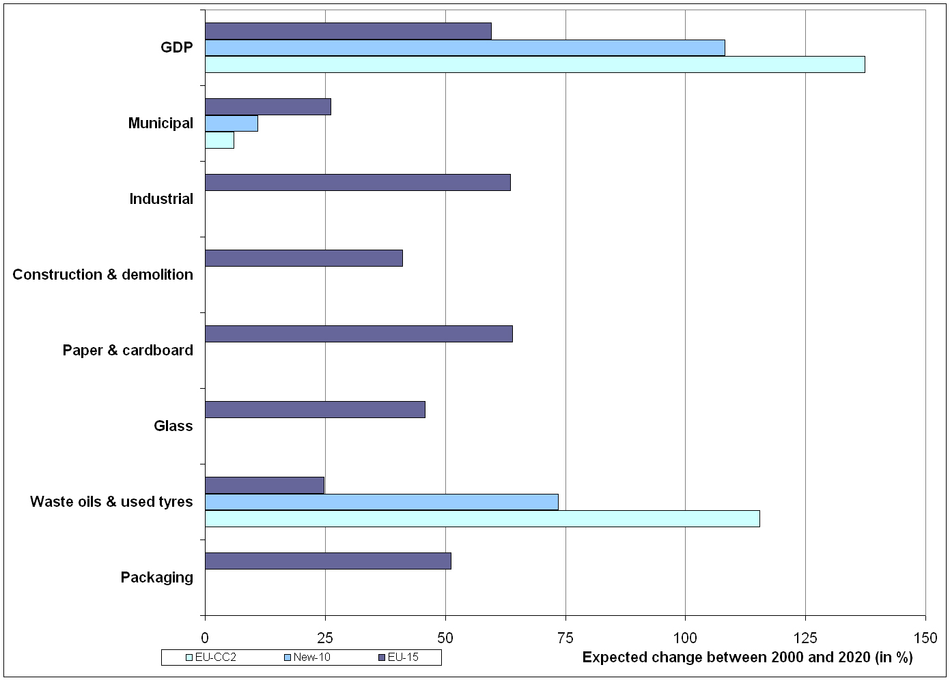 Note: N/A
Data source:
European environment outlook, EEA Report No 4/2005
Downloads and more info
Key assessment
The following developments are expected for municipal waste quantities:
Baseline Scenario:
In the EU-15, municipal waste stream is expected to decouple relatively from GDP by 2020. However, none are expected to decouple absolutely. Municipal waste is expected to increase by 25% over the period.

In the New-10, relative decoupling from GDP is expected for municipal wastes which are expected to increase by only 10% by 2020. Similar developments are expected for

Bulgaria and Romania (6% increase).

In absolute terms, municipal waste is expected to contribute 250 million tones per year in the EU-15.

Spain appears as the EU-15 country with the highest level of municipal waste per household (about 2.2 tonnes in 2030), while the average for the other countries is about 1.3 tonnes. In the New-10, the average is around 1.2 tonnes per household.

The impacts of the forthcoming implementation in the EU-15 of the landfill directive for biodegradable municipal waste have been estimated in terms of environmental pressures. Under the assumption that the directive's targets are met, landfilling of biodegradable municipal waste is expected to be reduced by about 15 Mt in 2006, 28 Mt by 2009 and 41 Mt by 2016. This diversion towards other waste management options would reduce the related emissions of greenhouse gas.
A 'low economic growth' variant
Since the waste generation and material flows outlook is based on a macro-economic model (see methodology), a 'low economic growth' variant to the baseline scenario has been developed to assess the (marginal) impact of the overall European economic situation on these environmental drivers. It has been estimated that moderately pessimistic assumptions would lead to average annual growth rates of 1.6 % (EU-15) to 3.2 % (New-10) over 2000-2030 for different regions in Europe. In the baseline scenario, the growth assumptions range from 2.3 % (EU-15) to 3.5 % (New-10), which is considered to be moderately optimistic. In terms of GDP per capita in the EEA member countries, there is a reduction of 5.6 k Euro compared with the baseline scenario by 2030.

T
he results of the variant suggest that the economic situation in Europe impacts significantly most of the waste streams, with a decrease on average of about 15 %. The industrial and construction and demolition wastes exhibit the highest sensitivity to GDP growth (- 58 % and - 22 % respectively), and this result appears reasonable. The effects in the New-10 are consistently estimated to be lower than in the EU-15 as their economic growth has been reduced by less than 10 % while the EU-15 are assumed to experience a drop of 30 %. The elasticity of waste to GDP growth would therefore be roughly estimated (i.e. on average) at 0.5 and 0.35 in the EU-15 and New-10 respectively.
Data sources
More information about this indicator
See this indicator specification for more details.
Contacts and ownership
EEA Contact Info
Anita Pirc Velkavrh
Ownership
EEA Management Plan
2010
(note: EEA internal system)
Dates
Permalinks
Permalink to this version

Permalink to latest version
For references, please go to www.eea.europa.eu/soer or scan the QR code.
This briefing is part of the EEA's report The European Environment - State and Outlook 2015. The EEA is an official agency of the EU, tasked with providing information on Europe's environment.
PDF generated on 05 May 2015, 01:41 AM