Permafrost (CLIM 011) - Assessment published Jun 2014
Indicator Assessment
Created 28 Mar 2014
Published 19 Jun 2014
Last modified 11 Sep 2014, 11:31 AM
Generic metadata
Topics
:
Climate change
(Primary topic)
Tags:
DPSIR
: Impact
Typology
: Descriptive indicator (Type A - What is happening to the environment and to humans?)
Dynamic
Temporal coverage:
1981-2100
Contents
Key policy question:
What is the trend in the temperature and the thawing depth of permafrost soils across Europe?
Key messages
In the past 10–20 years European permafrost has shown a general warming trend, with greatest warming in the cold permafrost in Svalbard and Scandinavia. The depth of seasonal thaw has increased at several European permafrost sites. Some sites show great interannual variability, which reflects the complex interaction between the atmospheric conditions and local snow and ground characteristics.
Recent projections agree on substantial near-surface permafrost degradation resulting in thaw depth deepening (i.e. permafrost degeneration) over much of the permafrost area.
Warming and thawing of permafrost is expected to increase the risk of rock falls, debris flows and ground subsidence. Thawing of permafrost also affects biodiversity and can contribute to climate change through release of CO2 and CH4 from Arctic permafrost areas.
Observed permafrost temperatures from selected boreholes in European mountains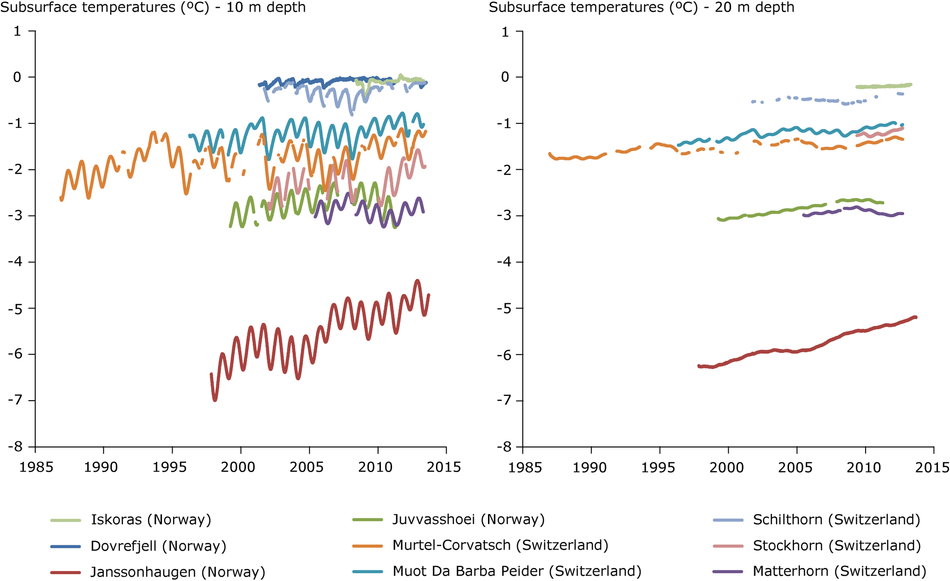 Note: The figure shows trends in observed permafrost temperatures from 10 m (left) and 20 m (right) depth for selected boreholes in European mountains: the sites include the PACE transect and two additional sites in the Swiss Alps(and two in Norway (Dovrefjell and Iskoras).
Downloads and more info
Comparison of maximum active layer depth from different boreholes in the Swiss Alps and Norway (including Svalbard)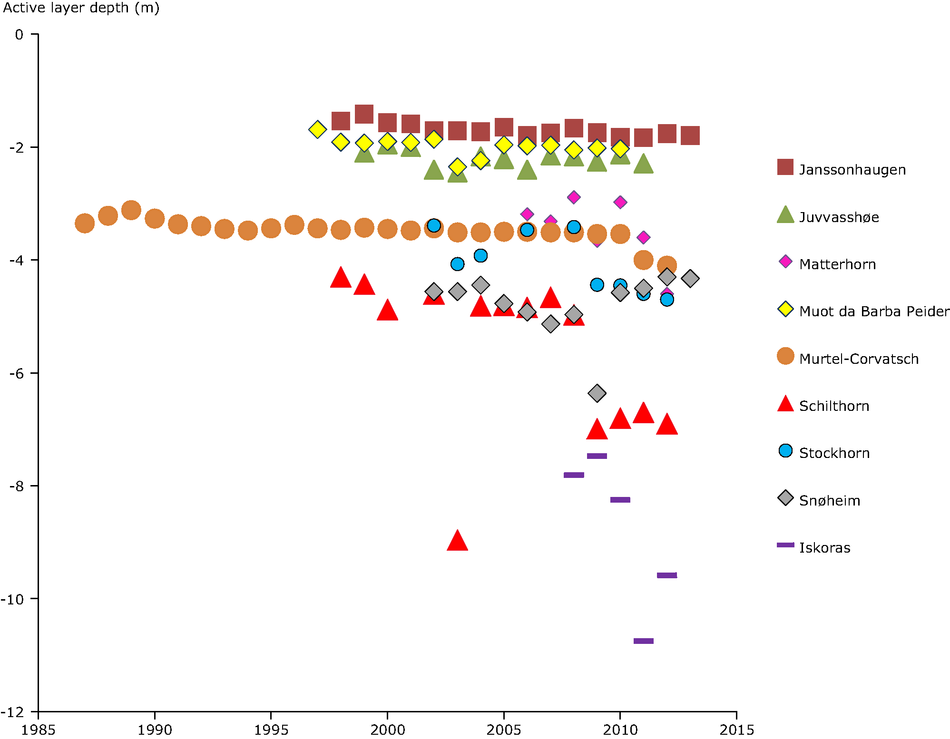 Note: The figure shows the comparison of the active layer thickness from boreholes in the Swiss Alps and Norway (including Svalbard). Data for the Swiss sites are provided by the Swiss Permafrost Monitoring Network (PERMOS), data for the Norwegian sites by the Norwegian Meteorological Institute.
Downloads and more info
Key assessment
Past trends
Permafrost data is collected through national networks as well as globally through the Global Terrestrial Network for Permafrost (GTN-P). This information shows regional and seasonal variations as well as longer-term trends in permafrost temperatures. Changes in ground temperatures can be influenced as much by temporal variations of snow cover or surface and subsurface characteristics of the site as by changes in the near-surface air temperature. It has also become evident that the effects of climate change on permafrost depend on factors such as elevation, topography, surface cover and soil type.  Partly different processes act between the atmosphere and the ground for bedrock, debris slopes, and rock glaciers.
Data from various boreholes, to a depth of 100 m or more, extending from Svalbard to the Alps indicate a regional warming of permafrost of 0.5–1.0 °C during the recent decade [i] (Figure 1). Continuous monitoring over 5–7 years shows warming down to 60 m depth and current warming rates at the permafrost surface of 0.04–0.07 °C/year, with greatest warming in Svalbard and northern Sweden [ii]. In Switzerland, some warming and increasing depth of the active layer (the top layer of the ground that thaws during the summer) have been observed, particularly in the past 5 years, but results vary between borehole locations and site characteristics with different snow cover, surface cover, subsurface material, ice content in the underground and temperature conditions [iii].
In Europe data series with a length of more than 15 years are available from Greenland, Svalbard, northern Sweden and Switzerland. Active layer thickness (i.e. thawing depth) has generally increased during the period of observation, but there is also significant variation due to site characteristics (Figure 2).
Projections
Permafrost areas are affected by the rate of warming and will very likely continue to thaw across Europe, with the possible exception of Svalbard, where permafrost thaw can mainly be expected at low elevations close to the coast [iv]. Projections for near-surface permafrost degradation continue to vary widely, but virtually all of them indicate substantial near-surface permafrost degradation and thaw depth deepening over much of the permafrost area. Projections based on the ensemble of CMIP5 climate models yield a reduction of near-surface permafrost area (continuous plus discontinuous near-surface permafrost) in the Northern Hemisphere between 37 ± 11% for RCP2.6 and 81±12% for RCP8.5 over the 21st century (Figure 3) [v].
Projections have also shown that the palsa mires in Fennoscandia represent a special case of Arctic permafrost where rapid responses can be expected. The probability of a complete loss of palsas in northern Fennoscandia during the 21st century is sensitive to the emissions scenario [vi].
---
Data sources
More information about this indicator
See this indicator specification for more details.
Dates
Frequency of updates
Updates are scheduled every 4 years in October-December (Q4)
Permalinks
Permalink to this version

Permalink to latest version
For references, please go to www.eea.europa.eu/soer or scan the QR code.
This briefing is part of the EEA's report The European Environment - State and Outlook 2015. The EEA is an official agency of the EU, tasked with providing information on Europe's environment.
PDF generated on 04 May 2015, 05:32 PM