Marine phenology
Indicator Assessment
Created 21 Jul 2008
Published 08 Sep 2008
Last modified 04 Sep 2015, 06:59 PM
Note: new version is available!
Indicator codes:
CLIM 014
Key messages
Temperature increases in the ocean have caused many marine organisms in European seas to appear earlier in their seasonal cycles than in the past. For example, some species have moved forward in their seasonal cycle by 4-6 weeks.
Changes in the timing of seasonal cycles have important consequences for the way organisms within an ecosystem interact and ultimately for the structure of marine food-webs at all trophic levels. The consequences include:
- increased vulnerability of North Sea cod stocks to over-fishing;
- decline in seabird populations.
Marine species may be able to adapt genetically to changed conditions. However, with the current pace of climate warming this may be hampered because genetic changes require several reproductive cycles to occur.

.
Decapod abundance in the central North Sea 1950-2005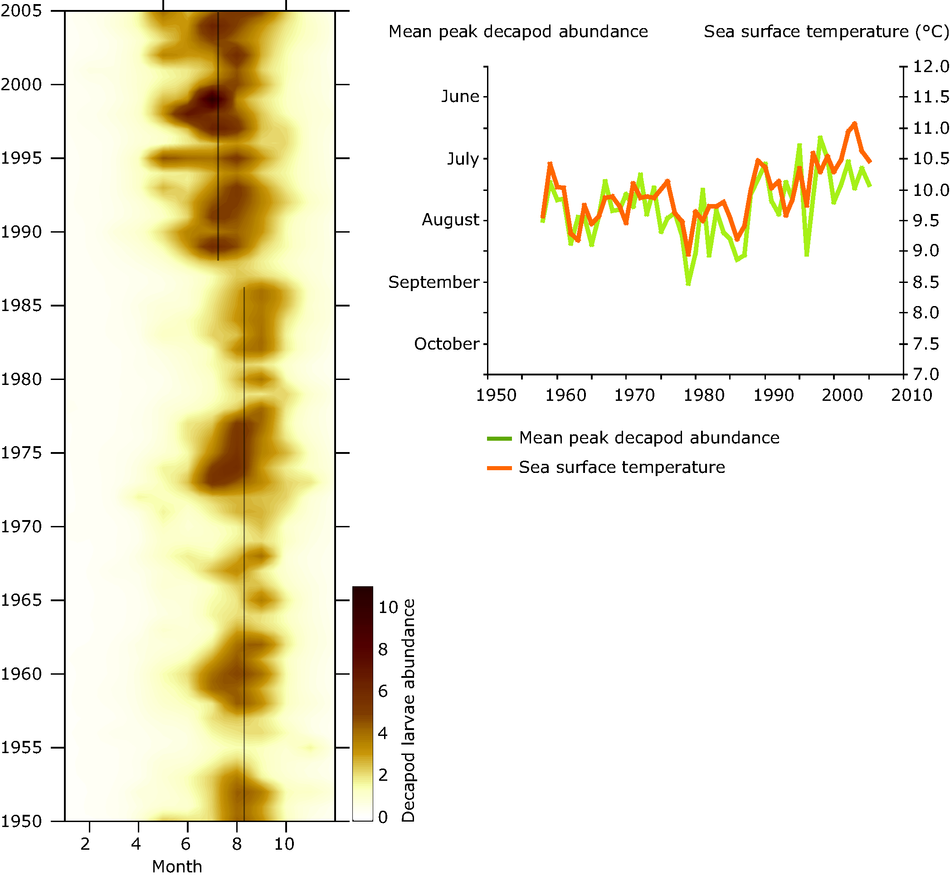 Note: Left: year vs
Data source:
Edwards M. and Richardson A. J., 2004. Impact of climate change on marine pelagic phenology and trophic mismatch. Nature 430: 881884. (left and right) Hadley Centre (http://hadobs.metoffice.com/hadisst/data/download.html) (right)
Downloads and more info
Past trends
In the North Sea, work on pelagic phenology has shown that plankton communities, including fish larvae, are very sensitive to regional climate warming with the response to warming varying between trophic levels and functional groups. However the ability and speed at which fish and planktonic communities adapt to climate warming is not yet known. In other European regional areas, long-term data on marine phenology changes are quite sparse. According to some preliminary studies, there has also been some phenological movement in certain copepod species in the Mediterranean Sea over the past decade (Juan-Carlos Molinero, pers. com.).
Due to the sensitivity of their physiological development to temperature, decapod larvae were selected as representative of phenological changes in shelf-sea environments (Lindley, 1987). The zooplankton growing season indicator shows the annual timing of peak seasonal abundance of decapod larvae from 1958-2005 in the central North Sea (Figure 1 left). A shift towards an earlier seasonal peak is clearly visible. In particular, since 1988, the seasonal development of decapod larvae has occurred much earlier than the long-term average (baseline mean: 1958-2005) - in the 1990s up to 4-5 weeks earlier than the long-term average This trend towards an earlier seasonal appearance of decapod larvae during the 1990s is highly correlated with sea surface temperature (Figure 1 right).
Projections
Projections of how individual species react to future climate change have not yet been made, but the empirical evidence suggests that it is very likely that phenological changes will continue to occur as climate warming continues to accelerate. It is currently much less certain to what degree genetic adaptations within species populations can cope with these changes and whether the current pace of climate warming is too fast for genetic adaptations to take place.
Indicator specification and metadata
Policy context and targets
Context description
In April 2009 the European Commission presented a White Paper on the framework for adaptation policies and measures to reduce the European Union's vulnerability to the impacts of climate change. The aim is to increase the resilience to climate change of health, property and the productive functions of land, inter alia by improving the management of water resources and ecosystems. More knowledge is needed on climate impact and vulnerability but a considerable amount of information and research already exists which can be shared better through a proposed Clearing House Mechanism. The White Paper stresses the need to mainstream adaptation into existing and new EU policies. A number of Member States have already taken action and several have prepared national adaptation plans. The EU is also developing actions to enhance and finance adaptation in developing countries as part of a new post-2012 global climate agreement expected in Copenhagen (Dec. 2009). For more information see: http://ec.europa.eu/environment/climat/adaptation/index_en.htm
Targets
No targets have been specified
Related policy documents
No related policy documents have been specified
Data sources
Generic metadata
Topics
:
Climate change
(Primary topic)
Coasts and seas
Tags:
DPSIR
: Impact
Typology
: Descriptive indicator (Type A - What is happening to the environment and to humans?)
Dynamic
Temporal coverage:
1950-2005
Contacts and ownership
Ownership
EEA Management Plan
2008 0.0.0
(note: EEA internal system)
Permalinks
Permalink to this version

Permalink to latest version
For references, please go to www.eea.europa.eu/soer or scan the QR code.
This briefing is part of the EEA's report The European Environment - State and Outlook 2015. The EEA is an official agency of the EU, tasked with providing information on Europe's environment.
PDF generated on 03 May 2016, 02:01 PM