Load factors for freight transport (TERM 030) - Assessment published Oct 2010
Indicator Assessment
Created 18 Jun 2010
Published 04 Oct 2010
Last modified 07 Jul 2011, 02:47 PM
Generic metadata
Topics
:

Transport
(Primary topic)
Tags:
DPSIR
: Driving force
Typology
: Descriptive indicator (Type A - What is happening to the environment and to humans?)
Dynamic
Temporal coverage:
1990-2008
Contents
Key policy question:
Are freight vehicles making full use of available capacity?
Key messages
For countries where data is available (Austria, Czech Republic, Denmark, Germany, Hungary, Latvia, Netherlands, Poland, Portugal, Slovenia, Spain, Sweden and the UK), load factors have generally declined for road freight transport (Figure 1). Load factors are generally under 50 % (by weight). However some freight transport companies achieve much higher load factors than others in the same sector. This suggests that load factors can be improved. Road freight empty running (Figure 2) shows increases and decreases across different countries, although it is important to note that the response rate for the two variables is different (fewer and/or different countries have reported empty running). If load factors were increased, freight traffic volumes could be considerably reduced.
Rail freight load factors (Figure 3) have remained fairly constant across the last few years, with only small increases and decreases observed for individual countries. There is limited data available for shipping freight, and this shows increasing load factors for the Czech Republic and Lithuania, and slight decreases for Hungary and Poland (Figure 4).
Road freight load factors (during the laden trips)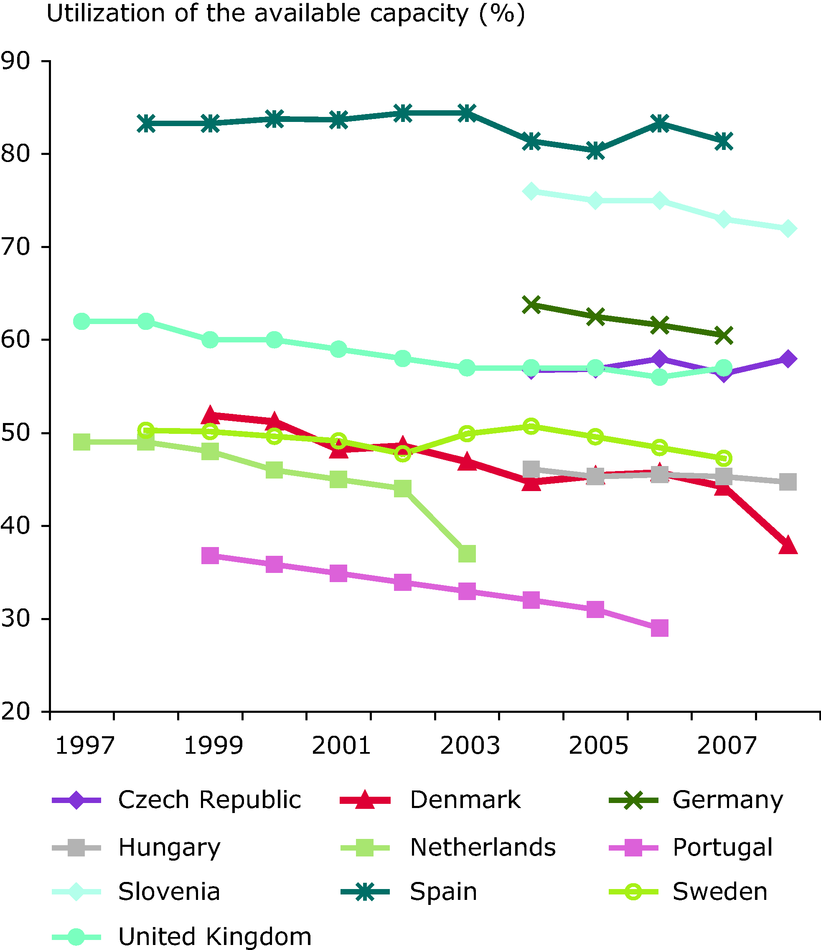 Note: Load factor utilization for road freight
Downloads and more info
Empty running - Road freight
Note: Road freight empy running based on nine countries data.
Downloads and more info
Rail freight load factor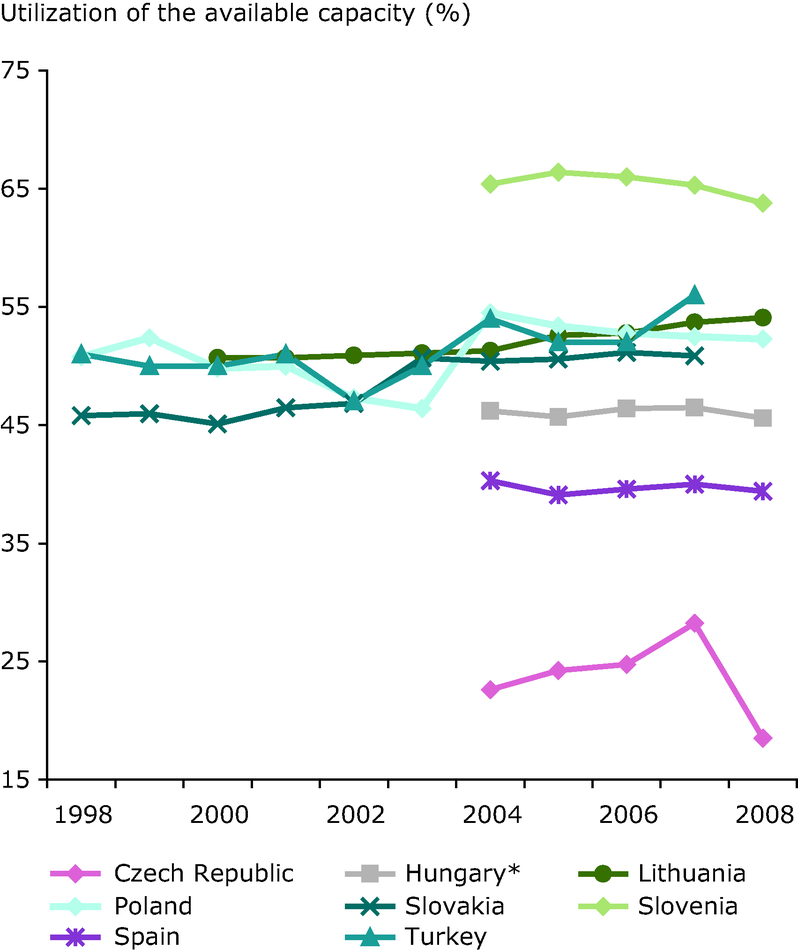 Note: Rail freight load factor
Downloads and more info
Shipping freight load factors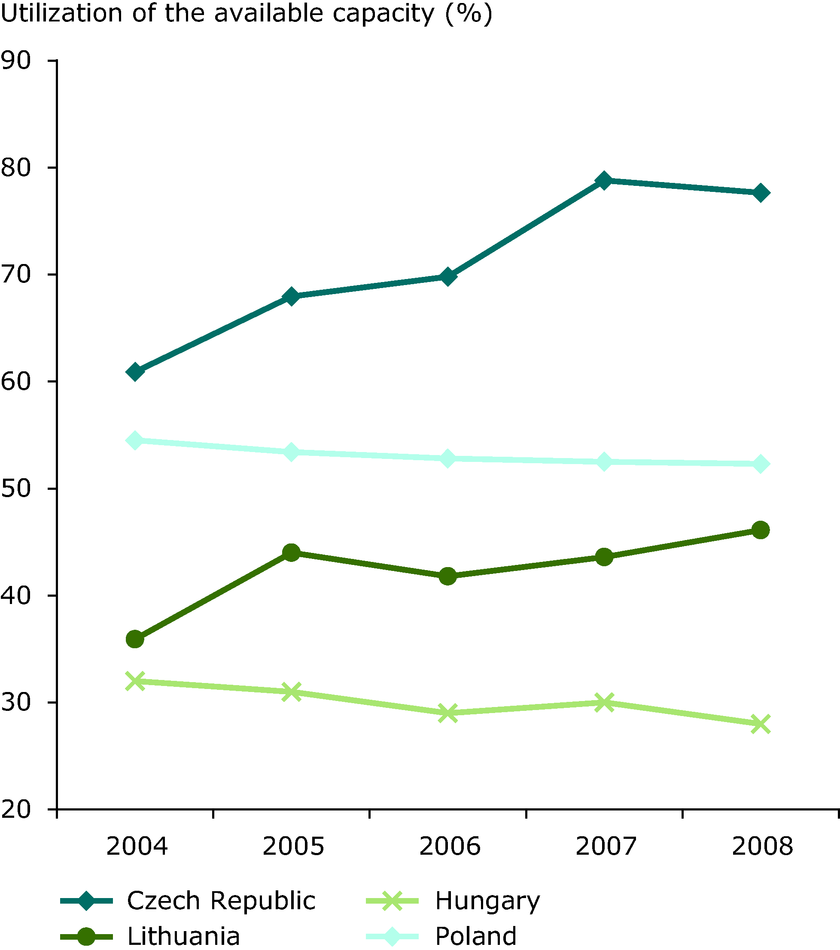 Note: Shipping freight load factors
Downloads and more info
Key assessment
Road freight
Eleven countries provided data on road freight load factor utilization during laden trips. The average load factor utilization rates from the majority of the countries surveyed decreased from 1997 to 2008 (see Figure 1). Portugal's average load factor utilization has decreased by more than 20% between 1999 and 2006. Other countries show smaller decreases. Denmark shows a sharp drop from 2007 to 2008.
Nine countries provided data on empty running. The majority of these (Austria, Germany, Slovenia, Sweden, United Kingdom) show no large changes between 1997 and 2008. Portugal has had a consistent decrease across the time series, whereas Denmark shows marked decreases in recent years (approximately 15% decrease between 2007 and 2008). Load factors for Spain have been fairly constant across recent years with the exception of a substantial increase between 2007 and 2008. Data for Latvia is considerably more variable across the time series, but also shows a substantial increase between 2007 and 2008 (equating to a 34% increase).
Large differences in load factors within market segments, and between countries (Figure 1) suggest that there is indeed room for improvements, but hauliers within the same market segments may still face different situations that may limit the potential improvement of load factors. Detailed surveys of utilization can help identify where improvements can most easily be achieved. For example, in cases where deck space is the constraining factor, the use of double-deckers could significantly improve loading factors as well as cut total fuel consumption by up to 49% (McKinnon, 2007).

Rail freight
Rail freight data was received from eight European countries. The majority show loading factors of approximately 50%, with a very slight increase across the time series (Figure 3). However, loading factors for Czech Republic and Slovenia show a decrease from 2004 to 2008. In contrast Slovakia and Lithuania show a steady improvement. This mode of transportation as well as maritime freight (see below) has the potential for increasing load factor utilization because they can carry containers as well as loaded or empty transport vehicles.

Shipping
Only four countries (all Eastern European) provided Shipping freight data. Figure 4 shows that two of the countries (Czech Republic and Lithuania) have increasing shipping load factors, whereas Poland and Hungary have slightly decreasing load factors across the time series (2004 to 2008).

Data sources
More information about this indicator
See this indicator specification for more details.
Dates
Frequency of updates
Updates are scheduled every 5 years in October-December (Q4)
Permalinks
Permalink to this version

Permalink to latest version
For references, please go to www.eea.europa.eu/soer or scan the QR code.
This briefing is part of the EEA's report The European Environment - State and Outlook 2015. The EEA is an official agency of the EU, tasked with providing information on Europe's environment.
PDF generated on 03 May 2015, 08:04 PM