Land cover, use of arable land - outlook from EEA (Outlook 009) - Assessment published Jun 2007
Indicator Assessment
—
expired
Created 08 Jan 2007
Published 08 Jun 2007
Last modified 12 Nov 2013, 08:46 AM
This content has been archived on
12 Nov 2013
, reason:
Content not regularly updated
Generic metadata
Topics
:

Environmental scenarios
(Primary topic)
Tags:
DPSIR
: Pressure
Typology
: Descriptive indicator (Type A - What is happening to the environment and to humans?)
Contents
Key policy question:
How much and in what proportions is forest and other semi-natural and natural land being taken for agricultural purposes?
Key messages
Harvested land is expected to continue to be used mainly for fodder and the production of cereals (80% of the total area).
Projections of arable land use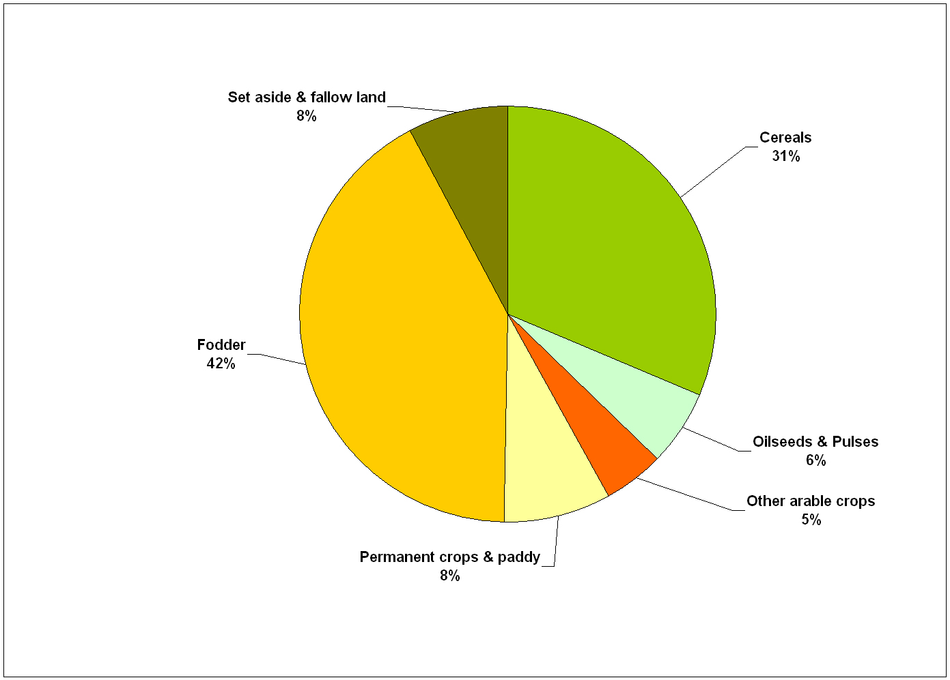 Note: N/A
Data source:
European environment outlook, EEA Report No 4/2005
Downloads and more info
Key assessment
Baseline scenario
The projections reported cover 23 EU Member States (Cyprus and Malta are not included due to limited data).
The following developments are expected for arable land use:

After an increase (5%) in the EU-15 in the second half of the 1990s, the total area of cereals in the (enlarged) EU is expected to stay fairly stable over the period to reach 52 million ha by 2020, about 31% of total arable land. The slight decrease in cereal area over the 2020 horizon mainly reflects the introduction of decoupling of payments associated with the mid-term review of the common agriculture policy (CAP) and the overall reduction in the level of support.




Wheat production (soft and durum wheat), which is the main cereal in the EU, is expected to retain its predominance with about 23 million ha in 2020. Barley would see its area decrease slightly over the period.




Fodder areas, which represent the largest share of agricultural land by 2020 (42%) are expected to experience a significant decrease over the period (about 9%); this is due mainly to a reduction in fodder demand for ruminants, as both supply of beef meat and cow herds are expected to drop in the long term.




Set-aside and fallow land is expected to represent 13 million ha by 2020 (8% of total agricultural land); increasing about 13% over 2001 level; this is driven by the doubling expected in the New-8, where fallow land increases considerably (and cancels out the developments in the EU-15) and obligatory ste-aside progresses as the Grandes Cultures areas shift in the long term from small farms, which are exempt from set-aside, to larger ones.




The areas of permanent crops and paddy are expected to remain fairly stable, at about 8% of agricultural land by 2020.




In contrast, the areas of oilseeds and pulses are expected to increase by about 12% by 2020 to represent 6% of arable land
Data sources
More information about this indicator
See this indicator specification for more details.
Contacts and ownership
EEA Contact Info
Anita Pirc Velkavrh
Ownership
EEA Management Plan
2010
(note: EEA internal system)
Dates
Permalinks
Permalink to this version

Permalink to latest version
For references, please go to www.eea.europa.eu/soer or scan the QR code.
This briefing is part of the EEA's report The European Environment - State and Outlook 2015. The EEA is an official agency of the EU, tasked with providing information on Europe's environment.
PDF generated on 31 Mar 2015, 10:48 PM