Lake and river ice cover (CLIM 020) - Assessment published Nov 2012
Indicator Assessment
Created 12 Nov 2012
Published 20 Nov 2012
Last modified 20 Nov 2012, 12:30 PM
Generic metadata
Topics
:
Climate change
(Primary topic)

Water
Tags:
DPSIR
: Impact
Typology
: Descriptive indicator (Type A - What is happening to the environment and to humans?)
Dynamic
Temporal coverage:
1833-2011
Contents
Key policy question:
What is the trend in the ice cover of rivers and lakes across Europe?
Key messages
The existence of ice cover and the timing of ice break-up influence the vertical mixing of lakes and are therefore of critical ecological importance.
The duration of ice cover on European lakes and rivers has shortened at a mean rate of 12 days per century over the last 150–200 years.
A further decrease in the duration of lake ice cover is projected with projected climate change.
Observed change in duration of lake and river ice cover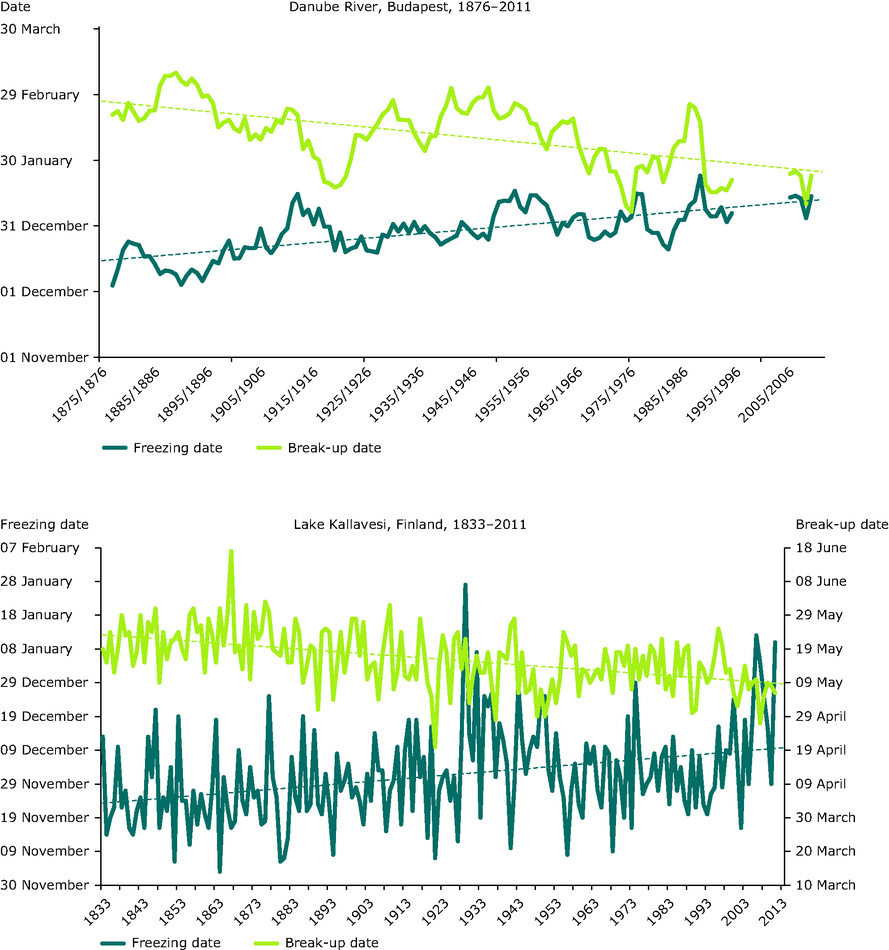 Note: Ice break-up dates and freezing dates of a) Danube River, at Budapest, 1876–2011 (5-year running average) and b) Lake Kallavesi, Finland, 1833–2011.
Data source:
Downloads and more info
Key assessment
Past trends
The duration of ice cover in the northern hemisphere has shortened at a mean rate of 12 days per century over the last 150–200 years, resulting from a 5.8 day later ice cover and a 6.5 day earlier ice break-up on average [i].
There are, however, large differences across regions. At the Hungarian section of the River Danube, the date of first ice appearance has shifted 19–29 days later over the 1876–2011 period, while the date of final ice disappearance shifted 18–23 days earlier [ii] (see Figure 1.a). In Lake Kallavesi, eastern Finland the freezing date has shifted 15 days later in 1833–2011, while the breakup date has shifted 12 days earlier in 1822–2011 [iii] (see Figure 1.b).
Projections
One recent study has simulated changes in lake ice cover throughout the Northern Hemisphere (40– 75 °N) based on one global climate model driven by the SRES A2 emission scenario. The results indicate an overall decrease in the duration of lake ice cover of 15–50 days across regions by 2040–2079, compared to the baseline period 1960–1999 [iv]. The ice cover of lakes in regions where the ice season is already short or where ice cover only occurs in cold winters is generally more strongly affected by increasing temperature than that of lakes in colder regions [v]. However, the ecological consequences of reduced ice cover are expected to be lower in areas where ice cover normally is less frequent and ecosystems thereby are adapted to less ice or ice-free conditions.
---
[i] John J. Magnuson et al., "Historical Trends in Lake and River Ice Cover in the Northern Hemisphere", Science 289, Nr. 5485 (August 9, 2000): 1743–1746, doi:10.1126/science.289.5485.1743; EEA, Impacts of Europe's changing climate - 2008 indicator-based assessment. Joint EEA-JRC-WHO report EEA Report (Copenhagen: European Environment Agency, September 29, 2008), http://www.eea.europa.eu/publications/eea_report_2008_4.
[ii] Katalin Takács, "Changes in river ice regime of the River Danube" (Eötvös Loránd University, 2011), ftp://152.66.121.2/Floodrisk/_DC/docs/4_28_kkaatta.pdf.
[iii] SYKE, "Lake ice in Finland - observed trends and future outlooks.", Finnish Environment Institute, 2011, http://www.environment.fi/default.asp?contentid=373875&lan=EN.
[iv] Y. Dibike et al., "Response of Northern Hemisphere lake-ice cover and lake-water thermal structure patterns to a changing climate", Hydrological Processes 25 (2011): 2942–2953, doi:10.1002/hyp.8068.
[v] G. A. Weyhenmeyer et al., "Large geographical differences in the sensitivity of ice-covered lakes and rivers in the Northern Hemisphere to temperature changes", Global Change Biology 17 (2011): 268–275, doi:10.1111/j.1365-2486.2010.02249.x.
Data sources
More information about this indicator
See this indicator specification for more details.
Dates
Frequency of updates
Updates are scheduled every 4 years in October-December (Q4)
Permalinks
Permalink to this version

Permalink to latest version
For references, please go to www.eea.europa.eu/soer or scan the QR code.
This briefing is part of the EEA's report The European Environment - State and Outlook 2015. The EEA is an official agency of the EU, tasked with providing information on Europe's environment.
PDF generated on 21 Apr 2015, 10:38 AM