Transport infrastructure investments (TERM 019) - Assessment published Sep 2010
Indicator Assessment
Created 07 May 2010
Published 03 Sep 2010
Last modified 07 Jul 2011, 02:47 PM
Note: new version is available!
Generic metadata
Topics
:

Transport
(Primary topic)
Tags:
DPSIR
: Driving force
Typology
: Descriptive indicator (Type A - What is happening to the environment and to humans?)
Dynamic
Temporal coverage:
1992-2007
Contents
Key policy question:
Are we giving investment priority to environmentally friendly transport systems?
Key messages
Spending on road infrastructure projects has increased during the period 1992 to 2007 in absolute terms and this sector continues to receive the majority of transport investment. However, other modes of transport (road, rail, inland waterways, sea and air) have also seen an increase in funding during this period.

Investment in transport infrastructure in relation to GDP has increased over the 1992 to 2007 period.

The EU-12 Member States have seen proportionately greater rises in levels of transport investment than the EU-15 Member States.
Investment in transport infrastructure (million Euro) in EEA member countries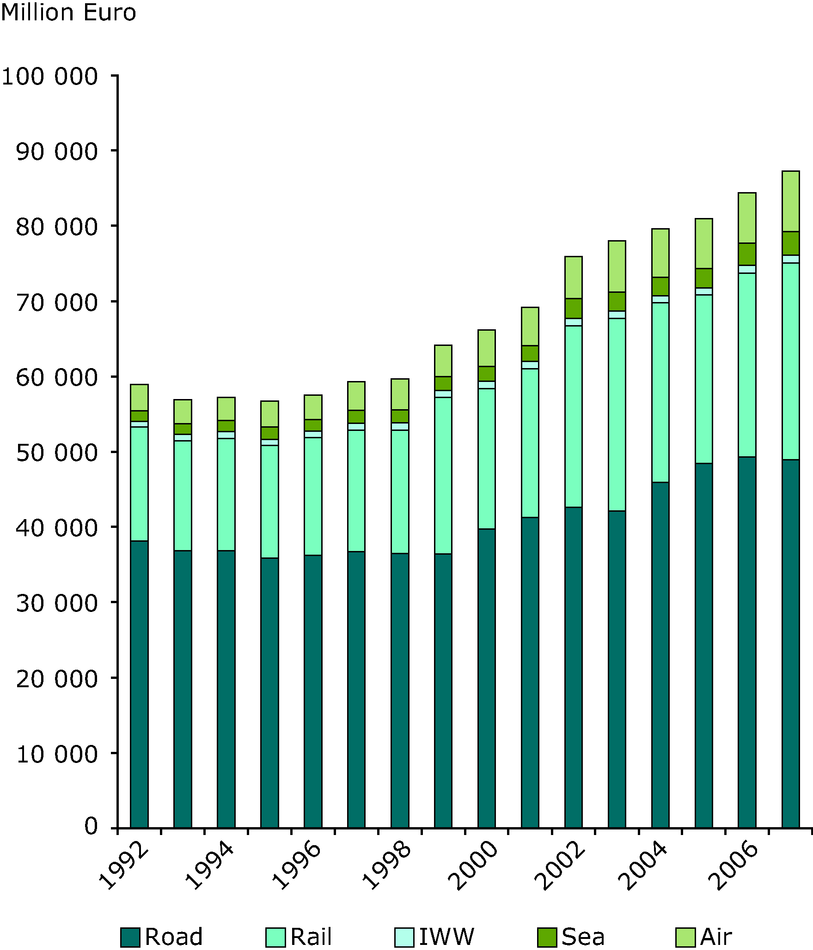 Note: Investment in Infrastructure in EEA member countries, in term of million euro. Only those countries (16 in total) for which complete datasets were available for road, rail, inland waterways, sea and air have been included in the figure. They are: Austria, Czech Republic, Denmark, Estonia, Finland, France, Germany, Hungary, Liechtenstein, Lithuania, Norway, Portugal, Slovakia, Spain, Switzerland and the UK.
Downloads and more info
Key assessment
Key assessmentFor the 16 Countries included in the EEA-32 analysis, the investment in transport infrastructure in absolute terms has risen steadily from approximately 59 billion of euro to more than 87 billion of euro between 1992 and 2007.
During this period, road infrastructure accounted for the largest yearly expenditure; however, in terms of the proportion of total transport infrastructure spend, road transport's share has declined from 65% to 56%. Meanwhile, rail infrastructure's share of overall investment has increased slightly (26 - 30%), as has airport investment (6 - 9%) and seaport investment (2 - 4 %). Investment in inland waterways has remained fairly steady at around 1.2 - 1.6% of total transport expenditure. Therefore there has been a small shift in percentage terms in transport expenditure towards more environmentally friendly modes such as rail and sea over this period.
A comparison of trends shows that although expenditure in the EU-12 was low in the 1990s, recent increases in investment in percentage terms are far higher than in the EU-15. For example, investment in road, rail, seaports and airports increased by factors of 7, 10, 8 and 3 respectively in the EU-12 for the period 1992 to 2007, with the greatest increases being seen in the latter years.

Specific policy question: What is the GDP share of infrastructure investment by mode in EEA Member Countries?
Percentage of GDP used for transport infrastructure investment by mode (EEA32)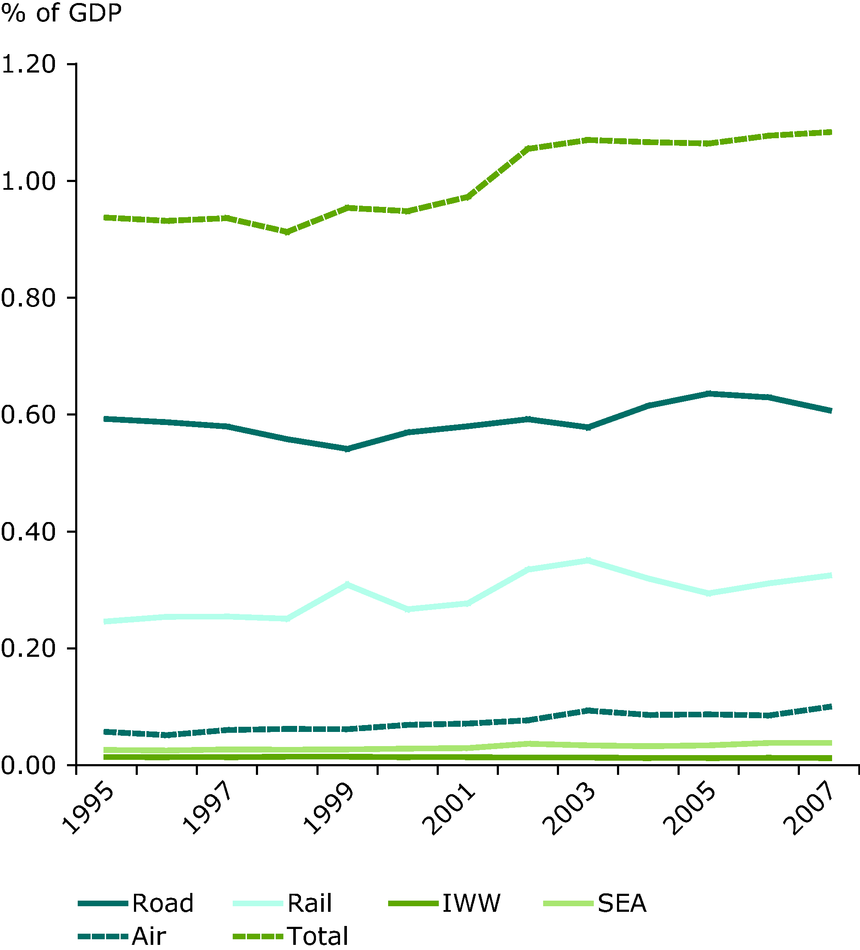 Note: Trends of transport infrastructure investments in relation to GDP between 1995 and 2007
Downloads and more info
Specific assessment
An analysis of trends shows that infrastructure investments in relation to GDP have increased from around 0.94% to 1.08% between 1995 and 2007.
Road investments fluctuated around 0.6% of GDP, with investment in rail increasing from 0.25 to 0.32% of GDP, seaports increasing from 0.03 - 0.04% and airports increasing from 0.06-1%. Investment in inland waterways was around 0.01 % of GDP in all years analysed.

Data sources
More information about this indicator
See this indicator specification for more details.
Dates
Permalinks
Permalink to this version

Permalink to latest version
For references, please go to www.eea.europa.eu/soer or scan the QR code.
This briefing is part of the EEA's report The European Environment - State and Outlook 2015. The EEA is an official agency of the EU, tasked with providing information on Europe's environment.
PDF generated on 01 Apr 2015, 06:00 AM