Transport infrastructure investments
Indicator Assessment
Created 07 May 2010
Published 03 Sep 2010
Last modified 04 Sep 2015, 06:59 PM
Note: new version is available!
Indicator codes:
TERM 019
Key messages
Spending on road infrastructure projects has increased during the period 1992 to 2007 in absolute terms and this sector continues to receive the majority of transport investment. However, other modes of transport (road, rail, inland waterways, sea and air) have also seen an increase in funding during this period.

Investment in transport infrastructure in relation to GDP has increased over the 1992 to 2007 period.

The EU-12 Member States have seen proportionately greater rises in levels of transport investment than the EU-15 Member States.
Are we giving investment priority to environmentally friendly transport systems?
Investment in transport infrastructure (million Euro) in EEA member countries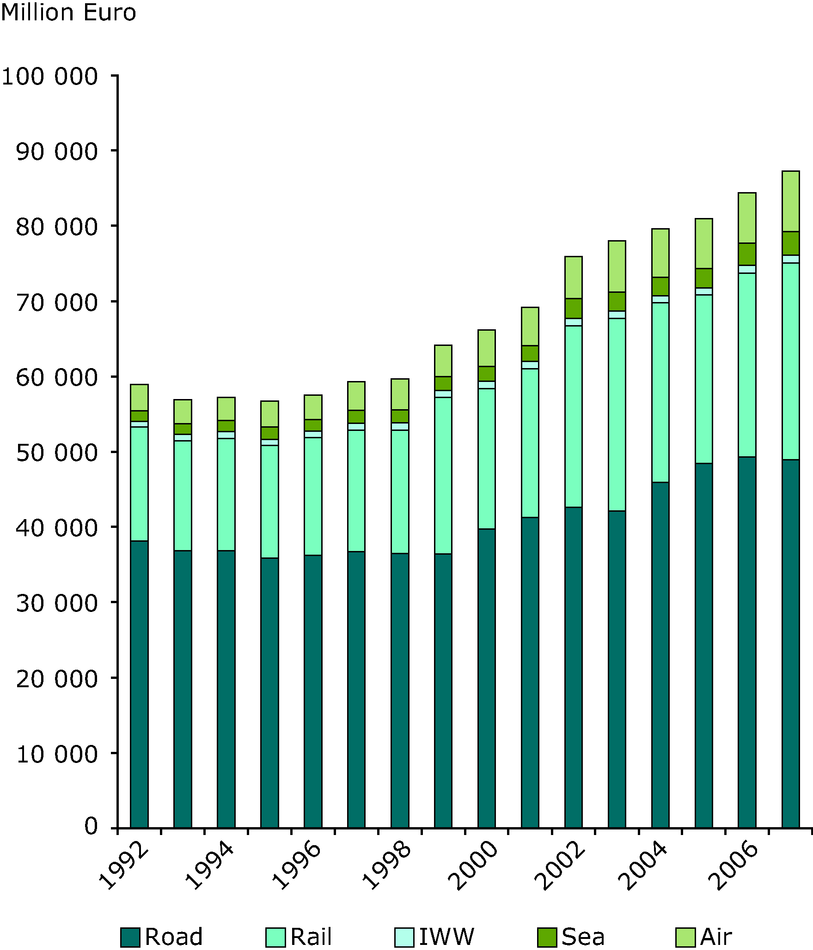 Note: Investment in Infrastructure in EEA member countries, in term of million euro. Only those countries (16 in total) for which complete datasets were available for road, rail, inland waterways, sea and air have been included in the figure. They are: Austria, Czech Republic, Denmark, Estonia, Finland, France, Germany, Hungary, Liechtenstein, Lithuania, Norway, Portugal, Slovakia, Spain, Switzerland and the UK.
Downloads and more info
Key assessmentFor the 16 Countries included in the EEA-32 analysis, the investment in transport infrastructure in absolute terms has risen steadily from approximately 59 billion of euro to more than 87 billion of euro between 1992 and 2007.
During this period, road infrastructure accounted for the largest yearly expenditure; however, in terms of the proportion of total transport infrastructure spend, road transport's share has declined from 65% to 56%. Meanwhile, rail infrastructure's share of overall investment has increased slightly (26 - 30%), as has airport investment (6 - 9%) and seaport investment (2 - 4 %). Investment in inland waterways has remained fairly steady at around 1.2 - 1.6% of total transport expenditure. Therefore there has been a small shift in percentage terms in transport expenditure towards more environmentally friendly modes such as rail and sea over this period.
A comparison of trends shows that although expenditure in the EU-12 was low in the 1990s, recent increases in investment in percentage terms are far higher than in the EU-15. For example, investment in road, rail, seaports and airports increased by factors of 7, 10, 8 and 3 respectively in the EU-12 for the period 1992 to 2007, with the greatest increases being seen in the latter years.

What is the GDP share of infrastructure investment by mode in EEA Member Countries?
Percentage of GDP used for transport infrastructure investment by mode (EEA32)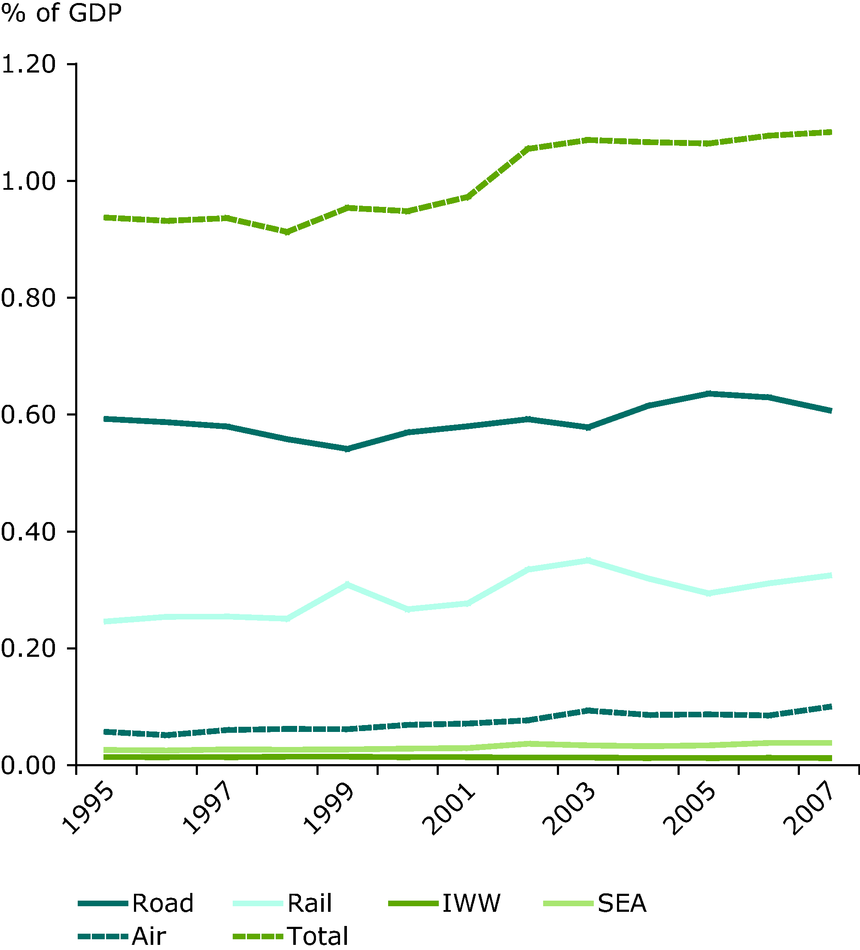 Note: Trends of transport infrastructure investments in relation to GDP between 1995 and 2007
Downloads and more info
An analysis of trends shows that infrastructure investments in relation to GDP have increased from around 0.94% to 1.08% between 1995 and 2007.
Road investments fluctuated around 0.6% of GDP, with investment in rail increasing from 0.25 to 0.32% of GDP, seaports increasing from 0.03 - 0.04% and airports increasing from 0.06-1%. Investment in inland waterways was around 0.01 % of GDP in all years analysed.

Indicator specification and metadata
Indicator definition
The term "transport infrastructure" refers only to infrastructures that are open to the general public. It covers buildings and other constructions as well as machinery and equipment, but it excludes vehicles and rolling stock.
Investment expenditure on infrastructure covers expenditure on new construction and extension of existing infrastructure, including reconstruction, renewal and major repairs of infrastructure.
For rail, infrastructure includes land, permanent way constructions, buildings, bridges and tunnels, as well as immovable fixtures, fittings and installations connected with them (signalisation, telecommunications, catenaries, electricity sub-stations, etc.) as opposed to rolling stock.
For road, maintenance includes surface maintenance, patching and running repairs (work relating to roughness of carriageway's wearing course, roadsides, etc.).
For Inland waterways expenditures on locks are included.
Units
Million Euros
Policy context and targets
Context description
Traditionally, EU transport policy has been concerned with providing transport infrastructure and services to support the development of the internal market and ensure the proper functioning of the Community's transport systems. Transport infrastructure investments are also seen as important in reducing disparities between regions.
Transport investment policies during recent decades have focused on extending infrastructure capacity, particularly roads, as a response to increasing traffic demand. However, the assumption that investment should keep pace with traffic growth has been questioned in the light of the increasing greenhouse gas emissions and congestion hindering the economies. There is strong evidence that new transport infrastructure (particularly road) generates new demand for travel, and often serves simply to shift congestion problems from one place or point in time to another (ECMT, 1997).
In response to the Green Paper on the future TEN-T policy published by the Commission (European Commission, 2009) the European Parliament called on the Commission and Member States to integrate green corridors, rail freight networks, European Rail Traffic Management System (ERTMS) corridors, maritime "highways", inland waterways, dry ports, logistics platforms and urban mobility nodes, in favour of more environmentally friendly, less oil consuming and safer modes. This would ensure an optimal use of all modes of transport and promote the compatibility of connections between the various modes of transport and provide a consistency between the current and future TEN-T framework.
The TEN-T priority projects of 2004 have been subjected to a common socio-economic evaluation and chosen for their high relevance to trans-national traffic flows, cohesion and sustainable development objectives. However, the Commission has questioned the methodological soundness of their selection, the potential for interconnection and extension (both geographically and modally), the approach to coherent capacity and quality standards, and the means of better stimulating their completion within the planned timeframe and has launched a new round of consultations, which will result in a revisited priority list or methodology.
'Consultation on the Future Trans-European Transport networks' was adopted on the 4th May 2010, and covers three of the planning options that were included in the Green Paper. The Commission aims to develop a duel layer TEN-T with a core network of the strategically most important nodes and links overlaying the relatively dense comprehensive network based on the Green Paper and Consultation process. Six expert groups were set up, which have provided recommendations on a strategic network planning methodology including the connections beyond the EU, and supplementary infrastructure measures to integrate other EU policy fields into TEN-T planning and on legal and financial aspects.
There are a number of objectives, within the context of the 'Europe 2020' Strategy, which will require balanced solutions, including internal market, global competitiveness, cohesion and environmental issues (in particular decarbonisation of transport). Multimodal land-based networks will be supplemented by maritime transport, ports and their hinterlands and airports. Planning forEurope's networks will be based on the current methodology and the feedback from the public consultation. A Commission Staff Working Document was published in January 2011 that provided a summary of the outputs of this consultation and discussion of the policy planning and implementation issues. The Commission's proposals for the new TEN-T Guidelines are currently expected in mid-late 2011. 
Targets
There are general targets for investments enabling modal shift to more environmentally friendly transport modes such as rail, waterways and sea transport, and also investments enabling an integrated trans-European Transport Network.
Most recently the European Commission published a Transport White Paper in March 2011 (European Commission, 2011), which includes a number of objectives and targets for transport. In particular there are a number of objectives aimed at 'Optimising the performance of multimodal logistic chains, including by making greater use of more energy-efficient modes', which will in most cases have a direct impact on transport infrastructure investment and capacity; these include:
30 % of road freight over 300 km should shift to other modes such as rail or waterborne transport by 2030, and more than 50 % by 2050, facilitated by efficient and green freight corridors. To meet this goal will also require appropriate infrastructure to be developed.
By 2050, complete a European high-speed rail network. Triple the length of the existing high-speed rail network by 2030 and maintain a dense railway network in all Member States. By 2050 the majority of medium-distance passenger transport should go by rail.
A fully functional and EU-wide multimodal TEN-T 'core network' by 2030, with a high quality and capacity network by 2050 and a corresponding set of information services.
By 2050, connect all core network airports to the rail network, preferably high-speed; ensure that all core seaports are sufficiently connected to the rail freight and, where possible, inland waterway system.
Related policy documents
Methodology
Methodology for indicator calculation
Data are collected by the OECD/ITF on an annual basis. There is a two year delay in data availability. The data collected included information on absolute infrastructure investment (million EUR) per country for the EEA-32 for rail, road, inland waterways, maritime ports and airports. Unfortunately there were many data gaps and therefore the analysis has just been based on those Countries for which there was no more than 3 consecutive years of missing data, so that a more accurate picture of the trends in transport investment can be shown.
Methodology for gap filling
As described above, Countries have been deleted from the analysis where more than 3 years worth of consecutive data for any transport mode is missing. Where 3 years or less are missing, gap filling has been employed to ensure data completeness. In all cases, data from the latest year available is used as a proxy, and assumed to be the same in all consecutive missing years. This is in accordance with the methodology used for greenhouse gas inventories under the EU Monitoring Mechanism.
The largest proportion of gaps exists at the start (1992-1994) and end (2008) of the data set. Therefore, data for these years should be treated as less reliable than other years, when there is a much lower proportion of gap-filled data.
The most significant source of uncertainty is for Italy. Though it does not have the most gaps in its dataset, the combination of a relatively high number of gaps (there is no data for 1992-1994 or for 2008 in any mode) and Italy's relatively significant contribution to the totals as one of the five largest economies in the EEA-32. For all modes, data for 1995 are used as a proxy for years 1992-1994, and data for 2007 are used as a proxy for 2008. 
Methodology references
Uncertainties
Methodology uncertainty
It is important to draw the attention on the fact that the data coverage varies significantly from a country to another. This is mainly due to the lack of more detailed common definitions and the difficulty for countries to change their data collection system.
In addition, there exists no purchasing power parity corrected general index for transport infrastructure investment. This makes comparing investment between countries on a consistent basis very difficult.
Data sets uncertainty
Despite only data for 20 countries being used in the analysis, it covers a broad spectrum and therefore general trends can be obtained. The accuracy and robustness of the data on a country level however is questionable. This is because there are often differences in the methodology for collecting information at the country level and this will influence data quality.
More comments on data set uncertainty due to gap filling can be found in the 'Methodology for gap filling' section.
Rationale uncertainty
n.a.
Data sources
Generic metadata
Topics
:

Transport
(Primary topic)
Tags:
DPSIR
: Driving force
Typology
: Descriptive indicator (Type A - What is happening to the environment and to humans?)
Dynamic
Temporal coverage:
1992-2007
Dates
Permalinks
Permalink to this version

Permalink to latest version
For references, please go to www.eea.europa.eu/soer or scan the QR code.
This briefing is part of the EEA's report The European Environment - State and Outlook 2015. The EEA is an official agency of the EU, tasked with providing information on Europe's environment.
PDF generated on 30 Nov 2015, 03:56 PM