GHG emissions - outlook from WBCSD (Outlook 032) - Assessment published Jun 2009
Indicator Assessment
—
expired
Created 26 Jul 2007
Published 08 Jun 2009
Last modified 12 Nov 2013, 09:19 AM
This content has been archived on
12 Nov 2013
, reason:
Content not regularly updated
Generic metadata
Topics
:

Environmental scenarios
(Primary topic)
Tags:
DPSIR
: Driving force
Typology
: Descriptive indicator (Type A - What is happening to the environment and to humans?)
Contents
Key policy question:
What is the projected progress in GHG emissions reduction?
Key messages
It is expected that GHG emissions will rise for each mode and in each region. The projected growth in GHG emissions varies widely by region. Eastern Europe, Caucasus and Central Asia and South Eastern Europe and South Eastern Europe show a much greater increase than OECD Europe. This is due to the differences in projected rates of growth in transport activity and expectation that vehicle technologies and fuels required to enable lower greenhouse gas emissions will be introduced and widely used, but slowler in Eastern Europe, Caucasus and Central Asia and South Eastern Europe than in OECD Europe.
Key assessment
The expected increase of GHG emissions by transport-related activities reflect the combined influence of four factors:
The volume of transport activity. This is conditioned by the number of vehicles operated and is a function of consumer demand. It will grow in the coming decades.

The modal mix of this activity. This is dependent on consumer choice, vehicle or mode pricing, and prevailing legislative or fiscal measures which influence mode selection. It is unlikely that the modal mix will be changed dramatically in all sub-regions such as Eastern Europe, Caucasus and Central Asia and South Eastern Europe and OECD Europe.

The GHG emissions characteristics of this energy. This is directly related both to the carbon content of the fuel used and the energy required to extract, process, and distribute the fuel. In the reference case, petroleum-based fuels: gasoline, diesel fuel, and jet fuel - are still projected to dominate transportation in 2050.

The energy used by different modes of transport per unit of transport activity. This depends on the energy consumption characteristics of the stock of vehicles making up each mode and the conditions under which they operate. In the reference case, average in-use energy consumption per unit of transport activity does indeed decline for each transport mode. While the projected decline differs by region, vehicle type, and mode, on an average global basis it amounts to a per unit energy consumption reduction of about 18%, 29% and 29% for light duty vehicles, heavy-duty trucks, and aircraft, respectively, over the 2000-2050 period. These three categories of vehicle are responsible for the great majority of transport-related GHG emissions. But such energy consumption declines are not capable of offsetting the 123%, 241%, and 400% growth in transport activity projected for these same modes over the same period - hence the SMP projection that GHG emissions will increase for each mode and in each region.
Specific policy question: What is the projected progress in GHG reduction by sectors in EECCA and SEE countries?
Projections of total emissions of CO2 from road transport from 2000 to 2050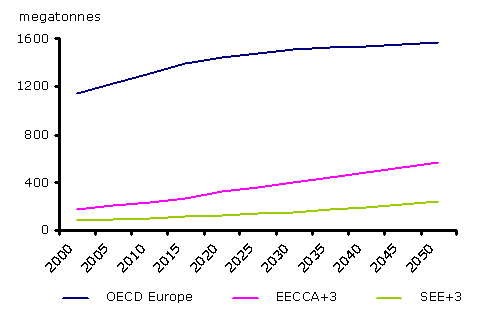 Note: road transport include light-duty vehicles, freight trucks, buses, and 2-3 wheelers
Downloads and more info
Specific assessment
Data sources
More information about this indicator
See this indicator specification for more details.
Contacts and ownership
EEA Contact Info
User not found: velkavrh
Ownership
EEA Management Plan
2010
(note: EEA internal system)
Dates
Permalinks
Permalink to this version

Permalink to latest version
For references, please go to www.eea.europa.eu/soer or scan the QR code.
This briefing is part of the EEA's report The European Environment - State and Outlook 2015. The EEA is an official agency of the EU, tasked with providing information on Europe's environment.
PDF generated on 25 Apr 2015, 02:52 AM