Generation and recycling of packaging waste - outlook EEA (Outlook 035) - Assessment published Jun 2007
Indicator Assessment
—
expired
Created 08 Jan 2007
Published 08 Jun 2007
Last modified 12 Nov 2013, 09:20 AM
This content has been archived on
12 Nov 2013
, reason:
Content not regularly updated
Generic metadata
Topics
:

Environmental scenarios
(Primary topic)

Waste and material resources
Tags:
DPSIR
: Pressure
Typology
: Descriptive indicator (Type A - What is happening to the environment and to humans?)
Contents
Key policy question:
Are we preventing the generation of packaging waste?
Key messages
In the EU-15, most packaging waste streams are not expected to decouple significantly from GDP. The packaging waste generation is expected to continue to grow across Europe (50% by 2020 as compare to the year 2000). The policy target of absolute decoupling is unlikely to be met. This might lead to an increase in environmental pressures and stretch the waste management capabilities of countries with less developed infrastructure. The economic situation in Europe has a significant impact on packaging waste streams.
Growths in packaging waste quantities and GDP (2020/2000)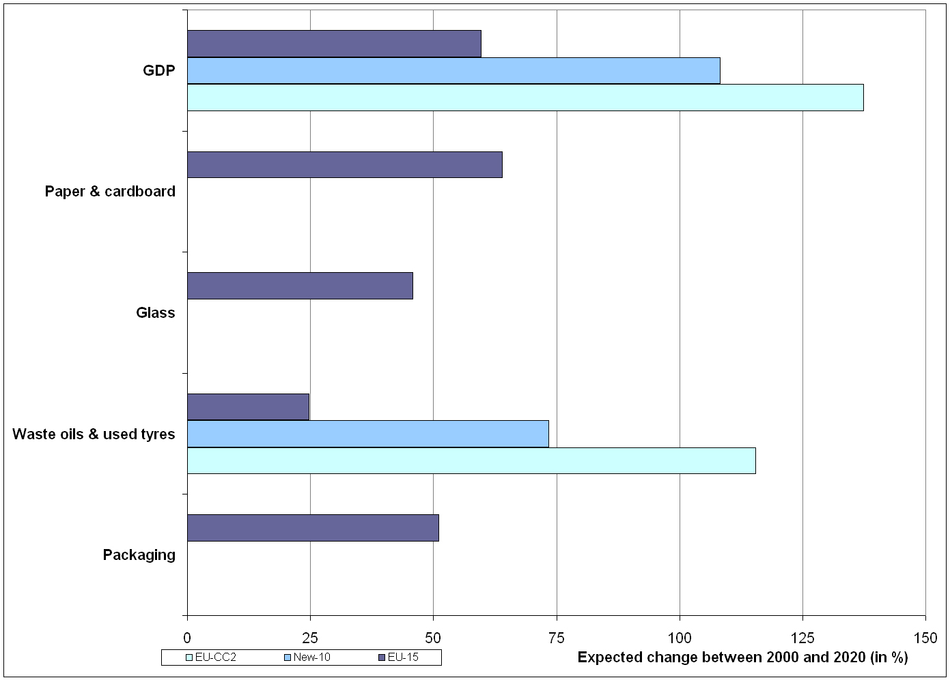 Note: N/A
Data source:
EEA European Topic Centre on Resource and Waste Management (ETC/RWM) + EEA European Topic Centre on Air and Climate Change: National Technical University of Athens (NTUA), 2003-2004.
Downloads and more info
Key assessment
The following developments are expected for municipal waste quantities:


Base line scenario:
The following developments are expected for municipal waste quantities:
The packaging waste generation will continue to grow reaching almost 150% of the level of 2000 for the EU 15.
The largest increases in packaging waste are estimated for Ireland, Portugal and Greece (25-55 per cent in 2010) while the lowest increases are estimated for the Netherlands, Sweden, the United Kingdom, Austria and Finland (5-15 per cent in 2010).
The consumption of packaging is in general explained by changes in the population, economic activity and consumption patterns.
Data on waste quantities are scarce, particularly for the New-10. The uncertainty surrounding the projections may therefore be significant and the results should be reviewed in the light of the methodological approach used and additional data available at the national level. There also seems to be a need for further development of waste and material flow outlooks, particularly with regard to environmental pressures and economic damage. A key issue is the extent to which policy/management and technological options available at the EU, national or local levels can reduce environmental pressures, particularly for the recycling, incineration and landfilling routes and the associated emissions. Taking into account these limitations the outlook results do not provide information regarding reaching the goals of the EU Packaging directive.
Data sources
More information about this indicator
See this indicator specification for more details.
Contacts and ownership
EEA Contact Info
Anita Pirc Velkavrh
Ownership
EEA Management Plan
2010
(note: EEA internal system)
Dates
Permalinks
Permalink to this version

Permalink to latest version
For references, please go to www.eea.europa.eu/soer or scan the QR code.
This briefing is part of the EEA's report The European Environment - State and Outlook 2015. The EEA is an official agency of the EU, tasked with providing information on Europe's environment.
PDF generated on 06 Mar 2015, 02:59 AM