Generation and recycling of packaging waste (CSI 017/WST 002) - Assessment published Jan 2008
Indicator Assessment
—
expired
Created 28 Jun 2007
Published 23 Jan 2008
Last modified 11 Mar 2014, 01:48 PM
Note: new version is available!
This content has been archived on
06 Nov 2013
, reason:
Content not regularly updated
Generic metadata
Topics
:

Waste and material resources
(Primary topic)
Tags:
DPSIR
: Pressure
Typology
: Descriptive indicator (Type A - What is happening to the environment and to humans?)
Contents
Key policy question:
Are we preventing the generation of packaging waste?
Key messages
There is a general increase in per capita quantities of packaging being put on the market. This development is seen both in the old and in the new EU Member States. This is not in line with the objective of the Directive on Packaging and Packaging Waste, which aims at reducing the production of packaging waste.
However, the EU target to recycle 25% of packaging waste in 2001 has been met and significantly exceeded. In 2006 the average recycling rate over the EU-27 reached 57 %, already exceeding the 2008 target of 55%. Differences in performance of individual countries suggest further potential for improvement, however.
Generation of packaging waste and GDP in the EU-15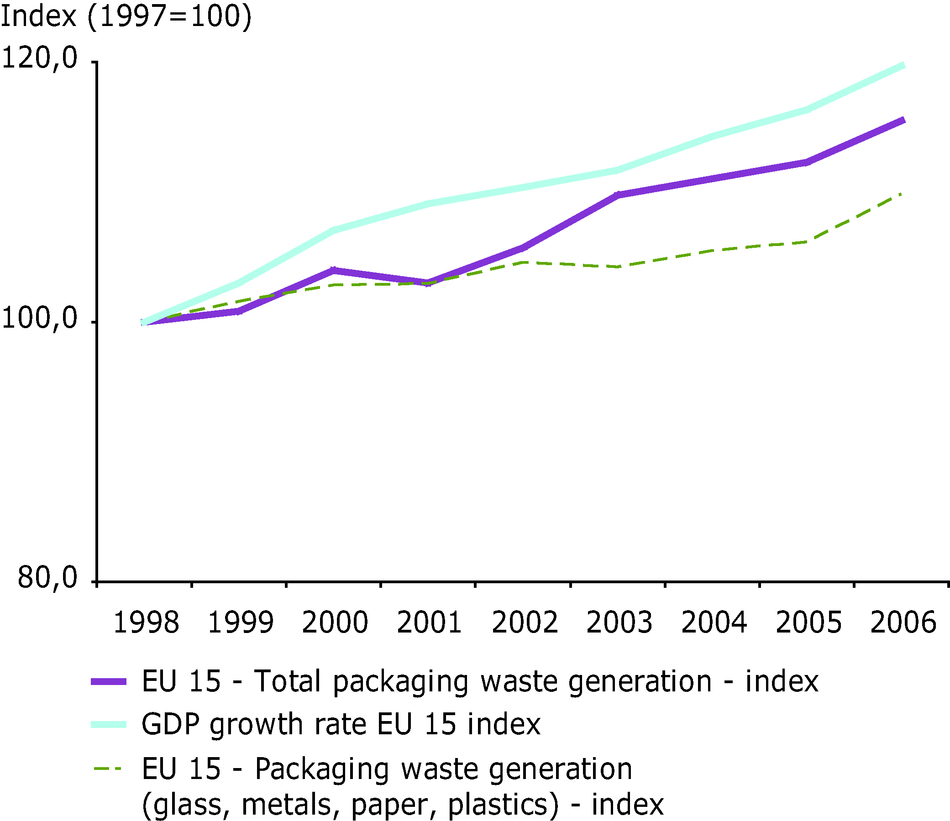 Note: N/A
Data source:
Packaging waste 2006, 1000 tonnes: EUROSTAT, Environmental Data Centre on waste Tables pursuant to Commission Decision 2005/270/EC: DG Environment : Tables pursuant to Commission Decision 2005/270/EC: DG Environment Real GDP growth rate - Growth rate of GDP volume - percentage change on previous year: EUROSTAT
Downloads and more info
Packaging waste generation per capita and by country
Note: Empty spaces means that data is not available
Data source:
DG Environment and the World Bank
Downloads and more info
Packaging waste generation per capita and by country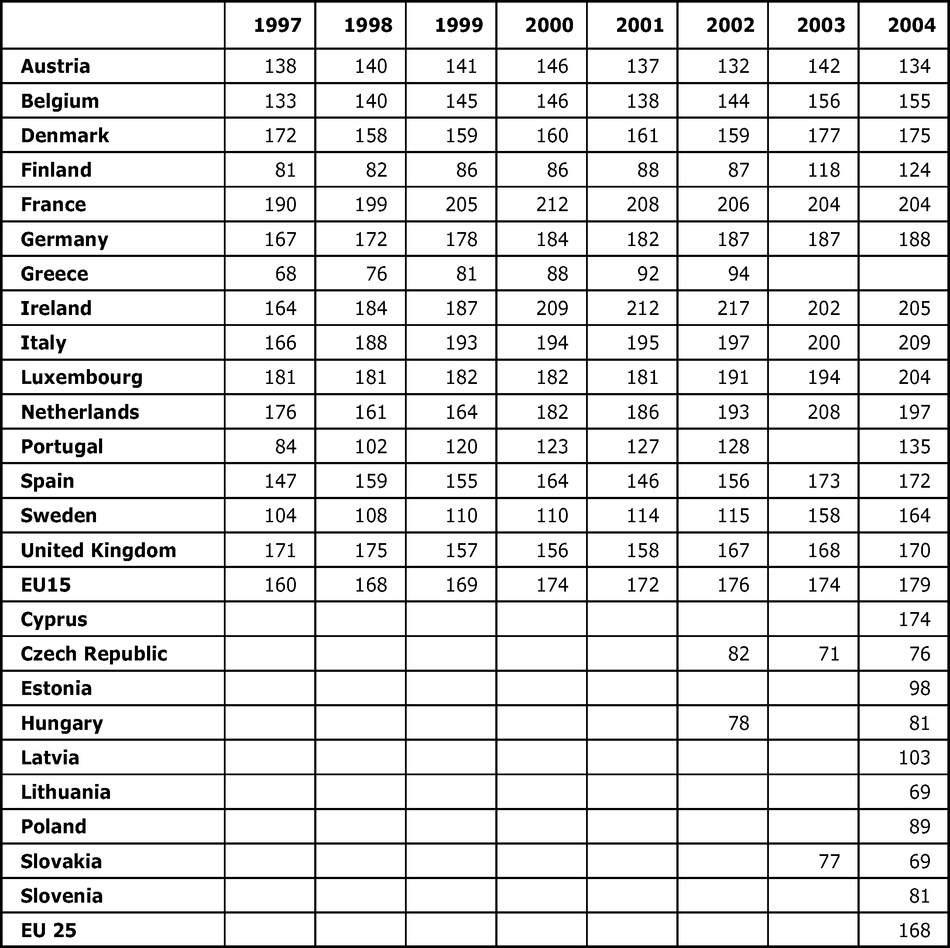 Note: Empty cells means no data available
Data source:
DG Environment and the World Bank
Downloads and more info
Key assessment
While there are significant year to year variations, the general trend in EU-15 shows that amounts of packaging are still rising. Packaging waste generation in the EU-15 saw slight decoupling from GDP (fig.3) between 1998 and 2006 growing by 15.5%, compared to a nearly 20% real growth in GDP over the same period. However, all the decoupling occurred in the first years of that period; since 2001 growth in packaging waste has actually been more rapid than growth in GDP.
Generation of four main fractions of the packaging waste stream (glass, metals, paper & cardboard, plastics), meanwhile, has seen more sustained relative decoupling over the whole period, growing at half the rate of GDP .The apparent rapid growth in total packaging between 2001 and 2003 may have had methodological causes - especially concerning the coverage of wood packaging. In 1997 only 6 countries reported wood packaging, with other countries following suit gradually in later years. Since 2003 most EU-15 countries have provided complete sets of data.
Trends in packaging waste generation per capita vary between the countries (fig 2). While some countries (e.g. Germany and Portugal) show a relatively constant increase, others (e.g. France, Austria) have been able to stabilise and even reverse the increases in generation - albeit often at a high level. The trend is less clear in the data reported from Scandinavian countries due to the above mentioned changes in data reporting in that period, e.g. the reporting changes can be seen as sharp increases.
There are large variations between Member States in the use of packaging per capita, ranging from 241 kg/capita in Ireland to 95 kg/capita in Greece and even 56 kg/capita in Bulgaria and Slovakia (2006). The average 2006 figure for the EU-27 was 165 kg/capita. There are clear differences between EU-15 and New Member States reflecting different levels of consumption of packaging. The variations within EU-15 countries are harder to explain, however they also seem to reflect differences in production and consumption patterns. One example may be different market shares of reusable packaging. It is also possible that some Member States may have uneven coverage of data collection or slightly differing definitions of packaging and understanding of which types of packaging waste need to be reported to DG Environment.
Specific policy question: Do we manage the generated waste (packaging) in a sustainable way?
Recycling of packaging waste by country, 2004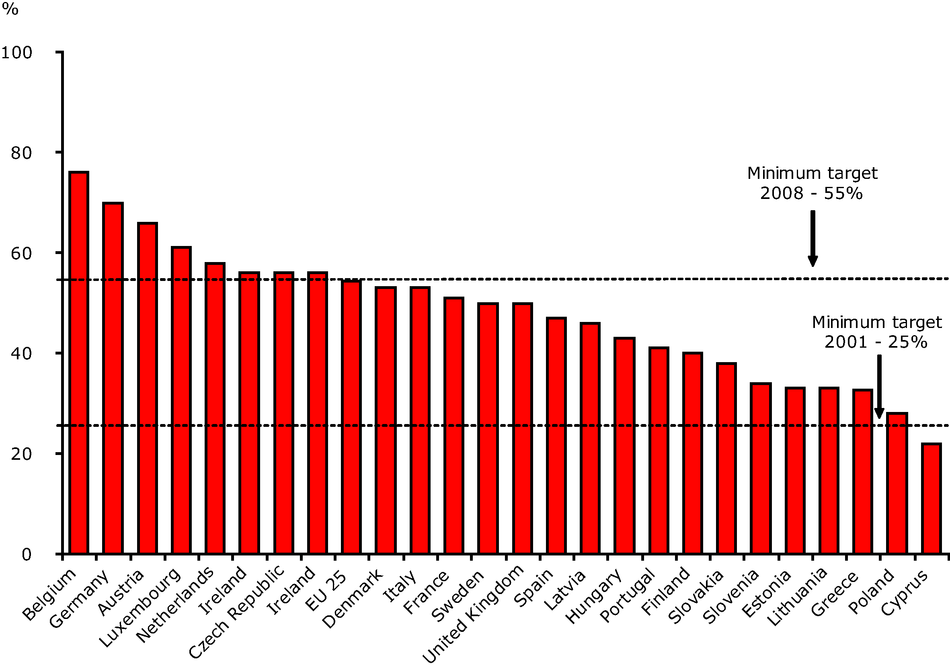 Note: N/A
Data source:
DG Environment
Downloads and more info
Recycling of packaging waste by country, 2002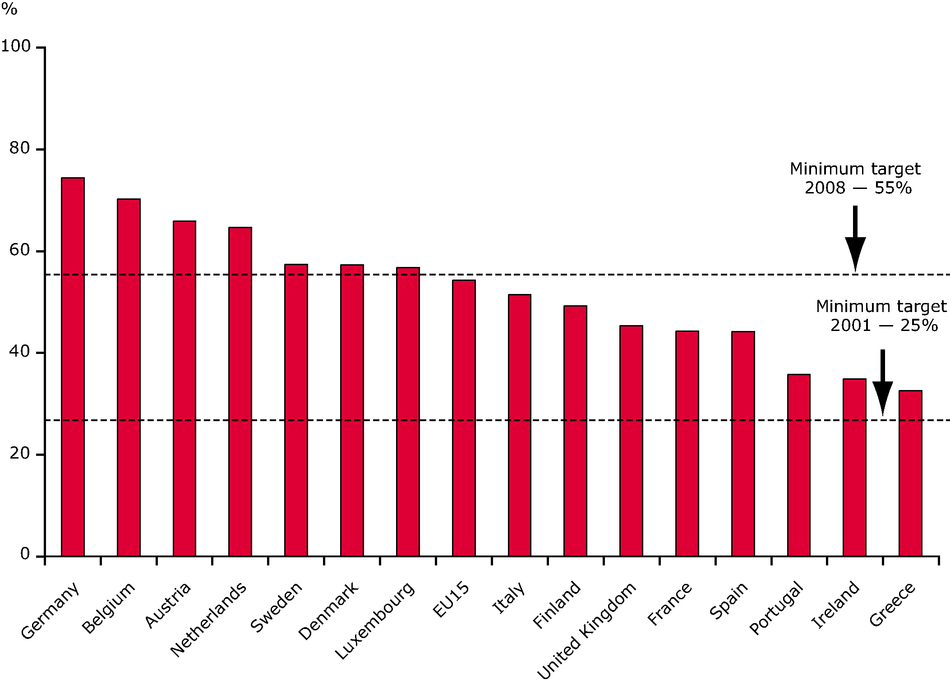 Note: N/A
Data source:
DG Environment
Downloads and more info
Specific assessment
The minimum target of 25 % recycling of all packaging materials in 2001 was achieved by a good margin in virtually all EU-15 countries. By 2006, 13 of the 27 Member States had already complied with the overall minimum recycling target for 2008.
The total EU-15 recycling rate increased from 45 % in 1997 to 59 % in 2006. The EU-12 recycling rate increased from 34% in 2005 to 40% in 2006. As with consumption of packaging per capita, the total recycling rate in the Member States in 2006 varied greatly, from 25 % in Cyprus to 79 % in Belgium.
To achieve the targets, several Member States have introduced producer responsibility and established packaging recycling schemes. Other countries have improved their existing collection and recycling system.
Table 1: Targets of the Packaging and Packaging Waste Directive
| | | |
| --- | --- | --- |
| By weight | Targets in 94/62/EC | Targets in 2004/12/EC |
| Overall recovery target | min. 50 %, max. 65 % | min. 60 % |
| Overall recycling target | min. 25 %, max. 45 % | min. 55 %, max.80 % |
| Year to achieve targets | 30 June 2001 | 31 December 2008 |
Note: Greece, Ireland, Portugal and the EU-12 member states have individual derogations to meet the new targets. Depending on country, the targets will have to be reached 3 to 7 years later.
Source: Official Journal L 365 , 31/12/1994 P. 0010 - 0023 and Official Journal L 047 , 18/02/2004 P. 0026 - 0032
Data sources
More information about this indicator
See this indicator specification for more details.
Contacts and ownership
EEA Contact Info
Jasmina Bogdanovic
Ownership
EEA Management Plan
2010
(note: EEA internal system)
Dates
Permalinks
Permalink to this version

Permalink to latest version
For references, please go to www.eea.europa.eu/soer or scan the QR code.
This briefing is part of the EEA's report The European Environment - State and Outlook 2015. The EEA is an official agency of the EU, tasked with providing information on Europe's environment.
PDF generated on 04 May 2015, 12:08 PM