Freight transport demand - outlook from EEA (Outlook 055) - Assessment published Jun 2006
Indicator Assessment
—
expired
Created 08 Jan 2006
Published 08 Jun 2006
Last modified 11 Mar 2014, 01:48 PM
Note: new version is available!
This content has been archived on
12 Nov 2013
, reason:
Content not regularly updated
Generic metadata
Topics
:

Environmental scenarios
(Primary topic)

Transport
Tags:
DPSIR
: Pressure
Typology
: Performance indicator (Type B - Does it matter?)
Contents
Key policy question:
Is freight transport demand being decoupled from economic growth?
Key messages
Assessment is created in 2007

Freight transport demand is expected to decouple relatively from economic growth over the next 30 years, in line with the policy targets.
Freight transport activity growth for EU 25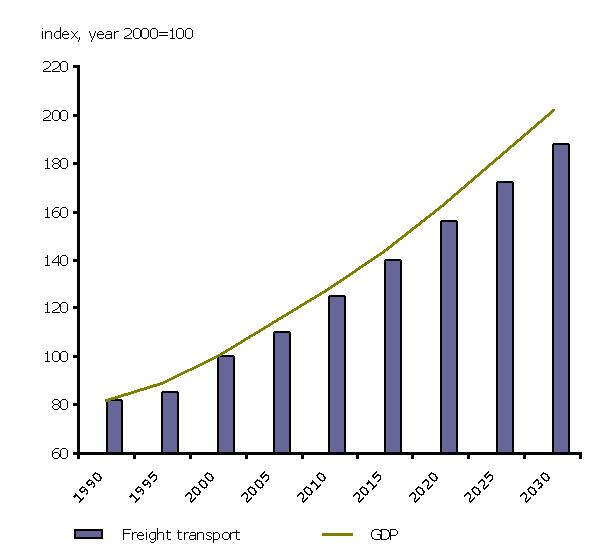 Note: N/A
Data source:
Downloads and more info
Key assessment
Specific policy question: Is the share of goods transported by road being reduced relative to other transport modes?
Structure of the freight transport activity in the EU 25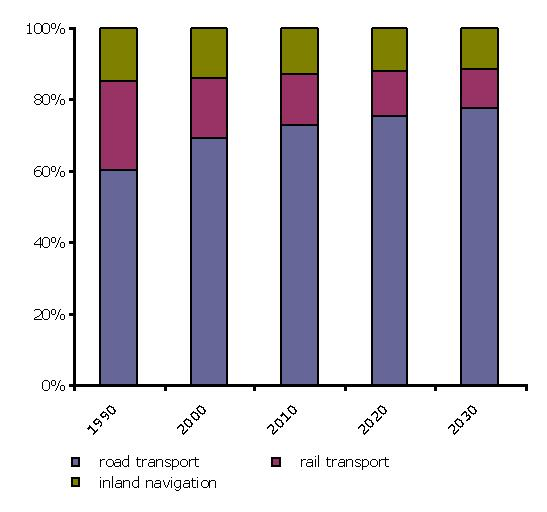 Note: N/A
Data source:
Downloads and more info
Specific assessment
With regard to the modal split of transport, no major technological substitution is expected over the 2000-2030 horizon. For freight transport, trucks are expected to further enhance their predominance (from 69% to 77.5% over the 2000-2030 period) at the expense of rail (from 17% to 11%) and inland navigation (from 14% to 11.5%).
The assessment is based on the European Environmental Outlook N 4/2005
Link: http://reports.eea.europa.eu/eea_report_2005_4/en/outlook_web.pdf
Data sources
More information about this indicator
See this indicator specification for more details.
Contacts and ownership
EEA Contact Info
Anita Pirc Velkavrh
Ownership
EEA Management Plan
2010
(note: EEA internal system)
Dates
Permalinks
Permalink to this version

Permalink to latest version
For references, please go to www.eea.europa.eu/soer or scan the QR code.
This briefing is part of the EEA's report The European Environment - State and Outlook 2015. The EEA is an official agency of the EU, tasked with providing information on Europe's environment.
PDF generated on 28 Mar 2015, 02:37 AM