Forest growth (CLIM 034) - Assessment published Nov 2012
Indicator Assessment
Created 14 Nov 2012
Published 22 Nov 2012
Last modified 22 Nov 2012, 11:49 AM
Generic metadata
Topics
:
Climate change
(Primary topic)

Biodiversity
Tags:
DPSIR
: Impact
Typology
: Descriptive indicator (Type A - What is happening to the environment and to humans?)
Dynamic
Temporal coverage:
2012-2098
Contents
Key policy question:
How is climate change affecting forest growth in Europe?
Key messages
The area covered by forests and other wooded land in Europe (39 EEA countries) has increased for many decades.
Forest biomass in the EEA region is also growing, and the average growth rate has increased from 1990 to 2010.
In some central and western areas of Europe, forest growth has been reduced in the last 10 years due to storms, pests and diseases.
Future climate change and increasing CO2 concentrations are expected to affect site suitability, productivity, species composition and biodiversity, and thus have an impact on the goods and services that the forests provide. In general, forest growth is projected to increase in northern Europe and to decrease in southern Europe.
Impacts and consequences of climate change on forest growth and forest conditions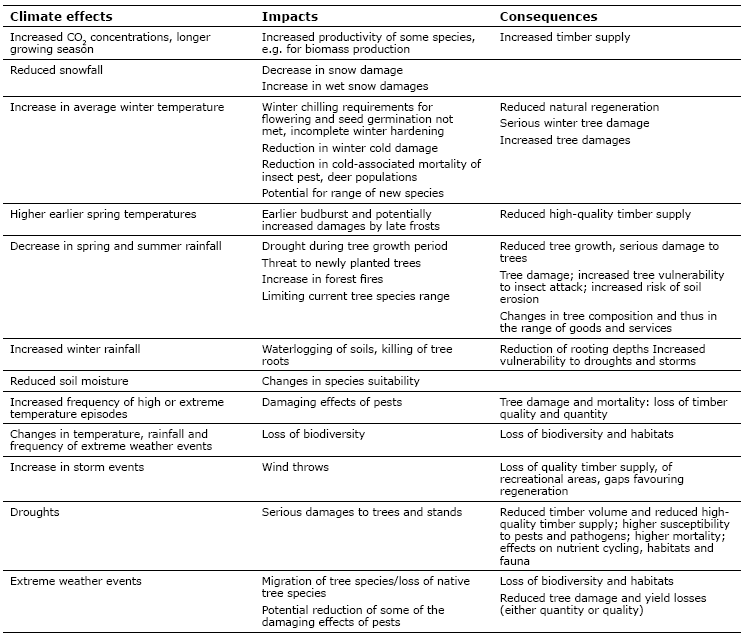 Note: Table shows the impacts and consequences of climate change on forest growth and forest conditions.
Downloads and more info
Key assessment
Past trends
Since the 20th century, the annual increment of forests in Europe (in terms of area and growing stock) has increased due to advances in forest management practices, genetic improvement and, in central Europe, the cessation of site-degrading practices. Abandoned farmland in high and mid latitudes is reverting to forest, which store much more carbon than the previous cropland.
Forests and other wooded land cover approximately 190 million ha. (1.9 million km2) in the EEA region, and this area has increased over the last decades [i]. Forest biomass has also grown over the past two decades, at an accelerating rate, as a consequence of a number of factors. A time series for 17 EEA countries shows an increase in growing stock from 85 million m3 (5.4 m3 ha-1) in 1990 to 110 million m3 (5.9 m3 ha-1) in 2010 [ii]. This has been explained primarily by the growth of young forests in Europe, which have not reached maturity, and by the increasing carbon concentration in the atmosphere. Furthermore, several studies have already noted longer growing seasons in several species, shifts in tree line and changes in species distribution. However, in some central and western forest areas of Europe, forest growth has been reduced in the last 10 years due to storms, pests and diseases.
Projections
Many aspects of projected climate change will impact forest growth and productivity (see Figure 1) [iii]. Increasing CO2 in the atmosphere might act as a fertiliser for plants and enables them to use water more efficiently, but this effect seems to be strongly dependent on local conditions such as moisture stress and soil nutrient availability and it might be limited to young trees. Nitrogen deposition may enhance forest growth in particular areas where plant-available nitrogen is still the limiting factor depending on soil, climate, vegetation, deposition history and use. However, nitrogen deposition can also enhance the risk of forest decline, if critical loads are exceeded. The concentrations of nitrogen oxides due to fossil fuel combustion are still high in spite of increased use of catalytic convertors. The high concentrations of reduced nitrogen from intensive agriculture, like ammonia are still a matter of concern for forests in the air causing eutrophication [iv]. Increases in ground-level ozone are likely in some regions due to warmer temperatures, which would cause a decrease in forest health and growth, which in turn has critical implications for forest distributions and future rates of carbon sequestration [v].
In general, forest productivity is projected to increase in areas with increased water availability, if appropriate tree species are growing there, while it is projected to decrease where water is scarce and projected to decline further. Wherever droughts increase, forest productivity is expected to decrease. Overall, climate change is projected to have a positive effect on the growing stocks in northern Europe and a negative effect in some regions in southern Europe. However, quantitative projections are not currently available as existing studies on future climate impacts on forests focus on effects on individual species.
---
[i] Forest Europe, UNECE and FAO, State of Europe's forests, 2011: status & trends in sustainable forest management in Europe. (Aas, Norway: Ministerial Conference on the Protection of Forests in Europe, Forest Europe, Liaison Unit Oslo, 2011), http://www.twosides.info:8080/content/rsPDF_223.pdf.
[ii] Forest Europe, UNECE and FAO, State of Europe's forests, 2011.
[iii] Svein Solberg et al., "Analyses of the impact of changes in atmospheric deposition and climate on forest growth in European monitoring plots: A stand growth approach", Forest Ecology and Management 258, Nr. 8 (September 2009): 1735–1750, doi:10.1016/j.foreco.2008.09.057.
[iv] M A Sutton, The European Nitrogen Assessment: Sources, Effects, and Policy Perspectives (Cambridge, UK; New York: Cambridge University Press, 2011).
[v] R. Matyssek et al., "Forests under climate change and air pollution: Gaps in understanding and future directions for research", Environmental Pollution 160 (Januar 2012): 57–65, doi:10.1016/j.envpol.2011.07.007.
Data sources
More information about this indicator
See this indicator specification for more details.
Dates
Frequency of updates
Updates are scheduled every 4 years in October-December (Q4)
Permalinks
Permalink to this version

Permalink to latest version
For references, please go to www.eea.europa.eu/soer or scan the QR code.
This briefing is part of the EEA's report The European Environment - State and Outlook 2015. The EEA is an official agency of the EU, tasked with providing information on Europe's environment.
PDF generated on 03 May 2015, 02:54 PM