Forest fires (CLIM 035) - Assessment published Nov 2012
Indicator Assessment
Created 09 Nov 2012
Published 20 Nov 2012
Last modified 20 Nov 2012, 06:39 PM
Generic metadata
Topics
:
Climate change
(Primary topic)

Biodiversity
Tags:
DPSIR
: Impact
Typology
: Descriptive indicator (Type A - What is happening to the environment and to humans?)
Dynamic
Temporal coverage:
1980-2011, 2016, 2018, 2021, 2071-2098
Contents
Key policy question:
How is climate change affecting forest fire risk in Europe?
Key messages
Fire risk depends on many factors, including climatic conditions, vegetation (e.g. fuel load and condition), forest management practices and other socio-economic factors.
The number of fires in the Mediterranean region has increased over the period from 1980 to 2000; it has decreased thereafter.
In a warmer climate, more severe fire weather and an expansion of the fire-prone area and longer fire seasons, as a consequence, are projected, but with considerable regional variation.
The impact of fire events is particularly strong in southern Europe on already degraded ecosystems.
Burnt forest area in five southern European countries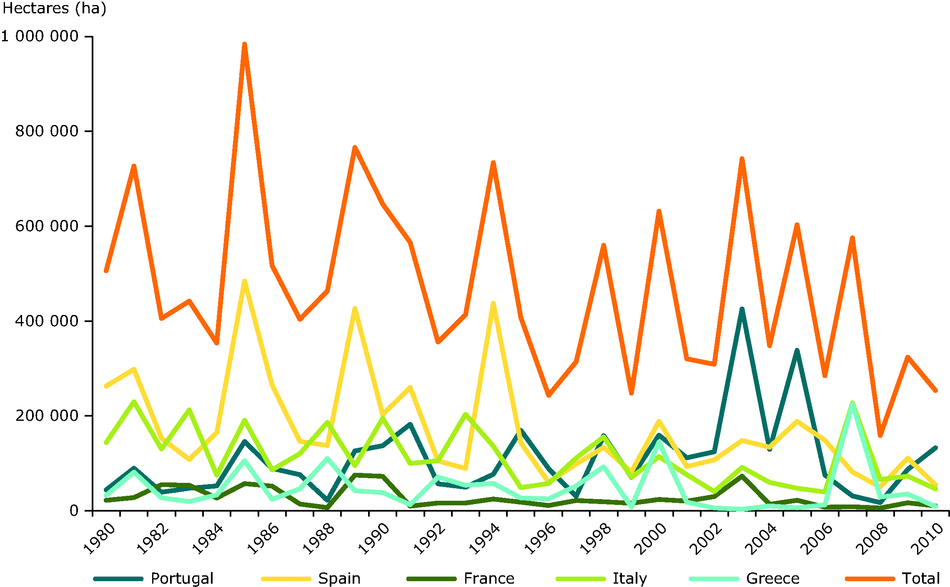 Note: Burnt forest area (in ha) in five southern European countries from 1980 to 2010.
Downloads and more info
State and trend of fire danger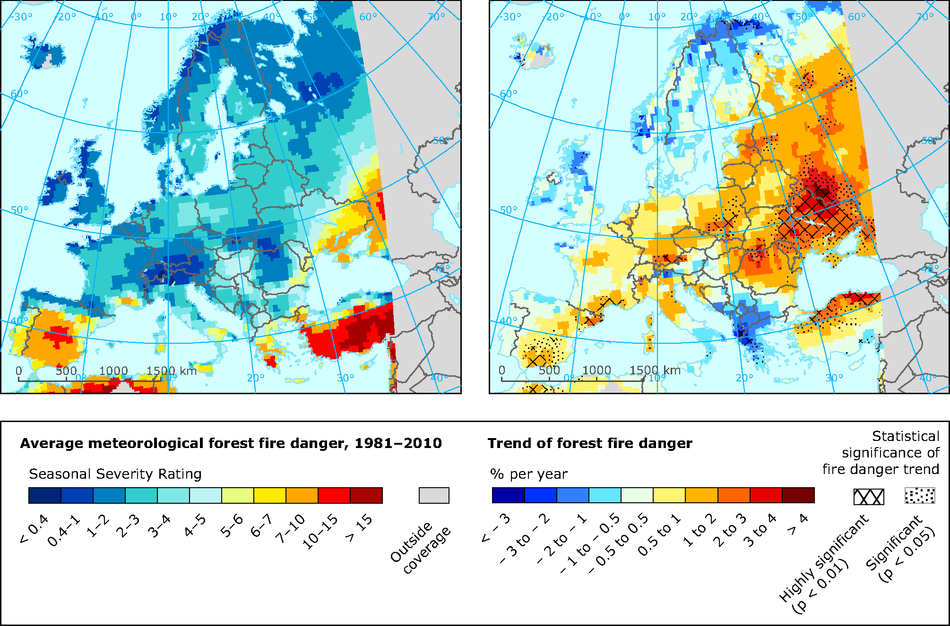 Note: Fire danger is expressed by the Seasonal Severity Rating (SSR). Daily severity values can be averaged over the fire season using the SSR index, which allows objective comparison of fire danger from year to year and from region to region. The coarse scale of the map does not allow accounting for specific conditions of given sites, as for example in the Alpine region, where the complex topography may strongly affect local fire danger.
Downloads and more info
Projected changes in fire danger
Note: Fire danger is expressed by the Seasonal Severity Rating (SSR). Based on projections by the Regional Climate Model (RCM) RACMO2 driven by the Global Climate Model (GCM) ECHAM5 for the SRES A1B emission scenario. Left: projected change in SSR by 2071–2100 as compared to 1961–1990 baseline period; Right: projected annual average SSR in 2071–2100.
Downloads and more info
Key assessment
Past trends
Historical fire series are available in Europe and regularly updated within the European Forest Fire Information System (EFFIS). However, the time period covered is not the same for all countries and only in a few case series is longer than 25 years available. A long time series of forest fire data is available for five particularly affected countries in southern Europe (Greece, Spain, France, Italy and Portugal). The total burnt area per year in the five southern Member States since 1980 is shown on Figure 1. Since the area of each country is different, and the area at risk within each country is also different, comparisons among countries cannot be absolute.
The statistics vary considerably from one year to the next, which clearly indicates how much the burnt area depends on seasonal meteorological conditions. Some multi-annual periodicity in the burned area trend can also be partially attributed to the dead biomass burning/accumulation cycle typical of the fire-prone regions. The historical trend of number of fires is more controversial to analyse because fire frequency is strongly affected by the significant changes that occurred in past years in the statistical reporting systems of the countries. Reported fire frequency in southern European countries has increased during the 1990s to then stabilise for around one decade and slightly decrease during recent years.
To complement the information from past forest fires, past trends of fire danger have also been analysed processing series of meteorological fire danger indices, which are routinely used to rate the fire potential due to weather conditions. The Canadian Fire Weather Index (FWI) is used in EFFIS to rate the daily fire danger conditions in Europe. FWI can be transformed with a simple equation into a daily severity rating index which is deemed to be linearly related with fire suppression difficulties [i]. Daily severity values can be averaged over the fire season obtaining a Seasonal Severity Rating (SSR) index, which allows objective comparison of fire danger from year to year and from region to region. Although the index is dimensionless and mainly used for comparison purposes, SSR values above 6 may be considered in the extreme range. Weather input to compute SSR are the same as for FWI (air temperature, relative humidity, wind, precipitation). Other driving factors of fire regimes, such as land-use changes or fuel dynamics, are not taken into account by SSR which is based on weather parameters. However, the fundamental role played by weather in affecting the year-by-year variation of fire incidence in Europe has been clearly demonstrated [ii].
Annual SSR values for the period 1981 to 2010 were computed based on daily weather data using the European Centre for Medium-Range Weather Forecasts (ECMWF) ERA-Interim dataset. Figure 2 shows the SSR values averaged over the entire period (left map) and the corresponding trend derived from linear interpolation of the annual values (right map)
Projections
Climate change projections suggest substantial warming and increases in the number of droughts, heat waves and dry spells across most of the Mediterranean area and more generally in southern Europe. These projected climate changes would increase the length and severity of the fire season, the area at risk and the probability of large fires, possibly enhancing desertification.
Figure 3 compares modelled fire danger projections for baseline (1961–1990) and projected (2071–2100) climate conditions. The results suggest that climate change would lead to a marked increase of fire potential in south-eastern and south-western Europe; in relative terms the increase in SSR would be particularly strong in western-central Europe.
---
[i] C.E. Van Wagner, Development and structure of the Canadian Forest Fire Weather Index System Forestry Technical Report (Canadian Forestry Service, Headquarters, Ottawa, 1987), http://cfs.nrcan.gc.ca/publications?id=19927.
[ii] A. Camia and G. Amatulli, "Weather factors and fire danger in the Mediterranean", in Earth Observation of Wildland Fires in Mediterranean Ecosystems, ed. E. Chuvieco (Springer, 2009), 71–82.
Data sources
More information about this indicator
See this indicator specification for more details.
Dates
Frequency of updates
Updates are scheduled every 4 years in October-December (Q4)
Permalinks
Permalink to this version

Permalink to latest version
For references, please go to www.eea.europa.eu/soer or scan the QR code.
This briefing is part of the EEA's report The European Environment - State and Outlook 2015. The EEA is an official agency of the EU, tasked with providing information on Europe's environment.
PDF generated on 04 May 2015, 12:27 AM