Floods and health (CLIM 046) - Assessment published Nov 2012
Indicator Assessment
—
expired
Created 09 Nov 2012
Published 20 Nov 2012
Last modified 16 Sep 2014, 04:42 PM
Note: new version is available!
This content has been archived on
16 Sep 2014
, reason:
Other (New version data-and-maps/indicators/floods-and-health/assessment-1 was published)
Generic metadata
Topics
:
Climate change
(Primary topic)

Environment and health

Water
Tags:
DPSIR
: Impact
Typology
: Descriptive indicator (Type A - What is happening to the environment and to humans?)
Dynamic
Temporal coverage:
2000-2011
Contents
Key policy question:
What are health effects of floods across Europe, and how are they changing?
Key messages
River and coastal flooding affect millions of people in Europe each year. They affect human health through drowning, heart attacks, injuries, infections, psychosocial consequences, and health effects of chemical hazards as well as disruption of services.
Observed increases in heavy precipitation and extreme coastal high-water events have led to more river and coastal flooding in many European regions.
Increases in health risks associated with river and coastal flooding are projected in many regions of Europe due to projected increases in extreme precipitation events and sea level.
Number of people affected by flooding per million population in the WHO European Region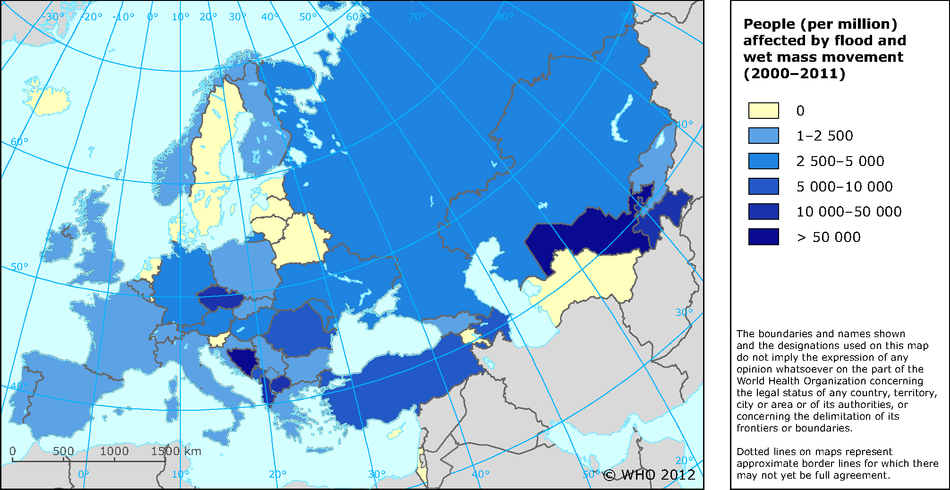 Note: Number of people affected by flooding per million population in the WHO European Region (total over the period 2000–2011). 'People affected', as defined in EM-DAT, are people who require immediate assistance during a period of emergency, including displaced or evacuated people. EM-DAT/CRED and the Dartmouth Flood Observatory were analysed to determine the flooded countries in the WHO European Region and the impact of these floods.
Downloads and more info
Key assessment
Past trends
Estimates for the WHO European Region based on a combination of data from EM-DAT and DFO indicate that floods have killed more than 1 000 people and affected 3.4 million others in the period 2000–2009. Deaths from flooding were highest (on a per capita basis) in central and eastern Europe [i]. Figure 1 shows the number of people affected by flooding in the same period. The largest numbers (on a per capita basis) are found in south-eastern Europe, eastern Europe and central Europe.
Projections
Heavy precipitation events are likely to become more frequent in many regions in Europe. In the absence of adaptation, river flooding is estimated to affect 250 000 to 400 000 additional people per year in Europe by the 2080s, which corresponds to more than a doubling with respect to the 1961–1990 period. The increase is projected in central Europe and the British Isles[ii].
The PESETA project estimated that up to an additional 1.6 million people each year in the northern Mediterranean, and northern and western Europe would experience coastal flooding by 2080 under the SRES A1FI scenario, unless additional adaptation measures were taken. The number of people affected by coastal flooding in the EU ranges between 775 000 to 5.5 million people, depending on the emissions scenario[iii]. Under the high sea-level rise scenario (B2), mental health impacts of coastal flooding in the EU could potentially reach five million additional cases of mild depression annually in the period 2071–2100; impacts presumably significantly reduced with adaptation[iv].
According to the SRES A1B scenario, climate and socio-economic change would lead in the EU to 650 deaths per year by the 2080s due to coastal flooding. Two thirds of these deaths would occur in western Europe. These estimates decrease significantly under the E1 mitigation scenario to 185 (2080s) fatalities per year. Coastal adaptation measures can significantly reduce risks to less than 10 deaths per year in 2080 (from 650 without adaptation) [v].
---
[i] WHO and HPA, Floods: Health effects and prevention in the WHO European Region (World Health Organization, Regional Office for Europe; Health Protection Agency, UK, Forthcoming).
[ii] WHO and HPA, Floods: Health effects and prevention in the WHO European Region.
[iii] J.C. Ciscar et al., "Physical and economic consequences of climate change in Europe", Proceedings of the National Academy of Sciences 108, Nr. 7 (Januar 31, 2011): 2678–2683, doi:10.1073/pnas.1011612108.
[iv] Paul Watkiss and Alistair Hunt, "Projection of economic impacts of climate change in sectors of Europe based on bottom up analysis: human health", Climatic Change 112, Nr. 1 (2012): 101–126, doi:10.1007/s10584-011-0342-z.
[v] S Kovats et al., The Impacts and Economic Costs on Health in Europe and the Costs and Benefits of Adaptation, Results of the EC RTD ClimateCost Project Technical Policy Briefing Note 5:, 2011.
Data sources
More information about this indicator
See this indicator specification for more details.
Dates
Frequency of updates
Updates are scheduled every 4 years in October-December (Q4)
Permalinks
Permalink to this version

Permalink to latest version
For references, please go to www.eea.europa.eu/soer or scan the QR code.
This briefing is part of the EEA's report The European Environment - State and Outlook 2015. The EEA is an official agency of the EU, tasked with providing information on Europe's environment.
PDF generated on 21 Apr 2015, 03:23 PM