Financing biodiversity management (SEBI 025) - Assessment published May 2010
Indicator Assessment
Created 17 Sep 2009
Published 21 May 2010
Last modified 18 Feb 2015, 04:58 PM
Generic metadata
Topics
:

Biodiversity
(Primary topic)
Tags:
DPSIR
: Response
Typology
: N/A
Dynamic
Temporal coverage:
1995-2006
Contents
Key policy question:
How much public funds are being committed to conservation of biodiversity?
Key messages
This indicator currently has a limited scope and only contains information from EU funding of projects using the LIFE financial instrument for the environment. The amount of the EU contribution per LIFE project varies significantly among Member States. Newer Member States tend to spend less money through the LIFE Nature programme (with a small number of notable exceptions). Further detail is required (e.g. on project size) in order to interpret these figures. The LIFE Nature project represents a very small proportion of the total EU budget.
European funding benefiting biodiversity may also be 'hidden' in budget lines within other policy areas, such as agriculture, rural development and research. Finally, the indicator currently does not show national funding for biodiversity.
Percentage of total EU expenditure on the Life project from 1995 to 2006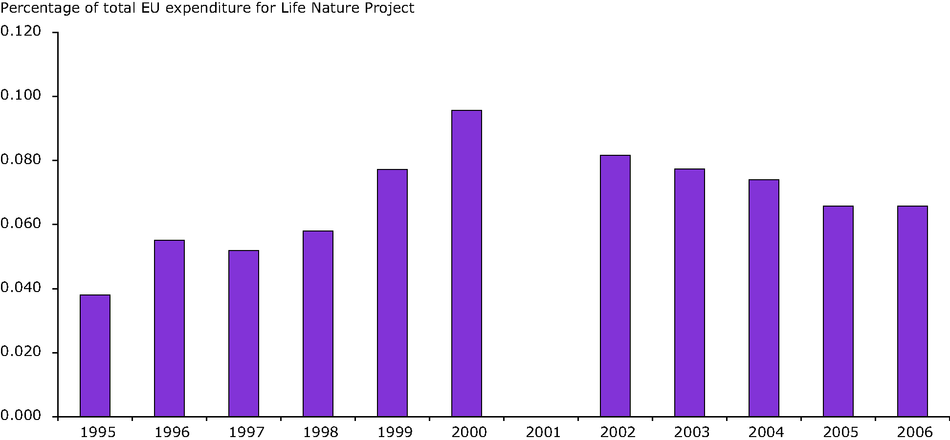 Note: How to read the graph: In 2006, EU expenditure on the Life project represented 0.066 % of the total EU budget.
Data source:
Life Nature expenditure. DG Environment of the European Commission, 2008.
Downloads and more info
Average contribution of LIFE Nature to projects in EU countries, 2000–2006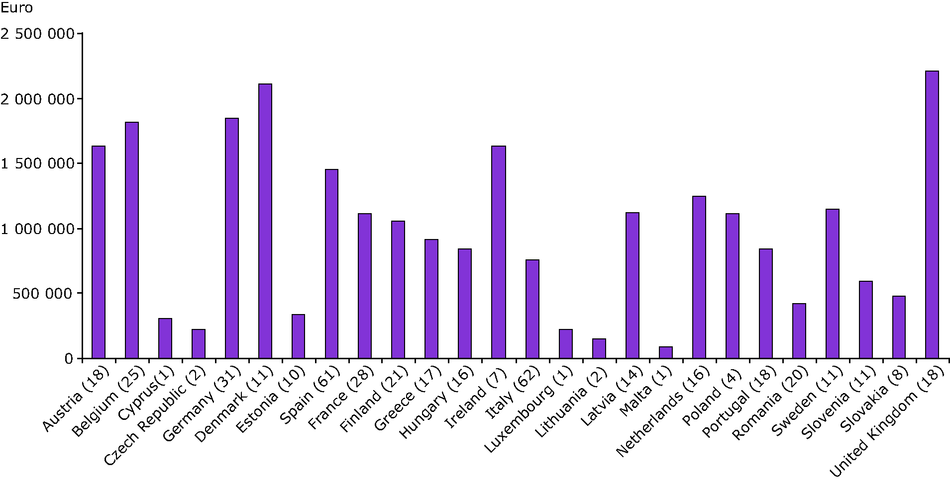 Note: How to read the graph: the EU Life contribution averaged approximately EUR 1.5 million per year for 18 Austrian projects during the period 2000-2006.
Data source:
DG ENV LIFE unit.
Downloads and more info
Key assessment
The figures are shown for 1995 onwards because that year marked the establishment of the EU-15 and the start of implementing the Habitats Directive. It should be noted that the amounts indicated in Figure 2 represent the EU contribution (from the LIFE Programme) to the projects, not the total cost of the projects in question. LIFE tends to cover 50 - 75 % of total costs, depending on the target species and/or habitats.
Since 2000, LIFE has enjoyed a more stable budget (although there was no call in 2001) and the amount of money allocated for nature has increased under LIFE+. Private or national government spending is not covered by the indicator. Although expenditure on LIFE declined as a proportion of total EU spending between 2000 and 2006 (in part because accessions expanded the total EU budget), this has now levelled out and is set to increase.
FURTHER INFORMATION
Data sources
More information about this indicator
See this indicator specification for more details.
Dates
Frequency of updates
Updates are scheduled every 5 years in October-December (Q4)
Permalinks
Permalink to this version

Permalink to latest version
For references, please go to www.eea.europa.eu/soer or scan the QR code.
This briefing is part of the EEA's report The European Environment - State and Outlook 2015. The EEA is an official agency of the EU, tasked with providing information on Europe's environment.
PDF generated on 05 May 2015, 01:18 AM