European precipitation
Indicator Assessment
—
expired
Created 18 Jul 2008
Published 08 Sep 2008
Last modified 11 Sep 2015, 12:54 PM
Note: new version is available!
This content has been archived on
06 Aug 2014
, reason:
Other (New version data-and-maps/indicators/european-precipitation-1/assessment-1 was published)
Indicator codes:
CLIM 002
Key messages
Annual precipitation trends in the 20th century showed an increase in northern Europe (10-40 %) and a decrease in some parts of southern Europe (up to 20 %).
Mean winter precipitation has increased in most of western and northern Europe (20 to 40 %), whereas southern Europe and parts of central Europe were characterized by drier winters.
Models project an increase in winter precipitation in northern Europe, whereas many parts of Europe may experience dryer summers. But there are uncertainties in the magnitude and geographical details of the changes.

.
Trends in annual precipitation across Europe between Jan 1960 and Jan 2012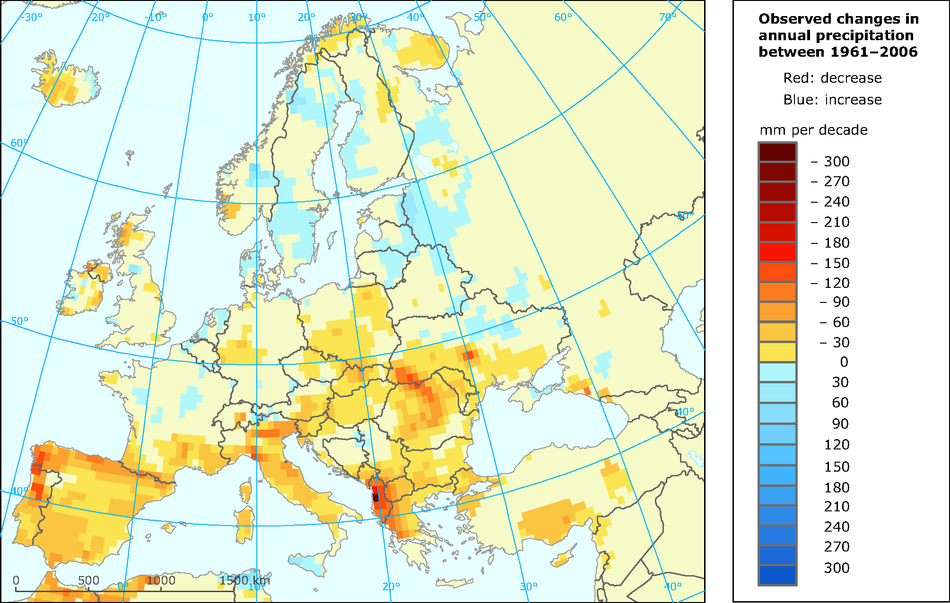 Note: The figure shows trends in annual precipitation across Europe between Jan 1960 and Jan 2012. The trends are calculated using a median of pairwise slopes algorithm (Sen, 1968 ) (Lazante, 1996). Black dots represent high confidence in the sign of the long-term trend in the box (if the 5th to 95th percentile slopes are of the same sign). Boxes which have a thick outline contain at least three stations. Area averaged annual time series of percentage changes and trend lines are shown below each map for one area in northern Europe (Blue line, 5.6o to 16.9oE and 56.2o to 66.2oN) and one in south-western Europe (red line, 350.6o to 1.9oE and 36.2o to 43.7oN). Refer to (Met Office, 2012) for full explanation of methodology
Downloads and more info
Modelled precipitation change between 1980-1999 and 2080-2099

Note: Left: annual; middle: winter (DJF); right summer (JJA) changes % for the IPCC-SRES A1B emission scenario averaged over 21 models (MMD-A1B simulations).
Data source:
Christensen, J. H.; Hewitson, B.; Busuioc, A.; Chen, A.; Gao, X.; Held, I.; Jones, R.; Kolli, R. K.; Kwon, W.-T.; Laprise, R.; Magaña Rueda, V.; Mearns, L.; Menéndez, C. G.; Räisänen, J.; Rinke, A.; Sarr, A. and Whetton, P., 2007. Regional Climate Projections. In: Climate Change 2007: The Physical Science Basis. Contribution of Working Group I to the Fourth Assessment Report of the Intergovernmental Panel on Climate Change. Solomon, S.; Qin, D.; Manning, M.; Chen, Z.; Marquis, M.; Averyt, K. B.; Tignor, M. and Miller, H. L. (eds.), Cambridge University Press, Cambridge, United Kingdom and New York, NY, USA.
Downloads and more info
Past trends
Precipitation in Europe generally increased over the 20th century, on average 6-8 % between 1901 and 2005. Geographically, there is a variation (see Figure 1); an increase in north-west Europe, partly due to stronger advection of wet Atlantic air masses to this part of the continent. Drying has been observed in the Mediterranean and eastern Europe and no clear trends have been observed in western Mean winter (December-February) precipitation is increasing 20-40 % in most of western and northern Europe (Klein Tank et al., 2002), because western circulation was stronger in winter. Conversely, southern Europe and parts of central Europe were characterized by a drier winter. Trends in spring and autumn were not significant.
Projections
Climate models project changes in precipitation that vary considerably from season to season and across regions. Geographically, projections indicate a general precipitation increase in northern Europe and a decrease in southern Europe. The change in annual mean between 1980-1999 and 2080-2099 for the intermediate IPCC SRES A1B projections varies from 5 to 20 % in northern Europe and from -5 to -30 % in southern Europe and the Mediterranean (Figure 2). Many impact studies (see other indicators) use the high emission A2 scenario. Under this scenario the projected changes are mostly larger.
Seasonally, models project a large-scale increase in winter precipitation in mid and northern Europe. Many parts of Europe are projected to experience dryer (Figure 2). Relatively small precipitation changes are projected for spring and autumn (Raisanen et al., 2004; Kjellstrom, 2004).

Indicator specification and metadata
Policy context and targets
Context description
In April 2009 the European Commission presented a White Paper on the framework for adaptation policies and measures to reduce the European Union's vulnerability to the impacts of climate change. The aim is to increase the resilience to climate change of health, property and the productive functions of land, inter alia by improving the management of water resources and ecosystems. More knowledge is needed on climate impact and vulnerability but a considerable amount of information and research already exists which can be shared better through a proposed Clearing House Mechanism. The White Paper stresses the need to mainstream adaptation into existing and new EU policies. A number of Member States have already taken action and several have prepared national adaptation plans. The EU is also developing actions to enhance and finance adaptation in developing countries as part of a new post-2012 global climate agreement expected in Copenhagen (Dec. 2009). For more information see: http://ec.europa.eu/environment/climat/adaptation/index_en.htm
Targets
No targets have been specified
Related policy documents
No related policy documents have been specified
Data sources
Generic metadata
Topics
:
Climate change
(Primary topic)
Tags:
DPSIR
: Impact
Typology
: Descriptive indicator (Type A - What is happening to the environment and to humans?)
Dynamic
Temporal coverage:
1961-2011, 2080-2098
Contacts and ownership
EEA Management Plan
2008 0.0.0
(note: EEA internal system)
Permalinks
Permalink to this version

Permalink to latest version
For references, please go to www.eea.europa.eu/soer or scan the QR code.
This briefing is part of the EEA's report The European Environment - State and Outlook 2015. The EEA is an official agency of the EU, tasked with providing information on Europe's environment.
PDF generated on 03 May 2016, 01:52 AM