Mean precipitation (CLIM 002) - Assessment published Aug 2014
Indicator Assessment
Created 08 Jul 2014
Published 06 Aug 2014
Last modified 06 Aug 2014, 02:27 PM
Generic metadata
Topics
:
Climate change
(Primary topic)

Water
Tags:
scenarios | climate change | climate | precipitation | rain
DPSIR
: Impact
Typology
: Descriptive indicator (Type A - What is happening to the environment and to humans?)
Dynamic
Temporal coverage:
1960-2014, 2071-2100
Contents
Key policy question:
What is the trend in precipitation across Europe?
Key messages
Precipitation trends since 1960 show an increase by up to 70 mm per decade in north-eastern and north-western Europe, in particular in winter, and a decrease by up to 90 mm per decade in some parts of southern Europe, in particular in summer.
Projected changes in precipitation vary substantially across regions and seasons. Annual precipitation is generally projected to increase in northern Europe and to decrease in southern Europe. Projected decrease is the strongest in southern Europe in summer.
Trends in annual precipitation across Europe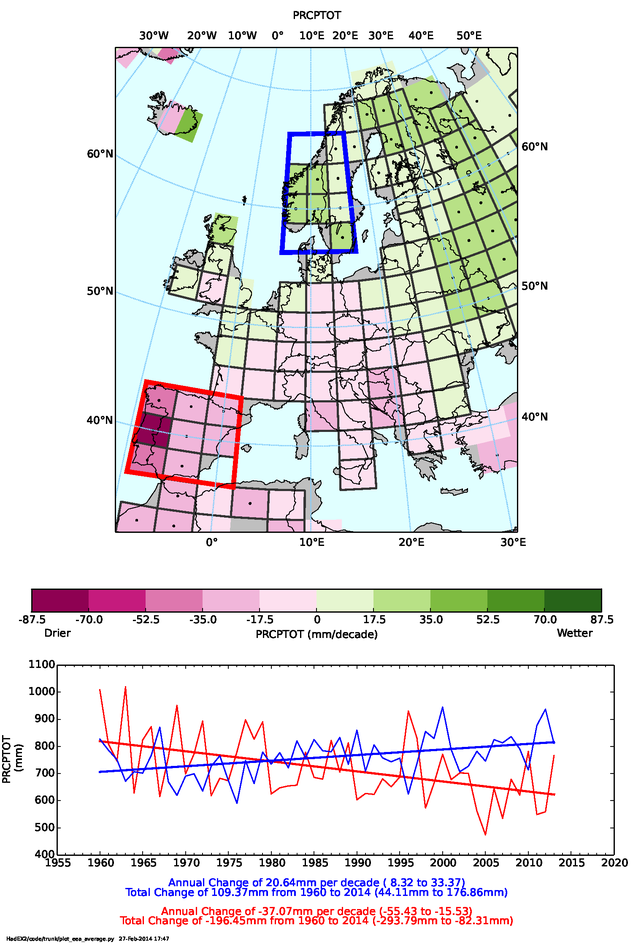 Note: The trends are calculated using a median of pairwise slopes algorithm. Black dots represent high confidence in the sign of the long-term trend in the box (if the 5th to 95th percentile slopes are of the same sign). Boxes which have a thick outline contain at least three stations. Area averaged annual time series of percentage changes and trend lines are shown below each map for one area in northern Europe (blue line, 5.6 to 16.9 °E and 56.2 to 66.2 °N) and one in south‑western Europe (red line, 350.6 to 1.9 °E and 36.2 to 43.7 °N).
Downloads and more info
Projected change in annual and summer precipitation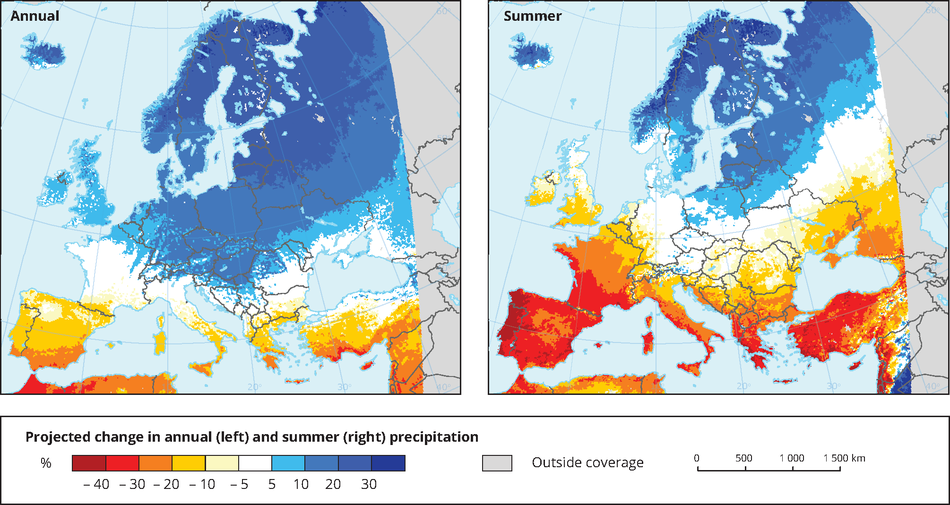 Note: Projected changes in annual (left) and summer (right) precipitation (%) in the period 2071-2100 compared to the baseline period 1971-2000 for the forcing scenario RCP 8.5. Model simulations are based on the multi-model ensemble average of RCM simulations from the EURO-CORDEX initiative.
Downloads and more info
Key assessment
Past trends
Annual precipitation averaged across Europe shows no significant changes since 1960 (according to the E-OBS dataset (Haylock, 2008), which is based on the European Climate Assessment dataset (Klock, 2009). However, significant changes have been observed at the sub-continental scale. The majority of Scandinavia and the Baltic States have observed an increase in annual precipitation of greater than 17 mm per decade, with an increase of up to 70 mm per decade in western Norway, with the increase strongest in winter. In contrast, annual precipitation has decreased by up to 90 mm per decade in the Iberian Peninsula, in particular in central Portugal. While there is some evidence linking land use, in particular forest cover, to local and regional precipitation patterns (Millan, 2008), it is not clear if the relatively minor land-use changes in the last 60 years have influenced observed precipitation trends.
---
Projection
Seasonal mean precipitation values and inter-annual variability is better reproduced by an ensemble of RCMs than by any single RCM. Recent work, building on the EURO-CORDEX initiative, has shown that RCMs have a reasonably strong consensus across Europe in projecting changes in seasonal average precipitation.
The ensemble mean projects a statistically significant increase in large parts of central Europe and northern Europe of up to about 30 % and a decrease (up to 40 %) in southern Europe between 2071-2100 and 1971-2000 (Fig. 2 left) (Jacob et al., 2013). During summer the zone in which precipitation decreases shifts northwards (Fig. 2 right). The pattern of the changes is very similar for RCP4.5, but for RCP4.5 the magnitude of the change is smaller.
---
Data sources
More information about this indicator
See this indicator specification for more details.
Contacts and ownership
EEA Contact Info
Blaz Kurnik
Ownership
EEA Management Plan
2014 1.4.1
(note: EEA internal system)
Dates
Frequency of updates
Updates are scheduled every 4 years in October-December (Q4)
Permalinks
Permalink to this version

Permalink to latest version
For references, please go to www.eea.europa.eu/soer or scan the QR code.
This briefing is part of the EEA's report The European Environment - State and Outlook 2015. The EEA is an official agency of the EU, tasked with providing information on Europe's environment.
PDF generated on 27 Apr 2015, 09:34 PM