Change in species diversity as a result of climate change - outlook from EEA (Outlook 004) - Assessment published Jun 2009
Indicator Assessment
—
expired
Created 25 Jan 2009
Published 08 Jun 2009
Last modified 11 Nov 2013, 04:18 PM
This content has been archived on
11 Nov 2013
, reason:
Content not regularly updated
Generic metadata
Topics
:

Environmental scenarios
(Primary topic)

Biodiversity
Climate change
Tags:
plants | biodiversity | animals | climate change | amphibians | reptiles | species
DPSIR
: Impact
Typology
: Descriptive indicator (Type A - What is happening to the environment and to humans?)
Dynamic
Temporal coverage:
2000, 2008, 2050
Contents
Key policy question:
What are trends in biodiversity?
Key messages
By the late 21st century, distributions of European plant species are projected to have shifted several hundred kilometres to the north, forests are likely to have contracted in the south and expanded in the north, and 60 % of mountain plant species may face extinction. The rate of change will exceed the ability of many species to adapt, especially as landscape fragmentation may restrict movement.
A combination of the rate of climate change, habitat fragmentation and other obstacles will impede the movement of many animal species, possibly leading to a progressive decline in European biodiversity. Distribution changes are projected to continue. Suitable climatic conditions for Europe's breeding birds are projected to shift nearly 550 km northeast by the end of the century, with the average range size shrinking by 20 %. Projections for 120 native European mammals suggest that up to 9 % (assuming no migration) risk extinction during the 21st century.

Projected changes in number of plant species in 2050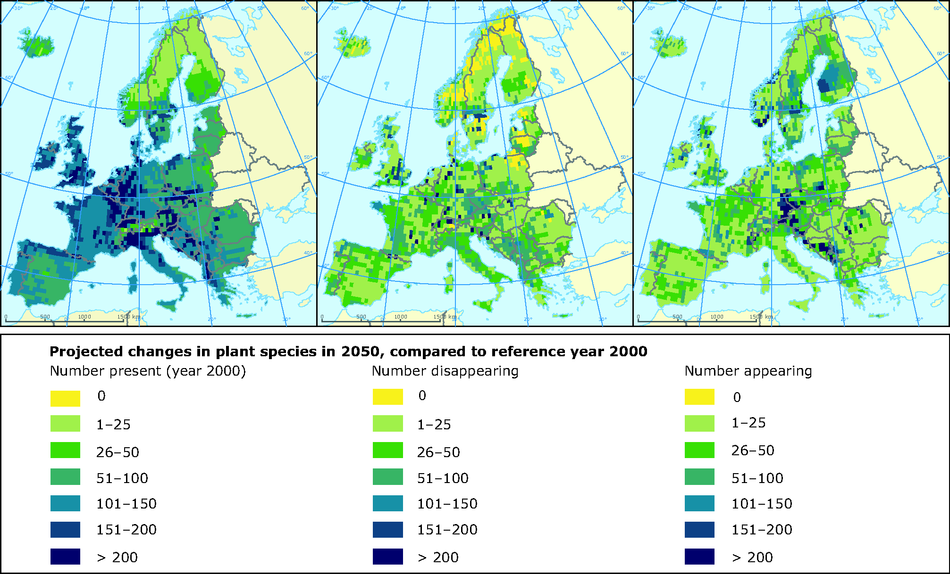 Note: Results for stable area per grid cell, using the EuroMove model with HadCM2 A2 climate scenario.
Data source:
Bakkenes, M.; Eickhout, B. and Alkemade, R., 2006. Impacts of different climate stabilisation scenarios on plants species in Europe. Global Environmental Change 16: 2006.
Downloads and more info
Projected impact of climate change on the potential distribution of reptiles and amphibians in 2050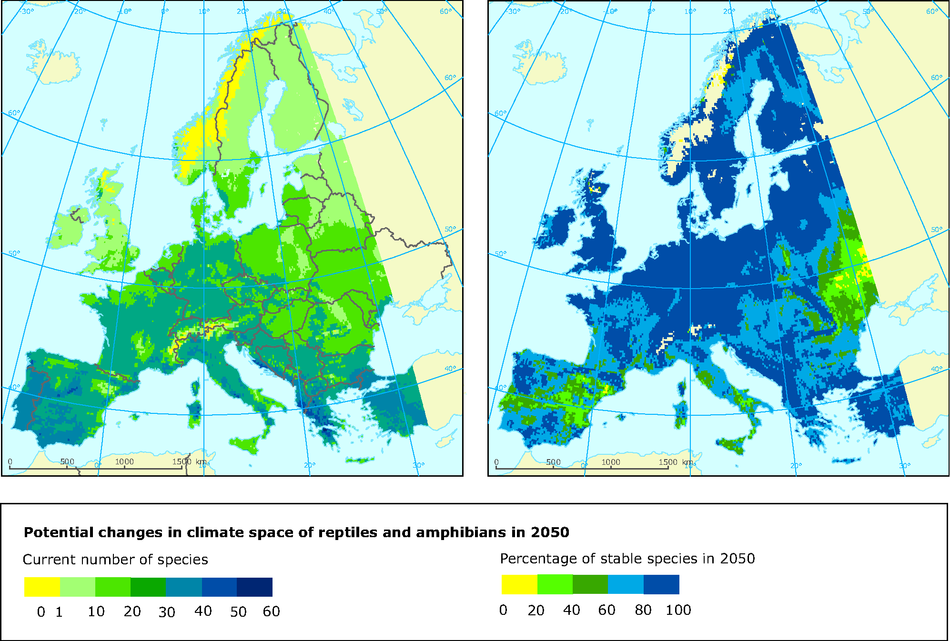 Note: Projected data based on the Generalised Linear Model map using the HadCM3 A2 scenario for the 2050s are compared with the current situation.
Downloads and more info
Key assessment
Distribution of plant species
Projections indicate that, by the late 21st century, the potential range of many European plant species may shift several hundred kilometres in a northerly direction. This is several times faster than past rates as estimated from the Quaternary record or from historic data (Huntley, 2007). The distribution of tree species is also likely change significantly, with forests expanding in the north and contracting in the south, and broadleaved species replacing native coniferous species in western and central Europe (IPCC, 2007).
Modelling of late 21st century distributions of 1 350 European plant species under a range of scenarios led to the conclusion that more than half will be at the edge of their geographic and altitudinal ranges and could become threatened by 2080, with high risks of extinction (Thuiller et al., 2005). The greatest changes are projected for endemic plant species in Mediterranean, Euro-Siberian and many mountain regions. Mountain communities may face up to a 60 % loss of plant species under high emission scenarios, reversing the 20th century trend outlined above (Thuiller et al., 2005; IPCC, 2007).
Bakkenes et al. (2006) obtained similar results from modelling stable areas of plant species distribution for this century under different climate change scenarios. This study suggests that 10-50 % of plant species in European countries are likely to disappear by 2100 from their current location in the absence of climate change mitigation. Again, species in southeast and southwest Europe are likely to be worst affected. This number will be higher if migration is restricted due to continuing fragmentation or if there is competition with invasive species.
Plant phenology
Phenological changes will alter growing seasons, ecosystem production, population level interactions and community dynamics (Fitter and Fitter, 2002). Different species show different phenological responses; for example, annuals and insect pollinated species are more likely to flower early than perennials and wind pollinated species (Fitter and Fitter, 2002). Ecological research is evaluating these response thresholds to better understand what the wider effects might be. While advancing trends in seasonal events will continue as climate warming increases in the years and decades to come, it is uncertain how different species will respond when temperature thresholds are reached and whether linear relationships between temperature and growing season will be realised in the future.
Distribution of animal species
Projections suggest that the northward and uphill movement of many animal species will continue this century. Widespread species may be less vulnerable, while threatened endemics -- already under pressure -- will be at greatest risk, although there will be spatial variation (Levinsky et al., 2007; Lemoine et al., 2007). An important constraint will be the ability of species to move. This ability represents a significant research challenge, especially in the context of the effectiveness of ecological networks under a fast changing climate.
The limited dispersal ability of many reptile and amphibians, coupled with the fragmentation of ecological networks, is very likely to reduce the ranges of many species (Hickling et al., 2006; Araújo et al., 2006), particularly those in the Iberian Peninsula and parts of Italy (Map 5.31).
A study of 120 native terrestrial mammals projected that species richness is likely to reduce dramatically this century in the Mediterranean region, but increase towards the northeast and in mountainous areas such as the Alps and Pyrenees, assuming that movement through fragmented landscapes is possible.
Under a 3 °C climate warming scenario (above preindustrial levels), the ranges of European breeding birds are projected to shift by the end of the 21st century by about 550 km to the northeast, with average range size being 20 % smaller. Arctic, sub Arctic, and some Iberian species are projected to suffer the greatest range losses (Huntley et al., 2008).
In polar regions, projected reductions in sea ice will drastically reduce habitat for polar bears, seals and other ice-dependent species (IPCC, 2007). In addition to climate change, these top predators will also be affected by declining fish stocks.
Animal phenology
The future impacts of climate change on animal phenology are poorly understood, but could include increasing trophic mismatch and disturbance to ecosystem functioning. The trend towards warmer springs may continue to induce earlier breeding and migration activity. Unpredictable cold snaps are likely to cause high mortality amongst early movers. Meanwhile, species whose life cycles are calibrated according to day length, and which do not respond so readily to changing temperatures, will not be able to exploit earlier spring resources unless they can adapt.



Data sources
More information about this indicator
See this indicator specification for more details.
Contacts and ownership
EEA Contact Info
Anita Pirc Velkavrh
Ownership
EEA Management Plan
2010
(note: EEA internal system)
Dates
Permalinks
Permalink to this version

Permalink to latest version
For references, please go to www.eea.europa.eu/soer or scan the QR code.
This briefing is part of the EEA's report The European Environment - State and Outlook 2015. The EEA is an official agency of the EU, tasked with providing information on Europe's environment.
PDF generated on 21 Apr 2015, 05:31 PM