Average age of the vehicle fleet (TERM 033) - Assessment published Apr 2009
Indicator Assessment
Created 17 Nov 2008
Published 21 Apr 2009
Last modified 20 Feb 2014, 04:42 PM
Note: new version is available!
Generic metadata
Topics
:

Transport
(Primary topic)
Tags:
DPSIR
: Driving force
Typology
: Descriptive indicator (Type A - What is happening to the environment and to humans?)
Contents
Key policy question:
Does the vehicle fleet replacement result in a reduction of the average age?
Key messages
The average age of road vehicles has recorded small changes during the period from 1995 to 2007. The average age of passenger cars, two-wheelers, buses and coaches slightly decreased, while the average age of light and heavy-duty vehicles increased. The registration of new vehicles has increased over the same period, suggesting that the penetration rate of modern technologies is accelerating.
TERM33 Average age of road vehicles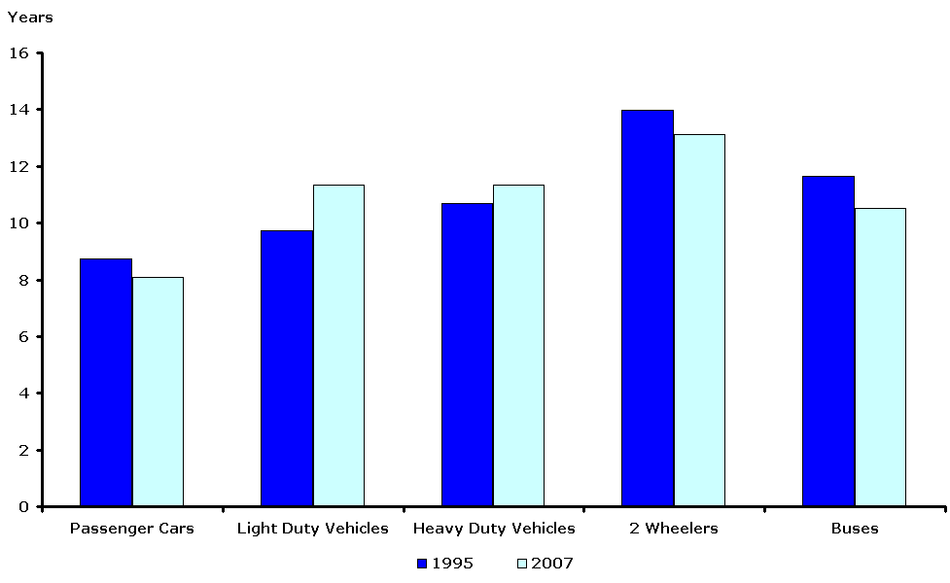 Note: TREMOVE results refer to 30 EEA member countries (that is EU-27 plus Norway, Switzerland, Turkey) and Croatia.
Data source:
TREMOVE v2.52
Downloads and more info
Key assessment
The average age of passenger cars decreased slightly from 8.7 years in 1995 to 8.1 years in 2007 while that of the two-wheelers decreased from 14.0 to 13.1 over the same period. The average age of light and heavy-duty vehicles has increased from 9.7 and 10.7 respectively to 11.3 over the same period.
The average age of passenger cars in the EEA varies widely between countries. The lowest average age for the year 2007 was observed in Luxembourg (3.8 years), highest in Greece and Cyprus (14.2 years). In general, diesel passenger cars have lower average age compared to petrol.
Data sources
More information about this indicator
See this indicator specification for more details.
Contacts and ownership
EEA Contact Info
User not found: pastocin
Ownership
EEA Management Plan
2010 2.9.2
(note: EEA internal system)
Dates
Frequency of updates
Updates are scheduled once per year in October-December (Q4)
Permalinks
Permalink to this version

Permalink to latest version
For references, please go to www.eea.europa.eu/soer or scan the QR code.
This briefing is part of the EEA's report The European Environment - State and Outlook 2015. The EEA is an official agency of the EU, tasked with providing information on Europe's environment.
PDF generated on 27 Apr 2015, 03:04 AM