Average age of the vehicle fleet
Indicator Assessment
Created 17 Nov 2008
Published 21 Apr 2009
Last modified 04 Sep 2015, 06:59 PM
Note: new version is available!
Indicator codes:
TERM 033
Key messages
The average age of road vehicles has recorded small changes during the period from 1995 to 2007. The average age of passenger cars, two-wheelers, buses and coaches slightly decreased, while the average age of light and heavy-duty vehicles increased. The registration of new vehicles has increased over the same period, suggesting that the penetration rate of modern technologies is accelerating.
Does the vehicle fleet replacement result in a reduction of the average age?
TERM33 Average age of road vehicles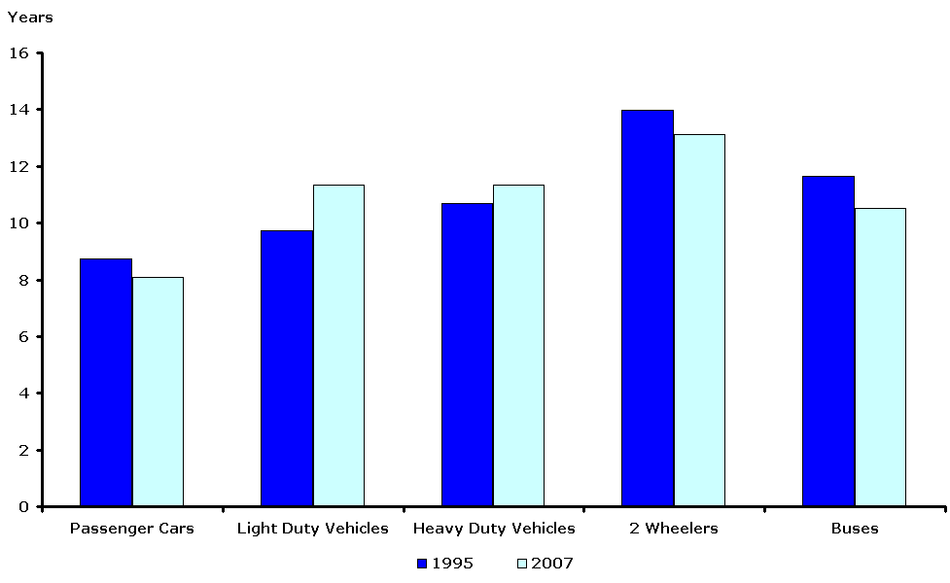 Note: TREMOVE results refer to 30 EEA member countries (that is EU-27 plus Norway, Switzerland, Turkey) and Croatia.
Data source:
TREMOVE v2.52
Downloads and more info
The average age of passenger cars decreased slightly from 8.7 years in 1995 to 8.1 years in 2007 while that of the two-wheelers decreased from 14.0 to 13.1 over the same period. The average age of light and heavy-duty vehicles has increased from 9.7 and 10.7 respectively to 11.3 over the same period.
The average age of passenger cars in the EEA varies widely between countries. The lowest average age for the year 2007 was observed in Luxembourg (3.8 years), highest in Greece and Cyprus (14.2 years). In general, diesel passenger cars have lower average age compared to petrol.
Indicator specification and metadata
Indicator definition
This indicator is defined as the mean age of vehicles specified by vehicle category (passenger cars, light duty vehicles, heavy duty vehicles, buses, coaches, mopeds and motorcycles).
Units
Average age is expressed in years.
Policy context and targets
Context description
Car scrappage schemes have not yet been introduced at EU level. The European Parliament and Council has issued the Directive 2000/53/EC on end-of-life vehicles (ELV Directive), which states the need for harmonising the various measures adopted at country level on the treatment of end-of-life vehicles. In addition, the ELV Directive stresses the need for adopting a Community-wide framework for this purpose, but does not include any specific car scrappage schemes. ELV Directive as amended by 2002/525/EC, 2005/438/EC, 2005/673/EC requires that Member States set up systems to ensue ELVs are treated within authorized treatment facilities, sets progressively higher reuse, recycling and recovery targets and an ultimate recovery target of 95% by weight by 2015, encourage manufactures to design their vehicles with recyclability in mind, and restrict the use of heavy metals in the manufacture of new vehicles. The Directive stipulates a maximum concentration value up to 0.1% by weight and per homogeneous material, for lead, hexavalent chromium and mercury and up to 0.01% by weight per homogeneous material for cadmium shall be tolerated. Directive 2005/64/EC lays down minimum thresholds for the re-use, recycling and recovery of the component parts and materials of new vehicles with the aim of facilitating the re-use, recycling and recovery of parts with a view to fulfilling the planned 2015 objectives for recycling and recovering end-of-life vehicles. It provides for a preliminary assessment of manufacturers before Member States grant EC type-approval or national type-approval. The provisions of this Directive apply from 15 December 2008 to new types of vehicles put on the market, and from 15 July 2010 for models already in production. Inspection and maintenance programmes are of great importance to the environmental performance of the vehicle fleet. Properly maintained vehicles can be of higher age as long as their environmental performance does not differ too much from the newest technologies. Strict inspection of the environmental performance of the vehicle fleet can ensure that vehicles are replaced at the right time. The roadworthiness test directive 96/96/EC, as amended by the directives 1999/52/EC, 2000/30/EC and 2003/27/EC aims to provide these inspections. However, the currently regulated short test was found to identify only 15 % of high polluters among catalyst-equipped vehicles (European Commission, 2000). Since emission projections take into account the expected deterioration of the emission performance of individual vehicles over time, but not the risk of complete failure of the abatement technology, inspection and maintenance programmes play a crucial role in ensuring that projected emission reductions are realised. They should therefore be monitored.
Targets
There are no specific objectives or targets related to the average age of the vehicle fleet. Policy objectives are rather set with respect to the environmental performance of the fleet.
Related policy documents
Methodology
Methodology for indicator calculation
The population of each vehicle category is distributed in age classes, ranging from 1 to 43 years. The average age is calculated by multiplying the number of vehicles in each class by the mean age of the class (i.e. 0.5, 1.5, 2.5 years etc) and then dividing the sum of these products by the total number of vehicles in the respective vehicle category (passenger cars, light duty vehicles, heavy duty vehicles, buses, coaches, mopeds and motorcycles).
Methodology for gap filling
Since the average age is modelled, no gap-filling is necessary.
Methodology references
Uncertainties
Methodology uncertainty
No uncertainty has been specified
Data sets uncertainty
Since the data on the average age of road vehicles is modelled rather than measured, the data must be treated as estimates. It should be noted though, that a number of reliable national and international data sources on fleet characterisation (including i.a. Eurostat, ACEA, national experts, etc.) have been used as input to the model. The average age should ideally be 'weighted' to the usage of the vehicle - i.e. the average vehicle-kilometre age of a car.
Rationale uncertainty
No uncertainty has been specified
Data sources
TREMOVE model
provided by Directorate-General for Environment (DG ENV)
Generic metadata
Topics
:

Transport
(Primary topic)
Tags:
DPSIR
: Driving force
Typology
: Descriptive indicator (Type A - What is happening to the environment and to humans?)
Dates
Frequency of updates
Updates are scheduled once per year
Permalinks
Permalink to this version

Permalink to latest version
For references, please go to www.eea.europa.eu/soer or scan the QR code.
This briefing is part of the EEA's report The European Environment - State and Outlook 2015. The EEA is an official agency of the EU, tasked with providing information on Europe's environment.
PDF generated on 30 Nov 2015, 07:44 PM