Animal phenology (CLIM 025) - Assessment published Nov 2012
Indicator Assessment
Created 09 Nov 2012
Published 20 Nov 2012
Last modified 20 Nov 2012, 12:55 PM
Generic metadata
Topics
:
Climate change
(Primary topic)

Biodiversity
Tags:
DPSIR
: Impact
Typology
: Descriptive indicator (Type A - What is happening to the environment and to humans?)
Dynamic
Temporal coverage:
1980-2004
Contents
Key policy question:
How is climate change affecting the seasonal cycle of animals in Europe?
Key messages
Many animal groups have advanced their life-cycles in recent decades, including frogs spawning, birds nesting and the arrival of migrant birds and butterflies. This advancement is attributed primarily to a warming climate.
The breeding season of many thermophilic insects (such as butterflies, dragonflies and bark beetles) has been lengthening, allowing more generations to be produced per year.
The observed trends are expected to continue in the future but quantitative projections are rather uncertain.
Trend in egg-laying dates of the Pied flycatcher across Europe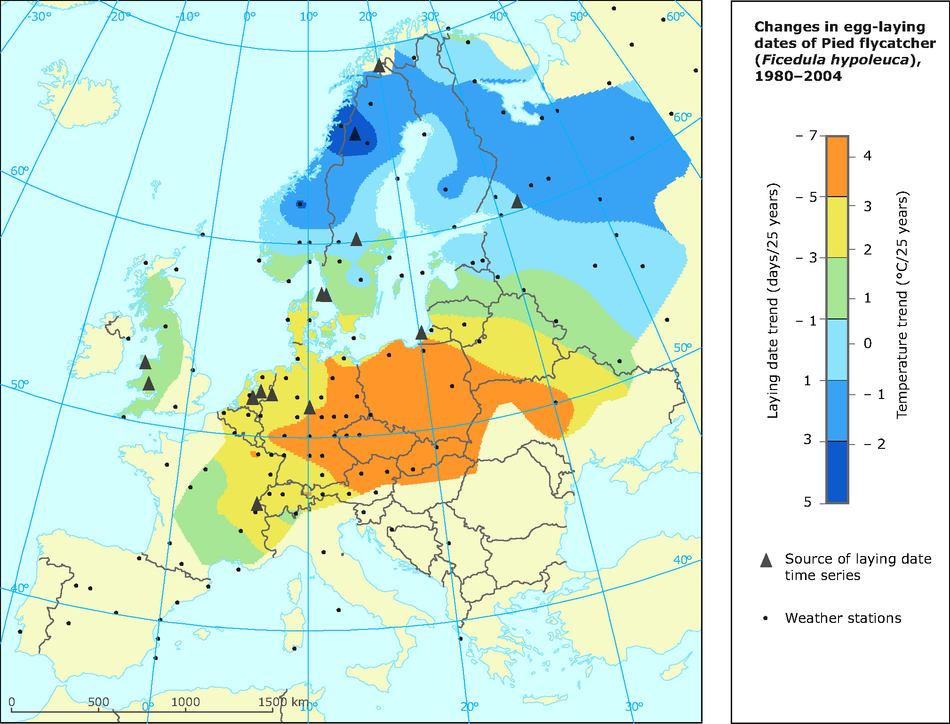 Note: This map shows the trend in egg-laying dates of the Pied flycatcher across Europe (1980-2004). Dots: weather stations used to calculate changes in local egg-laying dates (derived from temperature data); triangles: location of Pied flycatcher laying date time series.
Downloads and more info
Key assessment
Past trends
Several studies have convincingly demonstrated a tight dependency of life-cycle traits of animals with ambient temperatures, both in terrestrial and aquatic habitats[i]. Mostly, the observed warming leads to an advanced timing of life history events. For example, temporal trends for appearance dates of two insect species (honey bee, small white: Pieris rapae) in more than 1 000 localities in Spain have closely followed variations in recorded spring temperatures between 1952 and 2004 [ii].
The predicted egg-laying date for the Pied flycatcher (Ficedula hypoleuca) showed significant advancement between 1980 and 2004 in western and central Europe, but delays in northern Europe, both depending on regional temperature trends in the relevant season (see Figure 1) [iii]. Data from four monitoring stations in south to mid-Norway that include nest-boxes of Pied flycatcher from 1992–2011 show in contrary to the regional temperature estimated trends that there are no significant delays in egg-laying date for the Pied flycatcher, but an annual fluctuation making a rather flat curve for the median over these years [iv]. A study in the Netherlands covering the period between 1932 and 2004 found that half of the investigated bird species are now overwintering significantly closer to their breeding site than in the past, most likely due to warmer winters [v]. A long-term trend analysis of 110 common breeding birds across Europe (1980–2005, 20 countries) showed that species with the lowest thermal maxima showed the sharpest declining trends in abundance[vi]. In other words, cold-adapted species are losing territory most quickly.
A study from the UK found that each of the 44 species of butterfly investigated advanced its date of first appearance since 1976 [vii]. Recent studies on birds, butterflies and amphibians not only confirmed previous findings that there is a coherent fingerprint of climate change in the pattern of phenological changes [viii], but also indicated that average rates of phenological change have recently accelerated in line with accelerated warming trends [ix]. There is also increasing evidence about climate-induced changes in spring and autumn migration, including formerly migratory bird species becoming resident [x].
Projections
Projections for animal phenology are rarely carried out, except for species of high economic interest[xi]. Quantitative projections are hampered by the high natural variability in phenological data, particularly in insects[xii]. The projected future warming is expected to cause further shifts in animal phenology and can lead to an increase of trophic mismatching, unforeseeable outbreaks of species, a decrease of specialist species and changes in ecosystem functioning[xiii].
[i] DB Roy and TH Sparks, "Phenology of British butterflies and climate change", Global Change Biology 6, Nr. 4 (2000): 407–416, doi:10.1046/j.1365-2486.2000.00322.x; C. Stefanescu, J. Penuelas, and I. Filella, "Effects of climatic change on the phenology of butterflies in the northwest Mediterranean Basin", Global Change Biology 9, Nr. 10 (2003): 1494–1506, doi:10.1046/j.1365-2486.2003.00682.x; D. Dell, T H Sparks, and R L H Dennis, "Climate change and the effect of increasing spring temperatures on emergence dates of the butterfly Apatura iris (Lepidoptera: Nymphalidae)", European Journal of Entomology 102, Nr. 2 (2005): 161–167; C. Parmesan, "Ecological and evolutionary responses to recent climate change", Annual Review of Ecology, Evolution, and Systematics 37 (2006): 637–669, doi:10.1146/annurev.ecolsys.37.091305.110100; C. Hassall et al., "Historical changes in the phenology of British Odonata are related to climate", Global Change Biology 13, Nr. 5 (2007): 933–941, doi:10.1111/j.1365-2486.2007.01318.x; Niels J Dingemanse and Vincent J Kalkman, "Changing Temperature Regimes Have Advanced the Phenology of Odonata in the Netherlands", Ecological Entomology 33, Nr. 3 (Juni 1, 2008): 394–402, doi:10.1111/j.1365-2311.2007.00982.x; M.H. Schlüter et al., "Phenological shifts of three interacting zooplankton groups in relation to climate change", Global Change Biology 16, Nr. 11 (2010): 3144–3153, doi:10.1111/j.1365-2486.2010.02246.x; P. Tryjanowski et al., "Does climate influence phenological trends in social wasps (Hymenoptera: Vespinae) in Poland?", European Journal of Entomology 107, Nr. 2 (2010): 203–208.
[ii] Oscar Gordo and Juan José Sanz, "Temporal Trends in Phenology of the Honey Bee Apis Mellifera (L.) and the Small White Pieris Rapae (L.) in the Iberian Peninsula (1952–2004)", Ecological Entomology 31, Nr. 3 (Juni 1, 2006): 261–268, doi:10.1111/j.1365-2311.2006.00787.x.
[iii] Christiaan Both and Luc Marvelde, "Climate change and timing of avian breeding and migration throughout Europe", Climate Research 35 (Dezember 31, 2007): 93–105, doi:10.3354/cr00716.
[iv] E. Framstad, The Terrestrial Ecosystems Monitoring Programme in 2011: Ground vegetation, epiphytes, small mammals and birds NINA Rapport 840 (Oslo: Norsk institutt for naturforskning, 2012), http://www.nina.no/ninaenglish/Publications/Publication.aspx?pubid=7213&Fra=P&lang=en.
[v] Marcel E Visser et al., "Climate Change Leads to Decreasing Bird Migration Distances", Global Change Biology 15, Nr. 8 (August 1, 2009): 1859–1865, doi:10.1111/j.1365-2486.2009.01865.x.
[vi] FRÉDÉRIC Jiguet et al., "Population Trends of European Common Birds Are Predicted by Characteristics of Their Climatic Niche", Global Change Biology 16, Nr. 2 (Februar 1, 2010): 497–505, doi:10.1111/j.1365-2486.2009.01963.x.
[vii] Sarah E. Diamond et al., "Species' traits predict phenological responses to climate change in butterflies", Ecology 92, Nr. 5 (2011): 1005–1012, doi:10.1890/10-1594.1.
[viii] Humphrey Q. P. Crick and Timothy H. Sparks, "Climate change related to egg-laying trends", Nature 399, Nr. 6735 (Juni 3, 1999): 423, doi:10.1038/20839; T.L. Root et al., "Fingerprints of global warming on wild animals and plants", Nature 421, Nr. 6918 (2003): 57–60, doi:10.1038/nature01333; Anne Charmantier et al., "Adaptive Phenotypic Plasticity in Response to Climate Change in a Wild Bird Population", Science 320, Nr. 5877 (Mai 9, 2008): 800–803, doi:10.1126/science.1157174.
[ix] Stephen J. Thackeray et al., "Trophic level asynchrony in rates of phenological change for marine, freshwater and terrestrial environments", Global Change Biology 16, Nr. 12 (Dezember 2010): 3304–3313, doi:10.1111/j.1365-2486.2010.02165.x.
[x] Gordo and Sanz, "Temporal Trends in Phenology of the Honey Bee Apis Mellifera (L.) and the Small White Pieris Rapae (L.) in the Iberian Peninsula (1952–2004)"; N. Jonzén et al., "Rapid advance of spring arrival dates in long-distance migratory birds", Science 312, Nr. 5782 (2006): 1959–1961, doi:10.1126/science.1126119; D. Rubolini et al., "Intraspecific consistency and geographic variability in temporal trends of spring migration phenology among European bird species", Climate Research 35, Nr. 1/2 (2007): 135, doi:10.3354/cr00720.
[xi] J. A Hodgson et al., "Predicting Insect Phenology Across Space and Time", Global Change Biology 17, Nr. 3 (März 1, 2011): 1289–1300, doi:10.1111/j.1365-2486.2010.02308.x.
[xii] Peter Baier, Josef Pennerstorfer, and Axel Schopf, "PHENIPS—A comprehensive phenology model of Ips typographus (L.) (Col., Scolytinae) as a tool for hazard rating of bark beetle infestation", Forest Ecology and Management 249, Nr. 3 (September 30, 2007): 171–186, doi:10.1016/j.foreco.2007.05.020.
[xiii] M. van Asch et al., "Predicting adaptation of phenology in response to climate change, an insect herbivore example", Global Change Biology 13, Nr. 8 (2007): 1596–1604, doi:10.1111/j.1365-2486.2007.01400.x; M.C. Singer and C. Parmesan, "Phenological asynchrony between herbivorous insects and their hosts: signal of climate change or pre-existing adaptive strategy?", Philosophical Transactions of the Royal Society B: Biological Sciences 365, Nr. 1555 (2010): 3161–3176, doi:10.1098/rstb.2010.0144.
Data sources
More information about this indicator
See this indicator specification for more details.
Dates
Frequency of updates
Updates are scheduled every 4 years in October-December (Q4)
Permalinks
Permalink to this version

Permalink to latest version
For references, please go to www.eea.europa.eu/soer or scan the QR code.
This briefing is part of the EEA's report The European Environment - State and Outlook 2015. The EEA is an official agency of the EU, tasked with providing information on Europe's environment.
PDF generated on 03 May 2015, 06:50 PM