Abundance and distribution of selected species (SEBI 001) - Assessment published May 2010
Indicator Assessment
Created 05 Aug 2009
Published 21 May 2010
Last modified 04 Feb 2015, 10:29 AM
Note: new version is available!
Generic metadata
Topics
:

Biodiversity
(Primary topic)
Tags:
DPSIR
: State
Typology
: Descriptive indicator (Type A - What is happening to the environment and to humans?)
Dynamic
Temporal coverage:
1980-2007
Contents
Key policy question:
Have the declines in common species in Europe been halted?
Key messages
Overall, Europe's common bird populations reduced by around 10 % since 1980. Common farmland birds declined most severely (around 50 %) but common forest birds also declined by some 9 %. Falls have levelled off since the late 1990s. Europe's grassland butterflies have declined dramatically (60 %) since 1990 and this reduction shows no sign yet of levelling off.
Common birds in Europe — population index (1980 = 100)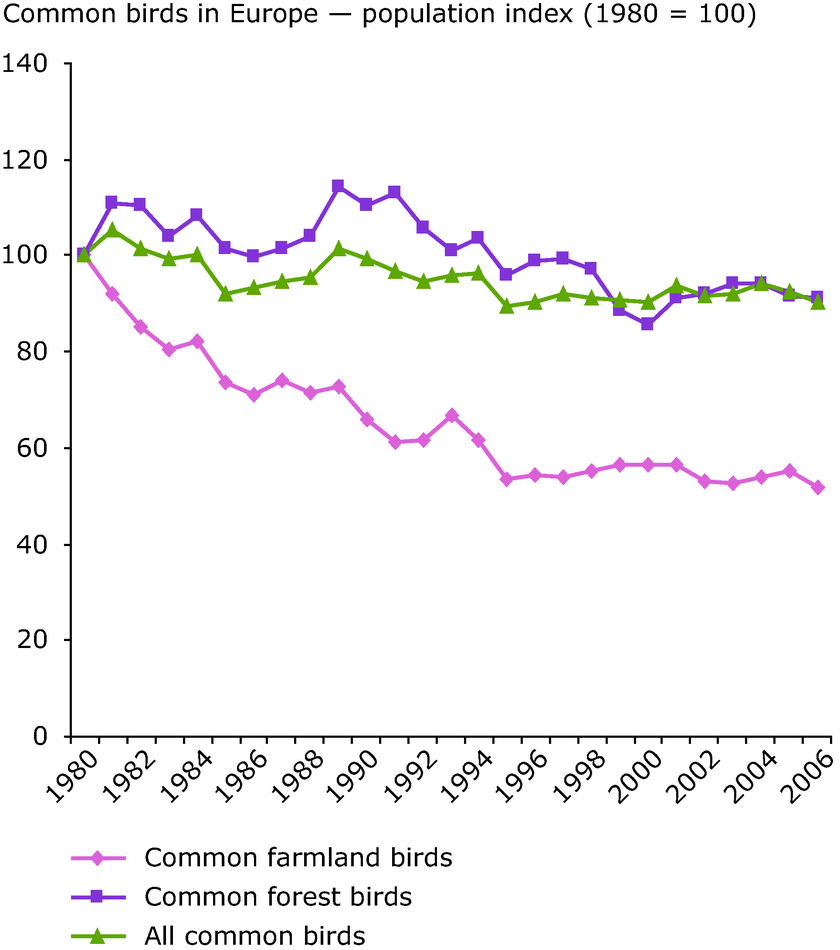 Note: How to read the graph: since 1980 the number of common farmland birds has declined by around 50 %
Data source:
EBCC/RSPB/BirdLife International/Statistics Netherlands, 2008.
Downloads and more info
Grassland butterflies — population index (1990 = 100)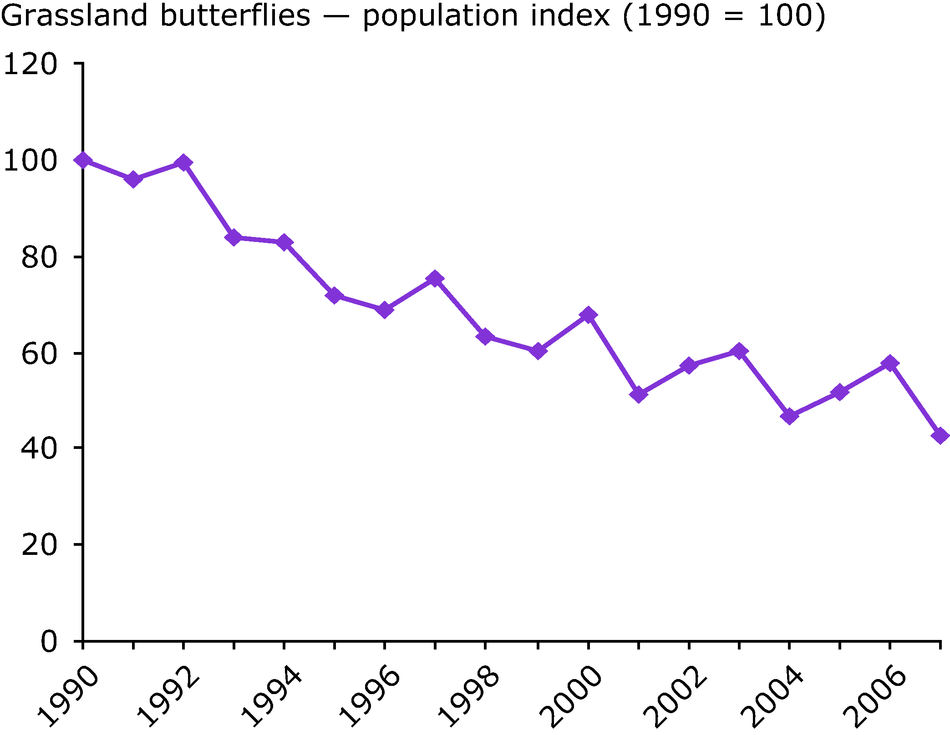 Note: Grassland butterflies - population index (1990 = 100)
Data source:
De Vlinderstichting/Butterfly Conservation Europe/ Statistics Netherlands, 2008. Report: The European Butterfly Indicator for Grassland species 1990-2007
Downloads and more info
Key assessment
For some populations of European common birds, downward trends appear to have slowly levelled off but it needs to be borne in mind that significant losses had already happened by 1980.
Of the more common bird species, farmland birds have declined. The initial steep decline of farmland birds was associated with increasing agricultural specialisation and intensity in some areas, and largescale marginalisation and land abandonment in others. The falling trend has levelled off since the late 1990s, partly because of stabilising inputs of nutrients and pesticides and the introduction of set-aside in the EU-15, and partly because of drastically lower nutrient inputs in the EU-10 as a result of political reforms and the resulting economic crisis in the agricultural sector. An increase in agricultural production in eastern Europe, if linked to higher inputs of nutrients and pesticides, combined with further land abandonment in some parts of Europe and the proposed abolition of set-aside, may lead to a new decline.
Conservation measures adopted under the EU Birds Directive have proven effective in the recovery of threatened bird populations (Donald et al., 2007) but not in the case of more widespread bird species, where different recovery mechanisms are now required.
Well-designed agri-environment measures have been shown to reverse bird declines at local levels.
The challenge now is to deploy the Birds Directive conservation measures or others widely enough to help populations recover at national and European scales. Trends in species in Europe are also driven by pressure outside Europe, e.g. for migratory bird species, and a comprehensive response would need to be effective beyond European territory.
Grassland butterflies are declining severely; their populations have declined by 60 % since 1990 and there is no sign of levelling off. Intensification is the most important threat to butterflies across the relatively flat areas of western Europe: ranging from the eastern half of the United Kingdom, over the north of France, Belgium, the Netherlands, Northern
Germany and Denmark - as well as flat areas in other parts of Europe. By contrast, abandonment and lack of sustainable grazing is the chief threat in southern and eastern Europe, in mountainous areas or areas with relatively poor soils.
NOTES
An increase in the population index means that there are more species with populations increased than species with populations decreased: it does not necessarily mean that the population of all species has increased. It can be due to expansion of some species (typically, generalists) at the expense of other species (typically, specialists). It must also be noted that populations fluctuate on a yearly basis.
In the absence of the information on abundance, information on the distribution of species can help assess species status. However, at a European level, this type of information is still weak for other groups of species.
FURTHER INFORMATION
Data sources
More information about this indicator
See this indicator specification for more details.
Dates
Frequency of updates
Updates are scheduled once per year in October-December (Q4)
Permalinks
Permalink to this version

Permalink to latest version
For references, please go to www.eea.europa.eu/soer or scan the QR code.
This briefing is part of the EEA's report The European Environment - State and Outlook 2015. The EEA is an official agency of the EU, tasked with providing information on Europe's environment.
PDF generated on 04 May 2015, 10:49 AM