Water abstractions for irrigation, manufacturing industry, energy cooling and Public Water Supply (million m3/year) in early 1990s and the period 1997-2005
Figure
expired
Created 12 Nov 2009
Published 12 Nov 2009
Last modified 11 Sep 2015, 12:39 PM
Note: new version is available!
This content has been archived on
29 Jun 2015
, reason:
Other (New version data-and-maps/daviz/water-abstractions-for-irrigation-manufacturing was published)
Data from Italy are missing (abstraction 42000 mio
/data-and-maps/figures/ga-downloads/664E5B3A-076C-4250-A145-2AA07B313E59/water-abstractions-for-irrigation-manufacturing-industry-energy-cooling-and-public-water-supply-million-m3-year-in-early-1990s-and-the-period-1997-2005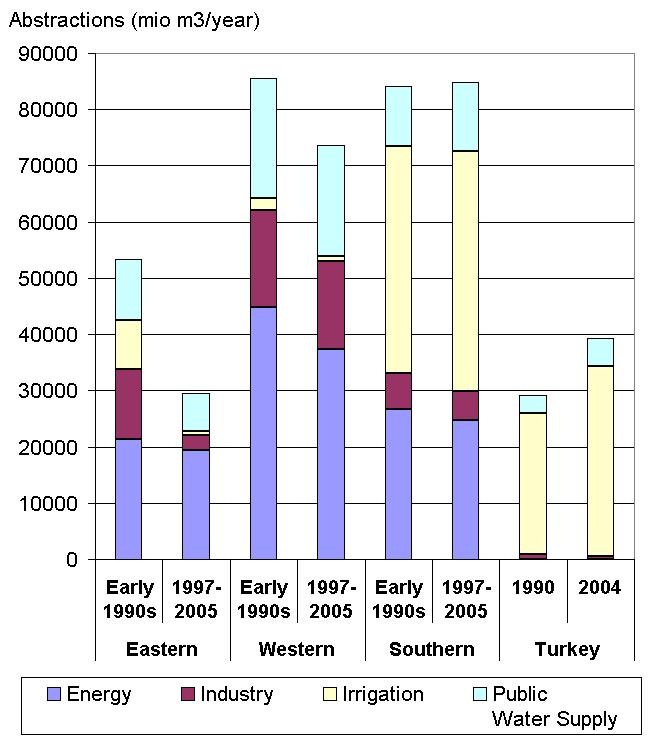 Download
European data
Metadata
Additional information
m3 and 50% for agriculture). Turkey is plotted on an individual column in this graph to depict the large increase in agricultural water use, and to avoid the projection of this trend/effect on the Southern countries trend. Countries in the country groupings see Figure 3-6
For references, please go to www.eea.europa.eu/soer or scan the QR code.
This briefing is part of the EEA's report The European Environment - State and Outlook 2015. The EEA is an official agency of the EU, tasked with providing information on Europe's environment.
PDF generated on 25 Oct 2016, 08:32 PM