Trends in nutrient concentrations in transitional, coastal and marine waters, 1985-2005
Figure
Created 12 Nov 2009
Published 12 Nov 2009
Last modified 29 Nov 2012, 11:35 AM
How to read the graph: About 1 % of stations in the NE Atlantic reported a significant decrease of oxidized nitrogen concentrations between 19852005, the remainder reported no change
/data-and-maps/figures/ga-downloads/E08F6252-B556-49E7-97A3-21D24663BB09/trends-in-nutrient-concentrations-in-transitional-coastal-and-marine-waters-1985-2005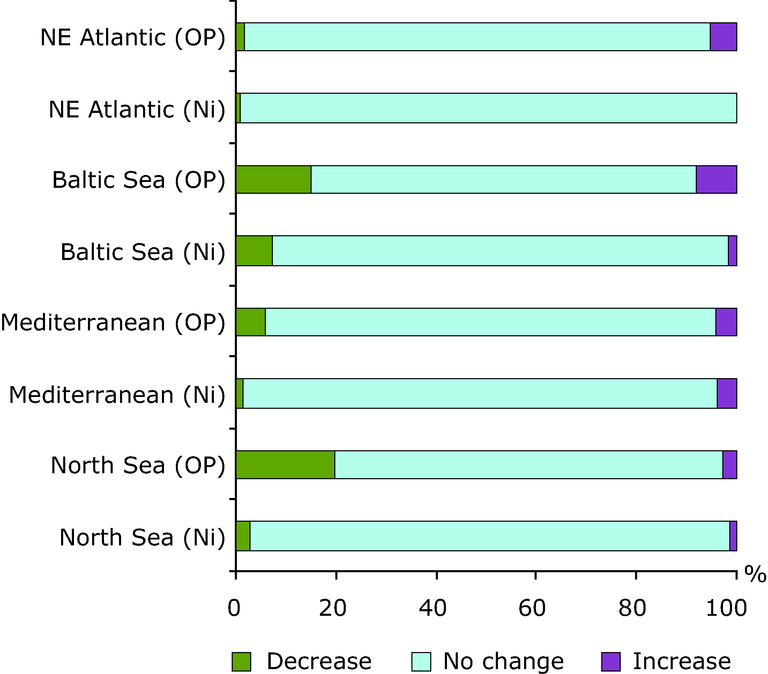 Download
Metadata
Additional information
For some countries the data include stations with observations made in 2005, for some only up to 2004. The full data set is available via http://themes.eea. europa.eu/IMS/ISpecs/ISpecification20041007132008/ IAssessment1204714151163/view_content.
For references, please go to www.eea.europa.eu/soer or scan the QR code.
This briefing is part of the EEA's report The European Environment - State and Outlook 2015. The EEA is an official agency of the EU, tasked with providing information on Europe's environment.
PDF generated on 26 Oct 2016, 12:31 PM