Total energy consumption by fuel, EU-25
Figure
Created 12 Nov 2009
Published 12 Nov 2009
Last modified 29 Nov 2012, 11:38 AM
EEA baseline projections are consistent with European Commission (2004)
/data-and-maps/figures/ga-downloads/B8D1C8B6-35D0-486D-AF52-D11F4C356FA3/total-energy-consumption-by-fuel-eu-25-1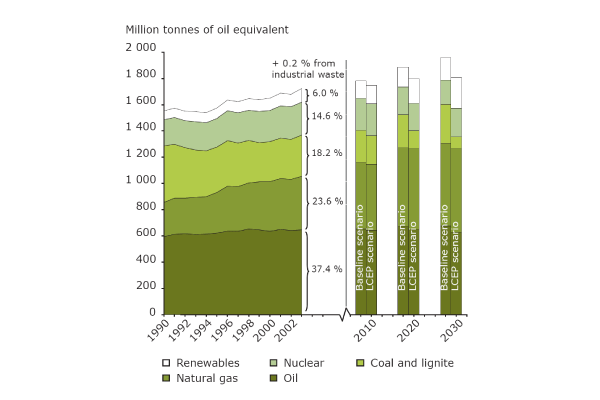 Download
Metadata
Additional information
The Low-Carbon-Energy Pathway (LCEP) scenario assumes that ambitious future greenhouse gas emission reduction targets will be reached and assumes a CO2 permit price of 30 ¬/t CO2 and 65 ¬/t CO2 in 2020 and 2030, respectively. Other energy consumption is not included in the chart as the share (e.g. 0.2 % in 2003) is effectively too small to be seen; it includes consumption of industrial waste and the net balance from imports/exports of electricity.
For references, please go to www.eea.europa.eu/soer or scan the QR code.
This briefing is part of the EEA's report The European Environment - State and Outlook 2015. The EEA is an official agency of the EU, tasked with providing information on Europe's environment.
PDF generated on 24 Oct 2016, 02:11 AM