State of progress by Member States in designating sufficient protected areas to provide for Habitats Directive (92/43/EEC) Annex I habitats and Annex II species
Figure
Created 12 Nov 2009
Published 12 Nov 2009
Last modified 11 Mar 2013, 02:36 PM
The figure shows the state of progress by Member States in designating sufficient protected areas to provide for Habitats Directive (92/43/EEC) Annex I habitats and Annex II species Marine areas are excluded
/data-and-maps/figures/ga-downloads/EA66DCF8-D9B4-4D8D-AC8A-6ABFCD3BC193/state-of-progress-by-member-states-in-designating-sufficient-protected-areas-to-provide-for-habitats-directive-92-43-eec-annex-i-habitats-and-annex-ii-species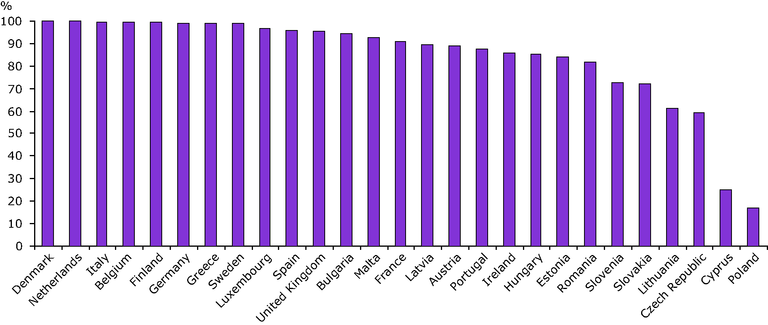 Download
European data
Metadata
Additional information
How to read the graph: Sites proposed by Denmark are sufficient to cover all the habitats and species listed in the Habitats Directive and present in Denmark. Sites proposed by the Czech Republic cover 60 % of the species and habitats from the directive that are present in the Czech Republic.
For references, please go to www.eea.europa.eu/soer or scan the QR code.
This briefing is part of the EEA's report The European Environment - State and Outlook 2015. The EEA is an official agency of the EU, tasked with providing information on Europe's environment.
PDF generated on 27 Oct 2016, 04:00 PM