Grassland butterflies — population index (1990 = 100)
Figure
Created 12 Nov 2009
Published 12 Nov 2009
Last modified 29 Nov 2012, 11:41 AM
Grassland butterflies - population index (1990 = 100)
/data-and-maps/figures/ga-downloads/F3036183-41F3-4BE3-8182-4EAF645C2AF1/grassland-butterflies-2014-population-index-1990-100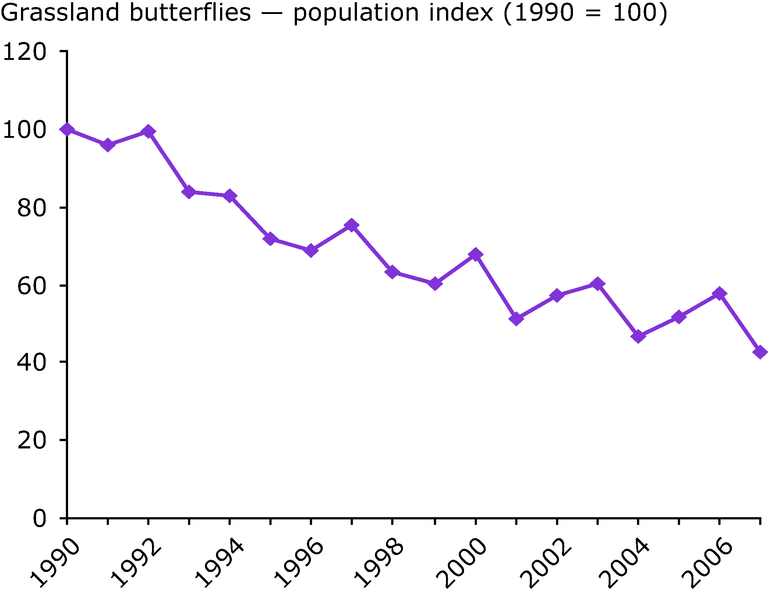 Download
European data
Metadata
Additional information
For this graph data for grassland butterfly species from nine countries were used: Ukraine (Transcarpathia only) since 1983 (only for Erynnis tages); Pflalz region (Germany) since 1989 (only for Maculinea nausithous); The Netherlands since 1990; Flanders (Belgium) since 1991; Catalunya (Spain) since 1994; Aargau (Switzerland) since 1998; Finland since 1999; Nordrhein Westfalen (Germany) since 2001; Doubs and Dordogne (France) since 2001.
For references, please go to www.eea.europa.eu/soer or scan the QR code.
This briefing is part of the EEA's report The European Environment - State and Outlook 2015. The EEA is an official agency of the EU, tasked with providing information on Europe's environment.
PDF generated on 27 Oct 2016, 04:53 PM