Expenditure for contaminated sites remediation in selected countries in the period 1999-2002 as per mille of the Gross Domestic Product (GDP)
Figure
Created 12 Nov 2009
Published 12 Nov 2009
Last modified 29 Nov 2012, 11:41 AM
Note: new version is available!
(a) Slovenia: data from 1999 and 2001 (b) Romania: data from 1997 and 2000 (c) Germany: projection from estimates of expenditures from some of the "Laender" (d) Belgium-Flanders: GDP of 1999 (e) Estonia: GDP of 2001
/data-and-maps/figures/ga-downloads/837F4830-A8B1-45EB-83C4-530CA350E3AD/expenditure-for-contaminated-sites-remediation-in-selected-countries-in-the-period-1999-2002-as-per-mille-of-the-gross-domestic-product-gdp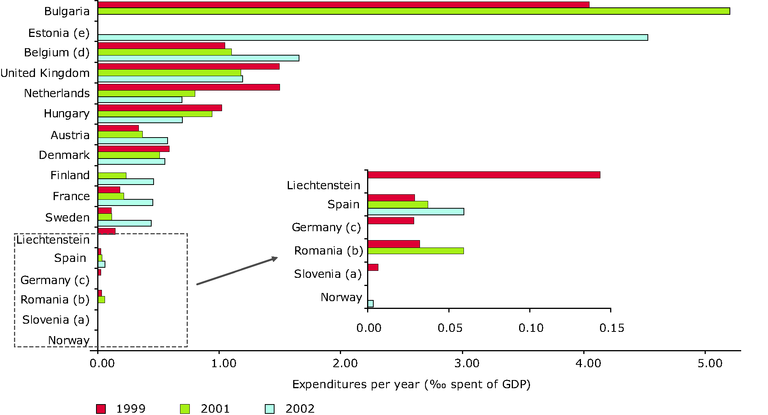 Download
European data
Metadata
For references, please go to www.eea.europa.eu/soer or scan the QR code.
This briefing is part of the EEA's report The European Environment - State and Outlook 2015. The EEA is an official agency of the EU, tasked with providing information on Europe's environment.
PDF generated on 28 Oct 2016, 10:58 PM