Decreasing the size of clear-cuts as shown in a middle boreal forest landscape in Halsingland, Sweden
Figure
Created 12 Nov 2009
Published 12 Nov 2009
Last modified 23 Jan 2015, 03:57 PM
/data-and-maps/figures/ga-downloads/352A1552-B3AF-4998-8011-DEEAD780A4D9/decreasing-the-size-of-clear-cuts-as-shown-in-a-middle-boreal-forest-landscape-in-halsingland-sweden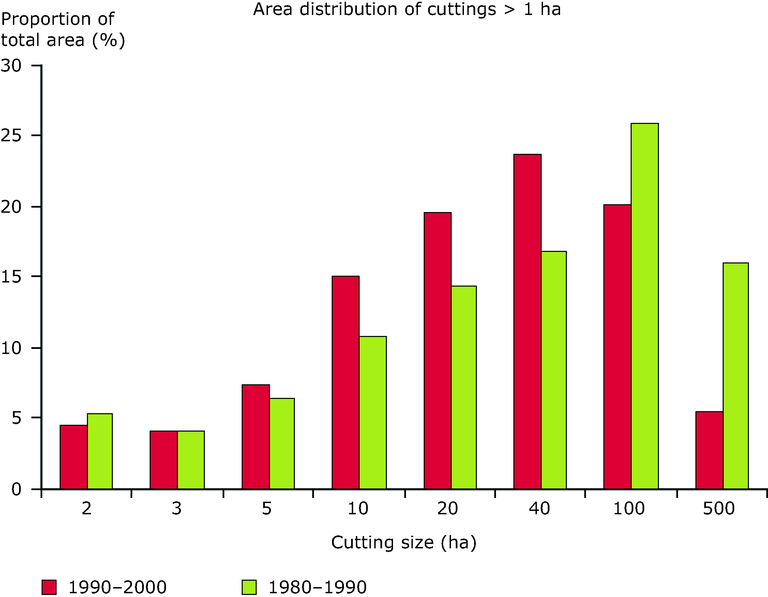 Download
Metadata
Additional information
Note on temporal coverage: Comparison of size distributions of clear cut areas made in 2 different time periods, covering a total area of about 10 000 km2 with 77% forested land. The rate of cutting was about 1% of the forest area each year over this period. Approximate periods for comparison are: 1980-1990 and 1990-2000.
For references, please go to www.eea.europa.eu/soer or scan the QR code.
This briefing is part of the EEA's report The European Environment - State and Outlook 2015. The EEA is an official agency of the EU, tasked with providing information on Europe's environment.
PDF generated on 25 Oct 2016, 02:30 AM