Changes in wastewater treatment in regions of Europe between 1990 and 2005
Figure
expired
Created 12 Nov 2009
Published 12 Nov 2009
Last modified 22 Feb 2017, 09:25 AM
Note: new version is available!
This content has been archived on
22 Feb 2017
, reason:
Other (This chart is available as Daviz)
Only countries with data from (almost) all periods were included, the numbers of countries are given in parentheses
/data-and-maps/figures/ga-downloads/05F8CF37-EFA5-4228-B8B5-364EDBA312C4/changes-in-wastewater-treatment-in-regions-of-europe-between-1990-and-2005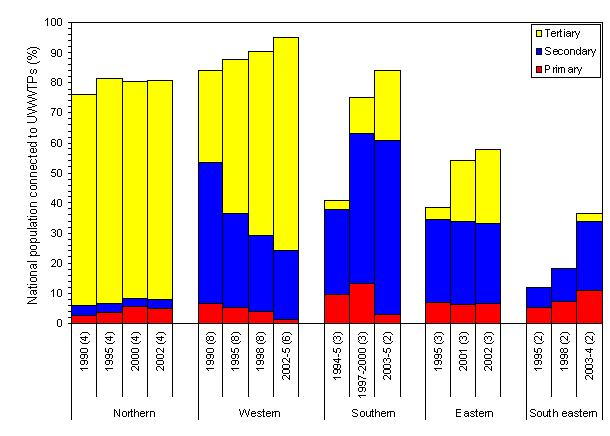 Download
European data
Metadata
Additional information
North: Norway, Sweden, Finland and Iceland Western: Austria, Denmark, England & Wales, the Netherlands, Germany, Switzerland, Luxembourg and Ireland (For Denmark and Austria there are no data after 1998.) Southern: Greece, Spain and Portugal (Greece only up to 1997) East: Estonia, Hungary and Poland South Eastern: Bulgaria and Turkey The percentages have been weighted with country population when calculating the group values.
Permalinks
Permalink to this version

Permalink to latest version